Conservation news
Founded in 1999, Mongabay is a leading provider of environmental science and conservation news.
760,000 Chinese a year die from pollution

(07/04/2007) 760,000 Chinese die prematurely each year from polluted air and water, according to estimates to be released by the World Bank.


Careless humanity batters the Arctic

(07/03/2007) I feel the need to say from the outset when I discuss topics such as Global-Warming that I am indeed a greenie of sorts, and I believe that the obvious downward spiral that our planet is taking is due to the careless attitudes towards the environment that the industrialized and predominantly white nations have taken over the past decades. I, as a note, am white, and have no qualms in pointing the finger at my own country (Australia) and others that we support, and that support us. In fact, I am ashamed to be one of the only two countries in the world not to have signed the Kyoto Protocol (the other, for reference, being the United States of America).


NASA maps newly proposed source of the Amazon River

(07/03/2007) NASA released a map showing the newly proposed source of the Amazon River, a change that would make it the longest river in the world. Last month Brazilian researchers proposed Mount Mismi, a snow-covered mountain in southern Peru as the source of the Amazon River. Previously, the generally accepted source was in northern Peru. If the revision holds, the length of the Amazon would exceed that of the Nile by roughly 60 miles (105 km). However the claim is likely to be contested.


Unprecedented deletion of a World Heritage Site in Oman

(07/03/2007) The Oryx is one of three or four large antelope species of the genus Oryx, and are known for their long, swept back horns. In 1996 the Arabian Oryx -- found on the Arabian Peninsula -- numbered 450 within a specially designated area known as the Oman Arabian Oryx Sanctuary. Today, the number sits at only 65, with only 4 viable breeding pairs. Without a doubt, the extinction of the Arabian Oryx in the wild is not out of the question.


The Bald Eagle Back and Better than Ever!

(07/03/2007) "Oh, say, can you see, by the dawn's early light" goes the first line for the national anthem of the United States of America. And on July the fourth, the self-proclaimed defenders of freedom celebrate that freedom that they so dearly love on their Independence Day. And what better way to celebrate that day, then to hear that their National bird has made a miraculous comeback after dwindling to a measly documented 417 birds in 1963.


450 years of Amazon research reviewed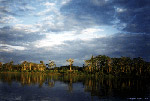 (07/02/2007) Research on the Peruvian Amazon is largely inaccessible to the people who could make most use of it, reports a comprehensive review of 2,202 texts published over the past 450 years on the Madre de Dios region of southwestern Peru. The study recommends the establishment of "a Web-based digital library for Neotropical nature" to make research more widely available.


Researchers find large population of extremely rare monkey

(07/02/2007) A team of scientists from WWF and conservation International (CI) has discovered the world's largest known population of grey-shanked doucs (Pygathrix cinerea), a monkey ranked as one of the world's 25 most endangered primates, in Vietnam. The discovery is fueling that the species can be saved from extinction -- less than 1,000 of the monkeys are thought to remain.


Global warming will producer higher death rates in the U.S.

(07/02/2007) Global warming will cause more deaths due to higher temperatures, reports a new study published in Occupational and Environment Medicine. While milder winters will produce fewer deaths, they will not offset high mortality in summer months.


Authorities bust multi-million dollar Amazon logging ring

(07/02/2007) Brazilian authorities have busted a logging ring that used fake permits to cut 500,000 trees in the Amazon rainforest, reports Reuters.


Norway bans tropical timber

(07/02/2007) Concerned about rising deforestation rates, Norway has banned the use of tropical timber in all public buildings, reports the Rainforest Foundation Norway.


UNESCO lists rainforest parks of Madagascar as Heritage sites

(07/02/2007) UNESCO has listed six rainforest parks in Madagascar as World Heritage sites. The announcement comes as the Indian Ocean island nation has moved aggressively to protect its biologically-rich forests from further degradation.


Forest disturbance reduces biodiversity in the Amazon rainforest


(07/02/2007) Two new studies in the Amazon rainforest show that plantation forests and second-growth forests have lower species counts for butterflies, reptiles, and amphibians than adjacent primary forest areas. The research has important implications for conservation of tropical biodiversity in a world where old-growth forest is increasingly replaced by secondary forests, industrial plantations, and agricultural landscapes.


Cat domestication tied to rise of agriculture

(07/01/2007) A new study traces the domestication of house cats to the emergence of agriculture in the Fertile Crescent some 10,000 years ago--not Egypt as previously presumed.


Man-eating piranha are actually cowards

(07/01/2007) Despite their reputations as aggressive blood-thirsty carnivores, piranha schooling behvaior is a defensive measure to protect against predators rather than an offensive hunting maneuver, reports new research presented at the Royal Society's summer science exhibition in London. Piranhas face many predators in their Amazon habitat, including caiman, freshwater dolphins, and giant fish like the pirarucu or arapaima.


Pro-poor conservation

(07/01/2007) Biodiversity conservation is often associated with the protection of charismatic animals and beautiful landscapes. Missing is consideration of the role that biodiversity plays in the livelihoods of hundreds of millions of people around the world, who rely on hunting, plant collection, and other services afforded by biodiversity for everyday subsistence.


WWF condemns iron fertilization scheme to fight global warming

(06/28/2007) Environmental group WWF condemned a scheme by Planktos, Inc. (OTCBB: PLKT) to dump up to 100 tons of iron dust in the open ocean west of the Galapagos Islands. The firm claims the experiment will fertilize massive blooms of phytoplankton that will absorb carbon dioxide from the atmosphere and help fight global warming.


China to ban ozone-depleting CFCs

(06/28/2007) China has moved to ban the production of ozone-depleting chlorofluorocarbons (CFCs), according to a statement from the country's environmental protection agency. The action is in accordance with the 1987 Montreal Protocol to phase out the use of ozone layer-depleting products . China, which signed the agreement in 1991, says it will end all CFC production by 2010.


Peanuts, cotton, squash first farmed in Peru 6,000-10,000 years ago

(06/28/2007) Anthropologists have discovered the earliest-known evidence of peanut, cotton and squash farming. The study, which show that the crops were grown in the Peruvian Andes 5,000-10,000 years ago, is published in Friday's issue of the journal Science.


Rare and mysterious forests of Sulawesi 80% gone

(06/28/2007) Roughly 80 percent of Sulawesi's richest forests have been degraded and destroyed for agriculture, logging, and mining, reports a ground-breaking assessment of the Indonesian island's forests.


Did Tasmanian Tiger survive extinction until 1950s?

(06/27/2007) A University of Adelaide project led by zoologist Dr Jeremy Austin is investigating whether the world-fabled Tasmanian Tiger may have survived beyond its reported extinction in the late 1930s.


First U.S. test of ecological services payment underway

(06/27/2007) Farmers in Jamestown, R.I., are being paid by local residents to delay haying their fields until after birds have completed nesting in a unique test to establish investment markets for ecological services.


Biosphere II lives on

(06/27/2007) The ill-fated Biosphere II project, an experiment that attempted to re-create Earth's ecosystems inside a greenhouse in the early 1990s, will live on as a scientific laboratory after the University of Arizona (UA) said it would develop the facility into a research center.


Madagascar rainforests get World Heritage Listing

(06/27/2007) The World Heritage Committee has named the rainforests of Madagascar as one of three new UNESCO World Heritage List sites.


Climate change is making poison ivy worse

(06/26/2007) New research shows that climate change is making poison ivy more potent, according to an article in The Wall Street Journal.


Antibiotic-free chicken may boost profit at Tyson

(06/26/2007) Tyson's decision to produce all of its branded chicken without antibiotics could spur growth at the poultry producer, reports The Wall Street Journal.


Set back for AES on rainforest dam project in Panama

(06/26/2007) The World Heritage Committee moved to assess threats to La Amistad International Park, a World Heritage site shared by Panama and Costa Rica, from AES Corporation's planned construction of four hydroelectric dams on the park's border. The decision was based on an April 2007 petition from the Center for Biological Diversity and more than 30 other organizations in the United States, Panama, and Costa Rica.


Past global warming produced monster penguins

(06/25/2007) Scientists have discovered fossil remains of a giant species of penguin that lived some 40 million years ago in what is now Peru. Coupled with the finding of a smaller species from the same time period, the remains reveal that early penguins responded differently to natural climate change than scientists would have expected. The results are published in the PNAS Online Early Edition the week of June 25-29, 2007.


70% of Indonesia's mangrove forests damaged

(06/25/2007) 70 percent of Indonesia's remaining mangrove forests are damaged due to human activities, ANTARA News reported a local expert as saying.


Rainforest trees colonized Africa from the Amazon

(06/24/2007) A giant rainforest tree is helping scientists understand similarities between African and South American rainforests, reports research published in the journal Molecular Ecology.


Sedentary, not migratory birds, face higher extinction risk

(06/24/2007) Sedentary birds face considerably higher risk of extinction than migratory birds, reports a new paper published in the journal Current Biology. The findings have implications for the conservation of increasingly endangered wildlife populations.


Leading Amazon biologist imprisoned in Brazil; witch-hunt suspected

(06/23/2007) A world-renowned primatologist has been arrested in the Brazilian Amazon under charges that he was illegal sheltering 28 primates in his home, according to The Guardian. Supporters say Marc van Roosmalen, 60, has been framed by illegal loggers who have long been adversaries of the prominent conservationist.


Fuel efficiency boost wins unanimous Senate support

(06/22/2007) The U.S. Senate voted Thursday to raise fuel economy standards for cars and light trucks as part of the new energy bill.


Indonesia pledges to cut haze-causing fires by half

(06/22/2007) Indonesia say it aims to reduce forest fires by 40-50 percent this year, following nearly a decade of devastating seasonal fires that release large amounts of CO2 into the atmosphere, threaten critical orangutan habitat, and raise regional health risks.


Industrialized countries outsource CO2 emissions to China

(06/22/2007) Facing criticism as it surpasses the U.S. as the world's largest producer of carbon dioxide, China says that industrialized countries are hypocritical for criticizing its greenhouse gas emissions while buying its products, according to the Associated Press. China argues that developed countries are effectively outsourcing emissions by shifting manufacturing to its factories.


Highly carnivorous wolves in Alaska killed by global warming

(06/21/2007) Researchers have identified a previously unknown species of "highly carnivorous" wolf in Alaska that appears to have died off during the Pleistocene extinction some 12,000 years ago. The results are published in the June 21 online issue of Current Biology.


Melting Antarctic icebergs help increase biodiversity, slow climate change

(06/21/2007) Icebergs breaking off Antarctica are unexpected hotspots of biological productivity and have a surprising role in climate change, reports a new study published in the journal Science.


Time running out for world's rarest gorilla

(06/21/2007) Time is running out for the world's rarest subspecies of gorilla, the Cross River gorilla (Gorilla gorilla diehli) from the mountainous border region between Cameroon and Nigeria. With less than 300 individuals remaining, conservationists have drawn up a new plan to save the great ape from extinction.


Amazon.com, eBay rank worst for global warming efforts

(06/20/2007) Amazon.com and eBay rank at the bottom of the list when it comes to reducing their impact on climate, reports a new analysis from Climate Counts, a nonprofit that works to promote responsible climate policy among corporations. Microsoft and Yahoo rank at the top of Internet and software companies rated, while Google is in the middle of the pack.


Google to be carbon neutral by year end

(06/20/2007) Google Inc. aims to be carbon neutral by the end of 2007, according to a statement posted on the Official Google Blog. The search giant plans to fight global warming by investing in and using renewable energy sources; reducing energy consumption by maximizing efficiency, and purchasing carbon offsets for the greenhouse gas emissions that it cannot reduce directly.


China surpasses the U.S. in CO2 emissions

(06/20/2007) China has surpassed the United States as the world's largest producers of greenhouse gas emissions, reports the Netherlands Environmental Assessment Agency (EEA), a group that advises the Dutch government.


Most Americans back a $10 monthly global warming tax

(06/20/2007) 73 percent of Americans back a $10-per-month charge to underwrite renewable energy production reports a new survey by New Scientist Magazine, Stanford University and Resources for the Future, an independent think tank. The research indicates that 85 percent of Americans believe global warming in currently happening.


$100 billion invested in renewable energy in 2006

(06/20/2007) $100 billion poured into renewable energy and energy efficiency in 2006, a 25 percent jump from 2005, reports a new analysis by the UN Environment Programme (UNEP).


Plants in outer space may be black

(06/20/2007) Plants in outer space could be black if they is mechanisms other than chlorophyll to harness the energy of the sun, reports a new study published in Astrobiology.


Google will put $10M towards plug-in hybrid cars

(06/19/2007) Google.org, Google Inc.'s philanthropic arm, today unveiled an initiative to convert hybrid cars to plug-in hybrid vehicles (PHEVs), a move that will cut carbon dioxide emissions, reduce oil use, and help stabilize the electrical grid.


Sudan arrests 4 journalists trying to cover dam killings

(06/19/2007) GReporters Without Borders has condemned the continuing detention of four journalists employed by Khartoum-based daily newspapers who were arrested in Dongola, in the state of Shamiliyah (North), on 13 June 2007 while on their way to cover a protest against the building of a dam in the Kijbar region.


Gecko biomimicry produces adhesive better than the real thing

(06/19/2007) Mimicking the agile gecko, with its uncanny ability to run up walls and across ceilings, has long been a goal of materials scientists. Researchers at Rensselaer Polytechnic Institute and the University of Akron have taken one sticky step in the right direction, creating synthetic "gecko tap" with four times the sticking power of the real thing.


Spring arrives 2 weeks earlier in Arctic due to climate change

(06/19/2007) Arctic summers are arriving two weeks earlier than just a decade ago reports a study published the June 19th issue of Current Biology. The research, based on phenology--the study of the timing of familiar signs of spring seen in plants, insects, birds, and other species--found that the arrival of spring is advancing at 14.5 days per decade.


Eating foie gras may cause mad cow-like disease

(06/19/2007) Consumption of foie gras can transmit amyloidosis, a disease which is sometimes manifested as mad cow or Creutzfeldt-Jakob disease (CJD), reports a new study in early online edition of the journal Proceedings of the National Academy of Sciences.


Giant manta ray born in captivity for first time

(06/18/2007) For the first time, a giant manta ray was born in captivity at an aquarium in Japan, reports the Associated Press. The baby manta ray was born Saturday at the Okinawa Churaumi Aquarium, 374 days after its parents mated. The birth was recorded on film.


Is the Amazon longer than the Nile?

(06/18/2007) Brazilian researchers claim they have evidence proving that the Amazon is the longest river in the world, some 65 miles (105 km) longer than the Nile, reports BBC News.



Page 1
|
Page 2
|
Page 3
|
Page 4
|
Page 5
|
Page 6
|
Page 7
|
Page 8
|
Page 9
|
Page 10
|
Page 11
|
Page 12
|
Page 13
|
Page 14
|
Page 15
|
Page 16
|
Page 17
|
Page 18
|
Page 19
|
Page 20
|
Page 21
|
Page 22
|
Page 23
|
Page 24
|
Page 25
|
Page 26
|
Page 27
|
Page 28
|
Page 29
|
Page 30
|
Page 31
|
Page 32
|
Page 33
|
Page 34
|
Page 35
|
Page 36
|
Page 37
|
Page 38
|
Page 39
|
Page 40
|
Page 41
|
Page 42
|
Page 43
|
Page 44
|
Page 45
|
Page 46
|
Page 47
|
Page 48
|
Page 49
|
Page 50
|
Page 51
|
Page 52
|
Page 53
|
Page 54
|
Page 55
|
Page 56
|
Page 57
|
Page 58
|
Page 59
|
Page 60
|
Page 61
|
Page 62
|
Page 63
|
Page 64
|
Page 65
|
Page 66
|
Page 67
|
Page 68
|
Page 69
|
Page 70
|
Page 71
|
Page 72
|
Page 73
|
Page 74
|
Page 75
|
Page 76
|
Page 77
|
Page 78
|
Page 79
|
Page 80
|
Page 81
|
Page 82
|
Page 83
|
Page 84
|
Page 85
|
Page 86
|
Page 87
|
Page 88
|
Page 89
|
Page 90
|
Page 91
|
Page 92
|
Page 93
|
Page 94
|
Page 95
|
Page 96
|
Page 97
|
Page 98
|
Page 99
|
Page 100
|
Page 101
|
Page 102
|
Page 103
|
Page 104
|
Page 105
|
Page 106
|
Page 107
|
Page 108
|
Page 109
|
Page 110
|
Page 111
|
Page 112
|
Page 113
|
Page 114
|
Page 115
|
Page 116
|
Page 117
|
Page 118
|
Page 119
|
Page 120
|
Page 121
|
Page 122
|
Page 123
|
Page 124
|
Page 125
|
Page 126
|
Page 127
|
Page 128
|
Page 129
|
Page 130
|
Page 131
|
Page 132
|
Page 133
|
Page 134
|
Page 135
|
Page 136
|
Page 137
|
Page 138
|
Page 139
|
Page 140
|
Page 141
|
Page 142
|
Page 143
|
Page 144
|
Page 145
|
Page 146
|
Page 147
|
Page 148
|
Page 149
|
Page 150
|
Page 151
|
Page 152
|
Page 153
|
Page 154
|
Page 155
|
Page 156
|
Page 157
|
Page 158
| Page 159 |
Page 160
|
Page 161
|
Page 162
|
Page 163
|
Page 164
|
Page 165
|
Page 166
|
Page 167
|
Page 168
|
Page 169
|
Page 170
|
Page 171
|
Page 172
|
Page 173
|
Page 174
|
Page 175
|
Page 176
|
Page 177
|
Page 178
|
Page 179
|
Page 180
|
Page 181
|
Page 182
|
Page 183
|
Page 184
|
Page 185
|
Page 186
|
Page 187
|
Page 188
|
Page 189
|
Page 190
|
Page 191
|
Page 192
|
Page 193
|
Page 194
|
Page 195
|
Page 196
|
Page 197
|
Page 198
|
Page 199