Conservation news
Founded in 1999, Mongabay is a leading provider of environmental science and conservation news.
Photo of 4-legged duck found in Britain

(02/18/2007) A 4-legged duckling has turned up in Britain according to a report from the Associated Press. Pictures of the animal were released Saturday.


15 'new' bird species revealed in North America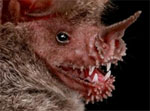 (02/18/2007) DNA testing has revealed 15 'new' species of birds in North America and six 'new' species of bats from the South American country of Guyana, according to a paper appearing in the British journal Molecular Ecology Notes.


Government subsidies drive deep-sea fish depletion

(02/18/2007) Saturday an international team of economists and scientists called for a ban on government subsidies that drive deep-sea trawling. Biologists say the practice is destroying the world's fisheries.


Hiking through Myanmar, the country better known as Burma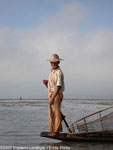 (02/18/2007) The recent history of Myanmar is rather grim. After gaining independence from the British in 1948, the country suffered a series of military takeovers, and has basically been under the dictatorship of a military junta for the past 50 years. At several points during this time, the people have taken to the streets to peacefully protest the military regime. The last major fight for democracy occurred in 1988, and climaxed with the first democratically held election since independence. The National League for Democracy (NLD), spearheaded by the charismatic Aung San Suu Kyi, won by an overwhelming 84% of the vote. Sadly, regardless of their promises, the military junta had no intention of relinquishing their power, and imprisoned the major leaders of the NLD.


Climate change is a "threat to society" says largest scientific body



(02/18/2007) The world's largest scientific society today voiced concern over global warming, calling it a "threat to society." It was the first consensus statement of the board of the American Association for the Advancement of Science (AAAS) on climate change. The announcement comes sixteen days after the International Panel on Climate Change (IPCC) issued its most recent report on global change.


10 commandments could save world fisheries

(02/18/2007) Global fisheries are in decline. Now a team of scientists have proposed a set of ten commandments to protect the world's marine fish populations while ensuring ongoing production of sea food in a sustainable manner. They presented their work Sunday at the annual meeting of the American Association for the Advancement of Science in San Francisco.


Past climate change may have fried rainforests

(02/18/2007) Three hundred million years ago, Earth's climate shifted dramatically from icehouse to hothouse, with major environmental consequences. That shift was the result of both rising atmospheric carbon dioxide concentrations and the melting of vast ice sheets, new research by University of Michigan paleoclimatologist Christopher Poulsen shows.


Global warming could cause Canadian forests to absorb more carbon

(02/18/2007) Researchers say they have found links between seasonal temperature changes and the uptake and loss of carbon dioxide.


Largest tropical glacier retreating at 200 feet per year in Peru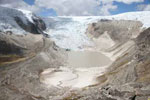 (02/18/2007) Peru's largest glacier is melting rapidly and could complete disappear by 2012 says a glaciologist from Ohio State University. Speaking at the annual meeting of the American Association for the Advancement of Science in San Francisco last week, Dr. Lonnie Thompson said that Peru's Qori Kalis glacier is melting at a rate of some 60 meters (200 feet) per year. Qori Kalis glacier is part of the Quelccaya Ice Cap, the largest body of ice in the tropics.


New monkey species in Uganda


(02/18/2007) Uganda may soon have a new species of monkey according to a report published in Kampala's New Vision newspaper. Dr. Colin Groves of the Australian National University told New Vision that the local population of the gray-cheeked mangabey (Lophocebus albigena) will soon be designated as a unique species, the Ugandan gray-cheeked mangabey (Lophocebus ugandae).


Robots aid in search for Ivory-billed woodpecker

(02/17/2007) Scientists have installed robotic cameras to help in the search of the world's most elusive bird, the Ivory-billed woodpecker.


Global research network needed to understand changes in the Arctic

(02/17/2007) A worldwide research network is needed to better understand how climate change is affecting the Arctic, says an Ohio State University geologist.


Giant carbon sequestration project begins in Australia

(02/16/2007) The largest carbon burial experiment in the world got underway yesterday in Australia with the drilling of a 2100-meter (6825 meter) well in the Otway Basin. If there are no signs of leaks, researchers from the Canberra-based Cooperative Research Centre for Greenhouse Gas Technologies (CO2CRC) will begin injecting carbon dioxide into the well in July according to an article from the NewScientist.com news service.


Does language extinction matter?

(02/16/2007) Most of humanity's 6,000 languages could be extinct within the next two centuries. Does it matter? At the American Association for the Advancement of Science annual meeting, University of Alaska Fairbanks professor emeritus Michael Krauss argued it does.


Water forecasts in Western U.S. have not improved in 40 years

(02/16/2007) Water supply predictions for the western United States are no better now than they were in the 1960s -- something that should be of particular concern as the effects of climate change become increasingly apparent -- say researchers from the University of Washington (UW).


Americans believe in global warming but don't want to make changes

(02/16/2007) Most Americans believe global warming is real but view it as a distant threat according to comments by Anthony Leiserowitz, a professor of environmental studies at the University of Oregon, at the annual meeting of the American Association for the Advancement of Science in San Francisco.


America needs to plan for global warming-induced drought

(02/16/2007) Models suggest that climate change is likely to produce increased incidence of summer droughts in the western United States. Researchers from Oregon State University say that now is the time to prepare for potential catastrophe.


Weedy grass could free U.S. of foreign oil dependence says biologist

(02/16/2007) A weedy grass may hold the key to domestic energy security and mitigating emissions of greenhouse gasese, said a Stanford University plant biologist speaking Friday at the annual meeting of the American Association for the Advancement of Science in San Francisco.


Aquaculture key to seafood crisis

(02/16/2007) A scientific panel at the American Association for the Advancement of Science annual meeting in San Francisco Friday revealed that rising demand for seafood has exceeded the capacity of the marine ecosystem and that expansion of aquaculture will need to continue to help meet consumer appetite for seafood products.


Ethanol always not as green as some believe

(02/16/2007) Ethanol is generally not as green as some people believe says Bruce Dale, Michigan State University professor of chemical engineering and materials science. Speaking at the American Association for the Advancement of Science annual meeting in San Francisco, Dale says that while corn ethanol produces less greenhouse gases than gasoline, it can cause other detrimental environmental effects if not carefully managed.


Biofuels, logging may spur deforestation in Guyana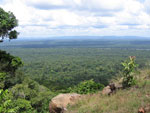 (02/15/2007) Growing timber exports and rising interest in biofuels are raising concerns that deforestation could accelerate in the South American country of Guyana. Guyana is a small, lightly populated country on the north coast of South America. About three-quarters of Guyana is forested, roughly 60 percent of which is classified as primary forest. Guyana's forests are highly diverse: the country has some 1,263 known species of amphibians, birds, mammals, and reptiles, and 6,409 species of plants.


Antarctic subglacial lakes plumbed by satellite

(02/15/2007) The discovery of a network of rapidly filling and emptying lakes lying beneath at least two of West Antarctica's ice streams suggests that change in the Antarctic could be more rapid than previously believed, according to a team of scientists writing in Friday's edition of the journal Science.


Antarctic temperatures are not rising

(02/15/2007) Temperatures in Antarctica are not rising as predicted by many climate models, according to research presented at the annual meeting of the American Association for the Advancement of Science in San Francisco. David Bromwich, researcher with the Byrd Polar Research Center at Ohio State University, reports that his work has found no increase in precipitation over Antarctica in the last 50 years. Most climate models predict that precipitation and temperature will increase over Antarctica as the planet warms.


Antarctic Peninsula warming affects penguins, krill

(02/15/2007) While much of Antarctica has cooled over the past decade, a warming trend in the Antarctic Peninsula may indicate what the future holds for the rest of the icy continent's wildlife. Researchers at Ohio State University say that higher temperatures have already forced penguin populations to migrate south and may have reduced the availability of krill that serve as the based of the Antarctic food chain.


Data centers use at least $7.2 billion in electricity globally

(02/15/2007) U.S. data centers consume 45 billion kilowatts of energy per year, according to a new study, commissioned by computer chip maker AMD. Jonathan Koomey, a staff scientist at Lawrence Berkeley National Laboratories and a consulting professor at Stanford University, calculated that in 2005 total data center electricity consumption in the U.S., including servers, cooling and auxiliary equipment, was approximately 45 billion kWh, resulting in total utility bills amounting to $2.7 billion. Globally, data centers used $7.2 billion in electricity.


Slurp gun used to capture hermaphrodite from hydrothermal vent


(02/15/2007) Researchers used an "Alvin Slurp Gun" to capture a hagfish from a deep sea hydrothermal vent. It is the first time that a member of the jawless fishes (agnathans) have been captured from a hydrothermal vent site. The results are published in the current edition of the journal Biology Bulletin.


$100 laptop for poor children will cost $130

(02/15/2007) The $100 laptop designed for poor children in developing countries looks like it will cost $130, at least initially, according to the computer's manufacturer, Quanta Computer Inc. In a statement Thursday, Quanta said it ship between 5 million to 10 million units this year as part of the One Laptop Per Child (OLPC) project, an effort launched by Nicholas Negroponte of the MIT Media Laboratory.


Chili peppers came from Ecuadorian rainforests 6,100 years ago

(02/15/2007) Chili peppers were first cultivated 6,100 years in South America according to research published in the current edition of the journal Science.


'Ark' aims to save amphibians from extinction


(02/15/2007) Scientists are meeting in Atlanta is discuss last minute efforts to save disappearing amphibians from extinction. A mysterious outbreak of fungal disease has wiped out an estimated 170 species in the past decade, and put more than one-third of the world's remaining amphibians at risk.


Global warming may worsen droughts in U.S. Southwest, Middle East

(02/14/2007) A new NASA study says that global warming could increase droughts in southwest United States, Mexico, parts of North Africa, the Middle East, and Australia -- areas already stressed by periodic water shortages.


Blind pink snake discovered in Madagascar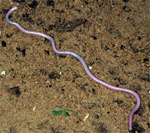 (02/14/2007) A pink worm-like snake has been rediscovered in Madagascar more than 100 years after it was first found. The snake, which is blind and measures about ten inches long, is described in the February 1, 2007 edition of Zootaxa, a leading taxonomic journal.


Mysterious outbreak killing millions of bees

(02/14/2007) An mysterious outbreak is causing the deaths of millions of honeybees in 22 states according to an entomologist from the University of Montana. Jerry Bromenshenk says that Colony Collapse Disorder (CCD) is "causing agricultural honeybees nationwide to abandon their hives and disappear."


U.S. forests suffer from beauty products packaging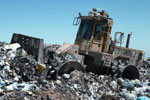 (02/14/2007) Every year millions of acres of forests in the southern United States are cut to fuel the pulp and paper industry. Nearly 25 percent of this demand comes from paper packaging, which usually ends up in landfills after a brief life as a disposable product. To support this industry, millions of acres of natural forest have been converted into fast-growing pine plantations -- in fact, the U.S. Forest Service estimates that nearly twenty percent of Southern forests are now pine plantations. Nationwide the United States lost an average of 831 square miles of old-growth forest per year according to official figures, the seventh highest loss in the world.


China misses pollution targets


(02/13/2007) China's environmental protection agency said that the country failed to meet any of its 2006 pollution control goals according to its web site. The State Environmental Protection (SEPA) admitted that economic growth actually caused the country to fall well behind its environmental targets.


Salamander diversity tied to elevation in the tropics

(02/13/2007) Scientists have long documented high levels of biodiversity at mid-elevation ecosystems in the tropics, but no one has ever conclusively determined the underlying causes of this species richness. A new study, which examined 13 genera and 137 species of tropical salamanders, suggests that this pattern may result from the time when the habitats were first colonized.


U.S. leads world in shark attacks in 2006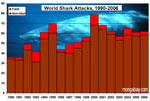 (02/13/2007) The United States led the world in shark attacks in 2006, according to figures released from the University of Florida's International Shark Attack File. The U.S. had 38 shark attacks, down from 40 in 2005. Globally there were 62 known shark attacks in 2006, an increase of 1 from 2005, but well below the 79 attacked recorded in 2000.


Rare giant bat eats night-flying birds

(02/13/2007) A new study published in PLoS ONE, an open online journal, reports that nocturnally migrating songbirds are preyed upon by giant bats. The findings go against the belief that night-flying birds lacked predators.


Global cooling may have spawned complex life on Earth

(02/13/2007) Icy conditions some 600-800 million years ago may have set the stage for the evolution of more complex lifeforms, according to research published in the February 14, 2007 edition of PLoS ONE. The theory may have implications for life on other planets.


2006 was fifth warmest year on record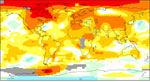 (02/13/2007) Last week NASA scientists announced that 2006 was the fifth-warmest year in the past century, after 2005, 1998, 2002, and 2003 (in descending order by warmest year).


Borneo's rainforest protected



(02/12/2007) An agreement to protect large areas of forest in central Borneo was officially signed by three governments that share the island. Brunei Darussalam, Indonesia and Malaysia will 'conserve and sustainably manage' the so-called 'Heart of Borneo', one of the most biodiverse, and threatened, tropical rainforests in the world. The World Wildlife Fund (WWF) played a critical role in the initiative's creation.


HSBC gives Smithsonian $8 million to study global warming impact on forests

(02/12/2007) HSBC, one of the world's largest banks, today announced an $8 million grant to the Smithsonian Tropical Research Institute (STRI) to fund the world's largest field experiment on the long-term effects of climate change on forest dynamics. The grant will enable STRI to expand the research capability of its Center for Tropical Forest Science, a network of tropical forest research stations across 20 sites in 17 countries.


$25 million prize to fight global warming

(02/12/2007) Friday Sir Richard Branson and Al Gore announced the establishment of a $25 million prize for the development of a technology that fights global warming by removing carbon dioxide from the atmosphere. The prize follows in the footsteps of the X Prize, a contest that was won by the SpaceShipOne rocket plane as the first privately developed craft to reach the boundary of outer space.


Amazon deforestation damaging critical ecosystem services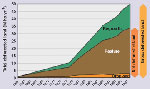 (02/08/2007) Human disturbance of the Amazon rainforest is more extensive than previously thought say a team of scientists writing in the current edition of the journal Frontiers in Ecology. Reviewing recent research on the Amazon ecosystem, they note that human activities are affecting the health of the forest and impacting the ecological goods and services the Amazon provides mankind.


Human ecological footprint to grow 34% by 2015 finds study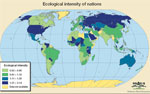 (02/08/2007) Population size and affluence are driving environmental degradation according to a new study published in the current edition of the journal Frontiers in Ecology. The authors say other widely cited drivers of environmental stress -- urbanization, economic structure, age distribution -- actually have relatively little impact.


Societies must adapt to global warming, mitigation alone is not the answer

(02/07/2007) Mankind must prepare for global warming by building resilient societies and fostering sustainable development, says a team scientists writing in the current issue of the journal Nature. The researchers say climate change is inevitable and policymakers should be plan adaptation strategies to minimize the negative impacts of future environmental stresses on society.


Carbon dioxide could be frozen and stored to fight global warming

(02/07/2007) Carbon dioxide could be frozen and stored huge underground reservoirs as a way to fight global warming according to scientists from the University of Leicester and the British Geological Society (BGS).


Extinction risk accelerated when interacting human threats interact

(02/07/2007) A new study warns that the simultaneous effect of habitat fragmentation, overexploitation, and climate warming could increase the risk of a species' extinction.


North America hit by sudden, severe climate cooling 65 M years ago

(02/07/2007) The largest climate change in central North America since the age of the dinosaurs 65 million years ago, a temperature drop of nearly 15 degrees Fahrenheit, is documented within the fossilized teeth of horses and other plant-eating mammals, a new study reveals.


Photos of the ancient Romeo and Juliet skeleton

(02/07/2007) Archaeologists unearthed a pair of human skeletons lying in an eternal embrace at a construction site outside Mantua, 25 miles south of Verona, the city featured in Shakespeare's "Roeo and Juliet." The skeletons date are thought to be 5,000-6,000 years ago.


Lemurs at risk due to invasion of feral beasts, global warming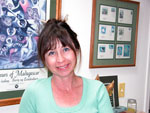 (02/07/2007) The lemurs of Madagascar are among the world's most threatened primates. Extensive habitat destruction, hunting, and the introduction of alien species have doomed dozens of species to extinction since humans first arrived on the island within the past 2000 years. Most of the casualties were Madagascar's largest lemurs -- today the biggest lemur is but a fraction of the gorilla-sized giants that once ruled the island. Despite this relative impoverishment of megafauna, Madagascar still boasts nearly 90 kinds of lemurs, all of which are unique to the island (save one species that was probably introduced to some nearby islands). Lemurs display a range of unusual behvaiors from singing like a whale (the indri) to sashaying across the sand like a ballet dancer (the sifaka). Interest in lemurs has helped Madagascar become a global conservation priority, though they are still at risk. Continued deforestation, scattered hunting, and looming climate change all pose significant threats to some lemur populations. One largely unexamined threat comes from introduced species such as the Indian civet and mongoose, but especially dogs and cats that have become feral.



Page 1
|
Page 2
|
Page 3
|
Page 4
|
Page 5
|
Page 6
|
Page 7
|
Page 8
|
Page 9
|
Page 10
|
Page 11
|
Page 12
|
Page 13
|
Page 14
|
Page 15
|
Page 16
|
Page 17
|
Page 18
|
Page 19
|
Page 20
|
Page 21
|
Page 22
|
Page 23
|
Page 24
|
Page 25
|
Page 26
|
Page 27
|
Page 28
|
Page 29
|
Page 30
|
Page 31
|
Page 32
|
Page 33
|
Page 34
|
Page 35
|
Page 36
|
Page 37
|
Page 38
|
Page 39
|
Page 40
|
Page 41
|
Page 42
|
Page 43
|
Page 44
|
Page 45
|
Page 46
|
Page 47
|
Page 48
|
Page 49
|
Page 50
|
Page 51
|
Page 52
|
Page 53
|
Page 54
|
Page 55
|
Page 56
|
Page 57
|
Page 58
|
Page 59
|
Page 60
|
Page 61
|
Page 62
|
Page 63
|
Page 64
|
Page 65
|
Page 66
|
Page 67
|
Page 68
|
Page 69
|
Page 70
|
Page 71
|
Page 72
|
Page 73
|
Page 74
|
Page 75
|
Page 76
|
Page 77
|
Page 78
|
Page 79
|
Page 80
|
Page 81
|
Page 82
|
Page 83
|
Page 84
|
Page 85
|
Page 86
|
Page 87
|
Page 88
|
Page 89
|
Page 90
|
Page 91
|
Page 92
|
Page 93
|
Page 94
|
Page 95
|
Page 96
|
Page 97
|
Page 98
|
Page 99
|
Page 100
|
Page 101
|
Page 102
|
Page 103
|
Page 104
|
Page 105
|
Page 106
|
Page 107
|
Page 108
|
Page 109
|
Page 110
|
Page 111
|
Page 112
|
Page 113
|
Page 114
|
Page 115
|
Page 116
|
Page 117
|
Page 118
|
Page 119
|
Page 120
|
Page 121
|
Page 122
|
Page 123
|
Page 124
|
Page 125
|
Page 126
|
Page 127
|
Page 128
|
Page 129
|
Page 130
|
Page 131
|
Page 132
|
Page 133
|
Page 134
|
Page 135
|
Page 136
|
Page 137
|
Page 138
|
Page 139
|
Page 140
|
Page 141
|
Page 142
|
Page 143
|
Page 144
|
Page 145
|
Page 146
|
Page 147
|
Page 148
|
Page 149
|
Page 150
|
Page 151
|
Page 152
|
Page 153
|
Page 154
|
Page 155
|
Page 156
|
Page 157
|
Page 158
| Page 159 |
Page 160
|
Page 161
|
Page 162
|
Page 163
|
Page 164
|
Page 165
|
Page 166
|
Page 167
|
Page 168
|
Page 169
|
Page 170
|
Page 171
|
Page 172
|
Page 173
|
Page 174
|
Page 175
|
Page 176
|
Page 177
|
Page 178
|
Page 179
|
Page 180
|
Page 181
|
Page 182
|
Page 183
|
Page 184
|
Page 185
|
Page 186
|
Page 187
|
Page 188
|
Page 189