Conservation news
Founded in 1999, Mongabay is a leading provider of environmental science and conservation news.
Photos of baby colobus monkey born at Central Park Zoo

(04/02/2007) A baby colobus monkey born at the Central Park Zoo in New York is doing well according to the Wildlife conservation Society. The infant, presently all white in color, will develop its characteristic black and white coat within the next three months. Colobus monkeys are native to the forests of Central Africa, ranging from Nigeria to Ethiopia and down into Kenya, Uganda and Tanzania.


Congo forest elephants declining from logging roads, illegal ivory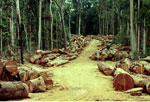 (04/02/2007) Fast-expanding logging roads in the Congo basin are becoming 'highways of death' for the fierce but elusive forest elephant, according to a new study published in the journal Public Library of Science. Logging roads both provide access to remote forest areas for ivory poachers and serve as conduits of advancing human settlement.


Deadly cyclones hurt conservation efforts in Madagascar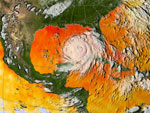 (04/02/2007) As Madagascar braces for the arrival of the sixth major cyclone (Gaya) to hit the Indian Ocean island this season, researchers from a prominent conservation have asked for help in the relief and recovery effort. Local officials with the Bronx Zoo-based Wildlife conservation Society say that the series of storms have left tens of thousands of people homeless, devastated croplands, and diverted already short funds from conservation activities.


Antarctic insects make natural anti-freeze to survive cold

(04/02/2007) Insects in the some of the world's coldest places produce natural anti-freeze that enables them to survive sub-freezing temperatures for months on end according to research represented at the Society for Experimental Biology's Annual Meeting in Glasgow.


Fruit bats crave sugar to overcome 'hangover'

(04/01/2007) Many of us will be familiar with cravings for sweet food, after having overindulged in alcohol the night before. It appears that Egyptian fruit bats also crave particular types of sugar to reduce the effects of ethanol toxicity.


Pythons turn bones of prey into calcium

(04/01/2007) Burmese pythons don't eat very often, but when they do they like to pig out, ingesting the whole of their prey. There's very little waste as they are able to digest everything, apart from hair and feathers. Dr Jean-Herv Lignot (Louis Pasteur University) and Dr Robert K. Pope (Indiana University South Bend) will talk about the implications this has on the way these snakes digest food on Saturday 31st March at the Society for Experimental Biology's Annual Meeting in Glasgow.


Insects cultivate antibiotic-producing bacteria in their antennae

(04/01/2007) Bacteria live in, on and around us and other organisms with sometimes very beneficial results. For the first time scientists have shown that one species of insect deliberately cultivates bacteria in its antennae in order to protect their larvae from fungal attack. This highly specialised interaction between an insect species and bacteria protects the insect's offspring against microorganisms which might infect it during its cocoon stage.


Detecting poisons in nectar is an odour-ous task for honeybees

(04/01/2007) Though many spring flowers have bright advertisements offering sweet rewards to honeybees, some common flowers have not-so-sweet or even toxic nectars. Why plants would try to poison the honeybees they wish to attract is a scientific mystery.


The news of extinction: western media's response to the demise of the Baiji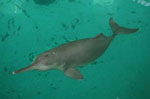 (04/01/2007) The news came and went with an alacrity that I found alarming, almost jolting. I waited for weeks, faithfully; I could not believe that the initial announcement would be followed by nothing but silence on the issue, no rationalizations, no opinions, no discussions, no outpourings of grief. Just silence.


Brazil to give Amazonian tribes Internet access to fight deforestation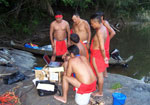 (03/30/2007) Brazil will offer free satellite Internet connections to indigenous tribes in the Amazon according to a report from Reuters. It says that the plan will help reduce illegal logging by enabling natives to monitor and report on illicit activities.


Australia puts $200M toward rainforest conservation


(03/30/2007) Australia has committed A$200m ($160m) to global forest conservation efforts to help fight illegal logging and slow global warming. The fund is one of the largest ever established by a government for reducing tropical deforestation. The new fund, known as the Global Initiative on Forests and Climate, aims to cut deforestation rates and promote reforestation schemes.


Madagascar needs relief help after deadly cyclones



(03/30/2007) A deadly cyclone has struck one of the most biologically diverse parts of the planet, forcing people from their homes and damaging their only source of livelihood. Cyclone Indlala has displaced more than 100,000 people and caused widespread crop losses in northeastern Madagascar according to reports from relief organizations. 100-mph (165 km/h) winds and heavy rains caused considerable damage in coastal areas in the northeastern part of the Indian Ocean island. 95 people were reported dead but there are fears of spreading water-borne disease.


Non-CO2 gases also cause global warming

(03/29/2007) While most of the focus in developing a policy to fight global warming has been on carbon dioxide, other gases also contribute to climate change. The effect of these gases is still poorly understood and should be the subject of further research say two climate scientists writing in the March 30 issue of the journal Science.


Some corals may survive acidification caused by rising CO2 levels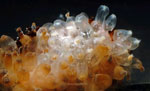 (03/29/2007) Several studies have shown that increased atmospheric carbon dioxide levels are acidifying the world's oceans. This is significant for coral reefs because acidification strips carbonate ions from seawater, making it more difficult for corals to build the calcium carbonate skeletons that serve as their structural basis. Research has shown that many species of coral, as well as other marine microorganisms, fare quite poorly under the increasingly acidic conditions forecast by some models. However, the news may not be bad for all types of corals. A study published in the March 30 issue of the journal Science, suggests that some corals may weather acidification better than others.


Overfishing of sharks causing shellfish decline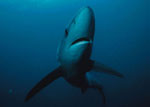 (03/29/2007) Overfishing of large sharks is reducing the abundance of shellfish reports a study published in the March 30 issue of the journal Science. A team of Canadian and American biologists has found that population declines in large predatory shark species -- including bull, great white, dusky, and hammerhead sharks -- due to overfishing has led to a boom in their ray, skate, and small shark prey species along the Atlantic Coast of the United States. Now these smaller species are depleting commercially important shellfish.


U.S. can cut oil imports to zero by 2040, use to zero by 2050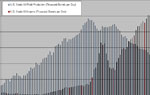 (03/29/2007) The United States could dramatically cut oil usage over the next 20-30 years at low to no net cost, said Amory B. Lovins, cofounder and CEO of the Colorado-based Rocky Mountain Institute, speaking at Stanford University Wednesday night for a week-long evening series of lectures sponsored by Mineral Acquisition Partners, Inc.


Rainforest education site recognized with community award

(03/29/2007) Mongabay.com, a leading environmental science web site, was awarded as this week's Cingular Spotlight community hero.by San Francisco-based radio station Energy 92.7 FM. The $500 cash prize was donated to the Amazon conservation Team, a group doing pioneering work in protecting the Amazon rainforest.


Important Congo basin parks get funding

(03/28/2007) A network of national parks and protected areas spanning three nations in Central Africa's Congo Basin, has received long-term funding through the establishment of a trust fund, thus ensuring further protection of the region's wildlife, according to the Wildlife conservation Society.


Littering with new plastic might not harm dolphins, sea turtles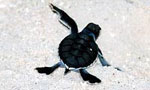 (03/28/2007) A new environmentally friendly plastic that degrades in seawater may make it possible to toss plastic waste overboard without killing turtles, dolphins and other marine life, according to research presented at the 233rd national meeting of the American Chemical Society by scientists from the University of Southern Mississippi.


U.S. government seeks to weaken Endangered Species Act

(03/28/2007) The Bush Administration is seeking to rewrite the Endangered Species Act to significantly reduce its effectiveness in protecting threatened species say environmentalists who released secret U.S. government documents on the issue.


CO2 levels tightly linked with climate change over past 420 million years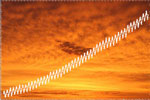 (03/28/2007) New research shows that sensitivity of Earth's climate to changes in the greenhouse gas carbon dioxide (CO2) have been relatively consistence for at least 420 million years, suggesting that presently rising levels of carbon dioxide resulting from fossil fuel use will indeed produce higher temperatures in the future.


Dinosaur extinction didn't produce current mammal evolution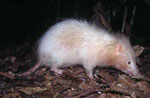 (03/28/2007) A new Nature study argues that the demise of dinosaurs did not fuel the rise of mammals. Devising a new tree of life for 4,500 species of mammals using molecular evolutionary trees, an international team of researchers challenges the prevailing hypothesis that a mass extinction of dinosaurs 65 million years ago played a major role in the diversification of mammals.


Lightning may be used to predict volcanic activity

(03/28/2007) While it has long been known that volcanic eruptions can produce vigorous lightning, there are few direct observations of the phenomena, states the article. Following the initial eruptions of Jan. 11 and 13, 2006, two of which produced lightning, two electromagnetic lightning detectors were set up in Homer about 60 miles from Augustine. A couple of days later, the volcano erupted again, with the first of four eruptions producing a "spectacular lightning sequence."


Biofuel Cell Produces Electricity from Hydrogen in Plain Air

(03/27/2007) A pioneering biofuel cell that produces electricity from ordinary air spiked with small amounts of hydrogen offers significant potential as an inexpensive and renewable alternative to the costly platinum-based fuel cells that have dominated discussion about the hydrogen economy of the future, British scientists reported here today.


Logging reduces abundance of rare mammals in Borneo



(03/27/2007) Selective logging profoundly reduces the abundance of rare forest species according to surveys of logged and unlogged rainforests on the island of Borneo, one of the most biodiverse parts of southeast Asia. The results, published in a trio of papers, have implications for biodiversity and forest conservation efforts in one of the world's most threatened ecosystems.


Biofuels demand will increase, not decrease, world food supplies

(03/27/2007) As concerns mount over fuel-versus-food competition for crops, a Michigan State University ethanol expert says that cellulosic ethanol could render the debate moot. Bruce Dale, an MSU chemical engineering and materials science professor, notes that ethanol can be made from cellulosic materials, like farm waste, instead of corn grain.


Photos of monster cane toad captured in Australia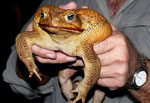 (03/27/2007) A conservation group captured a giant cane toad in the Australian city of Darwin. The beast weighed 840 grams (1.8 pounds) and measured 20.5 cm (8 inches).


Malaysia to use certification to crack down on illegal logging

(03/27/2007) Malaysia will ask its timber suppliers in other countries to provide certification on the origin of wood according to a report from the International Tropical Timber Organization (ITTO). The move will help Malaysia fight allegations that its timber processors are complicit in the illegal logging industry.


Hundreds of millions at risk from rising sea levels



(03/27/2007) Hundreds of millions are at risk from cyclones and rising seas resulting from climate change reports a new study by researchers from the International Institute for Environment and Development (IIED) in the UK, the City University of New York, and Columbia University.


Madagascar cyclones may be boon to vanilla market

(03/27/2007) A string of destructive cyclones that have struck the Indian island nation of Madagascar, off the southeastern coast of Africa, may serve as a boon to the depressed vanilla market. Madagascar, the largest producer of vanilla, will likely see production fall due to the havoc wreaked by the storms, which displaced more than 100,000 people. At the same time, the reduction in supply is sure to boost prices for other growers able to bring product to market.


Controversial rainforest clearing approved in Uganda

(03/26/2007) Uganda's prime minister Apolo Nsibambi has approved a plan to clear thousands of hectares of protected rainforest for a sugarcane plantation, reported the New Vision newspaper, a government-owned publication.


Sachs says biodiversity extinction crisis avoidable



(03/26/2007) In a Guardian editorial published Wednesday, Jeffrey Sachs called for action to stem mounting losses of global biodiversity. Sachs, director of the Earth Institute at Columbia University and Special Advisor to United Nations Secretary-General Ban Ki-Moon, says humans are the primary cause for depletion of the world's biological richness.


Cargill busted in the Amazon rainforest

(03/26/2007) Brazilian authorities have shut down Cargill Incorporated's deepwater soy export terminal on the Amazon River reports the Associated Press. The action comes after a local judge ruled that the firm failed to prepare a proper environmental impact statement for the project.


Cell phone batteries could be powered by OJ

(03/26/2007) Researchers at Saint Louis University in Missouri have developed a fuel cell battery that can run on virtually any sugar source -- from orange juice to tree sap -- and may last three to four times longer than conventional lithium ion batteries.


Indonesia is 3rd largest greenhouse gas producer due to deforestation

(03/26/2007) Indonesia trails only the United States and China in greenhouse gas emissions, reports a study released Friday by the World Bank and the British government.


Ladybugs ruin good wine

(03/26/2007) Secretions by ladybugs can taint the aroma and flavor of otherwise perfectly good wine, but scientists at Iowa State University say they may have devised a solution.


Climate change will cause biomes to shift and disappear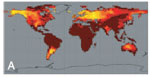 (03/26/2007) Many of the world's local climates could be radically changed if global warming trends continue, reports a new study published in the early online edition of the journal Proceedings of the National Academy of Sciences. The authors warn that current climates may shift and disappear, increasing the risk of biodiversity extinction and other ecological changes.


Extinction, like climate change, is complicated


(03/26/2007) Extinction is a hotly debated, but poorly understood topic in science. The same goes for climate change. When scientists try to forecast the impact of global change on future biodiversity levels, the results are contentious, to say the least. While some argue that species have managed to survive worse climate change in the past and that current threats to biodiversity are overstated, many biologists say the impacts of climate change and resulting shifts in rainfall, temperature, sea levels, ecosystem composition, and food availability will have significant effects on global species richness.


Photos of baby langur born at Bronx Zoo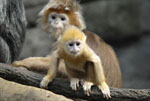 (03/26/2007) A three month old ebony langur (born on Nov 25, 2006) is starting to explore its Asian rain forest habitat at the Bronx Zoo's JungleWorld in New York. Visitors can see this adorable and agile zoo baby on exhibit with its mother, Dashini, father, Indra, and the rest of their troop.


Bush, U.S. automakers look for easy way out of fuel standards

(03/26/2007) President Bush praised U.S. automakers on their efforts to build more 'flexible fuel' vehicles capable of running on blends of gasoline and biofuels like ethanol and biodiesel. Environments retorted that the announcement was simply a ploy to undermine efforts to develop more fuel efficient cars, according to The Associated Press.


Environmentalists and loggers like new Amazon logging law

(03/25/2007) New rules that allow sustainable logging of national forests in the threatened Amazon drew guarded praise from both environmentalists and loggers.


Too many nutrients reduce biodiversity

(03/25/2007) researchers. The research is consistent with findings in other parts of the world that suggest high nutrient abundance can increase the productivity of a few species, but limited overall species richness.


Congo rainforest was dry savanna 25,000 years ago

(03/25/2007) Scientists from the Netherlands Organization for Scientific Research and University of Bremen in Germany have created the first detailed temperature record for tropical central Africa over the past 25,000 years. Their results confirm the thought that the Congo basin has been considerably drier than it is today.


Salamanders dying due to common pesticide


(03/25/2007) Atrazine, one of the most widely used pesticides in the United States, may be killing salamanders, according to American biologists writing in the journal Environmental Health Perspectives.


Invasive species is pestering Europe's rich

(03/24/2007) An invasive species is causing mounting concern among rich Europeans according to an article in today's edition of The Wall Street Journal.


Monkeys have culture too

(03/24/2007) A study carried out in the Caatinga forest of Serra da Capivara National Park in the Piaui state of northeast Brazil provides new evidence for the existence of culture in monkeys. The research, published by Dr Antonio Moura, a Brazilian researcher from the Department of Biological Anthropology at the University of Cambridge, suggests that monkeys can learn skills from each other, in the same manner as humans. Moura found signs that Capuchin monkeys in Brazil teach each other to bang stones as a signaling device to scare off potential predators.


Urban leopard attacks increase as habitat shrinks

(03/23/2007) A protected jungle billed as the world's largest urban national park in India's financial capital is being encroached, built over and damaged as a rapidly growing city takes a toll on the forest's diverse flora and fauna.


Britain invests $100M to protect Congo rainforest


(03/23/2007) Britain will invest nearly $100 million in a initiative to protect the Congo rainforest, the second largest tropical forest in the world. Ten other countries are also supporting the project.


China may top U.S. in greenhouse gas emissions in 2007

(03/23/2007) China's carbon dioxide emissions may exceed those of the United States in 2007, making the country the world's largest greenhouse gas polluter, according to analysis of Chinese energy data.


Evolutionary precursor to snake discovered

(03/23/2007) A University of Alberta paleontologist has helped discover the existence of a 95 million-year-old snakelike marine animal, a finding that provides not only the earliest example of limbloss in lizards but the first example of limbloss in an aquatic lizard.



Page 1
|
Page 2
|
Page 3
|
Page 4
|
Page 5
|
Page 6
|
Page 7
|
Page 8
|
Page 9
|
Page 10
|
Page 11
|
Page 12
|
Page 13
|
Page 14
|
Page 15
|
Page 16
|
Page 17
|
Page 18
|
Page 19
|
Page 20
|
Page 21
|
Page 22
|
Page 23
|
Page 24
|
Page 25
|
Page 26
|
Page 27
|
Page 28
|
Page 29
|
Page 30
|
Page 31
|
Page 32
|
Page 33
|
Page 34
|
Page 35
|
Page 36
|
Page 37
|
Page 38
|
Page 39
|
Page 40
|
Page 41
|
Page 42
|
Page 43
|
Page 44
|
Page 45
|
Page 46
|
Page 47
|
Page 48
|
Page 49
|
Page 50
|
Page 51
|
Page 52
|
Page 53
|
Page 54
|
Page 55
|
Page 56
|
Page 57
|
Page 58
|
Page 59
|
Page 60
|
Page 61
|
Page 62
|
Page 63
|
Page 64
|
Page 65
|
Page 66
|
Page 67
|
Page 68
|
Page 69
|
Page 70
|
Page 71
|
Page 72
|
Page 73
|
Page 74
|
Page 75
|
Page 76
|
Page 77
|
Page 78
|
Page 79
|
Page 80
|
Page 81
|
Page 82
|
Page 83
|
Page 84
|
Page 85
|
Page 86
|
Page 87
|
Page 88
|
Page 89
|
Page 90
|
Page 91
|
Page 92
|
Page 93
|
Page 94
|
Page 95
|
Page 96
|
Page 97
|
Page 98
|
Page 99
|
Page 100
|
Page 101
|
Page 102
|
Page 103
|
Page 104
|
Page 105
|
Page 106
|
Page 107
|
Page 108
|
Page 109
|
Page 110
|
Page 111
|
Page 112
|
Page 113
|
Page 114
|
Page 115
|
Page 116
|
Page 117
|
Page 118
|
Page 119
|
Page 120
|
Page 121
|
Page 122
|
Page 123
|
Page 124
|
Page 125
|
Page 126
|
Page 127
|
Page 128
|
Page 129
|
Page 130
|
Page 131
|
Page 132
|
Page 133
|
Page 134
|
Page 135
|
Page 136
|
Page 137
|
Page 138
|
Page 139
|
Page 140
|
Page 141
|
Page 142
|
Page 143
|
Page 144
|
Page 145
|
Page 146
|
Page 147
|
Page 148
|
Page 149
|
Page 150
|
Page 151
|
Page 152
|
Page 153
|
Page 154
|
Page 155
|
Page 156
|
Page 157
| Page 158 |
Page 159
|
Page 160
|
Page 161
|
Page 162
|
Page 163
|
Page 164
|
Page 165
|
Page 166
|
Page 167
|
Page 168
|
Page 169
|
Page 170
|
Page 171
|
Page 172
|
Page 173
|
Page 174
|
Page 175
|
Page 176
|
Page 177
|
Page 178
|
Page 179
|
Page 180
|
Page 181
|
Page 182
|
Page 183
|
Page 184
|
Page 185
|
Page 186
|
Page 187
|
Page 188
|
Page 189
|
Page 190
|
Page 191