Conservation news
Founded in 1999, Mongabay is a leading provider of environmental science and conservation news.
Prehistoric lizard glided through air using ribs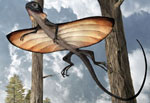 (03/19/2007) An extinct species of lizard used a wing-like membrane supported by the animal's elongated ribs for gliding through the air according to Chinese researchers. The 6-inch (15.5 cm) lizard, found in the Liaoning Province of northeastern China, lived during the Early Cretaceous period. The specimen is described in the early online edition of the journal Proceedings of the National Academy of Sciences (PNAS).


Genetically engineered mosquitoes fight malaria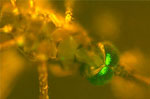 (03/19/2007) Globally, governments are spending hundreds of millions of dollars annually to reduce the impact of the malaria, a mosquito-borne disease that affects around 400 million people each year and kills one to three million die. While most of the focus to date have been on developing drugs that boost immunity to malaria or counteract the malaria parasite once it is in the victim's bloodstream, scientists have now developed a treatment that focuses on the mosquito itself. The research, described in the early online edition of the journal Proceedings of the National Academy of Sciences (PNAS), uses a genetically engineered strain of malaria-resistant mosquitoes to out-compete natural mosquitoes when fed malaria-infected blood.


Poisonous tree frog brings hope to indigenous community in the Amazon


(03/19/2007) Used for centuries as a natural disease prevention and physical stimulant, an Amazonian tree frog has become a symbol of Brazil's fight to benefit the Indigenous from scientific developments based on their knowledge.


Past winter (2006-2007) was warmest on record

(03/16/2007) This winter was the warmest on record according to the U.S. government's National Oceanic and Atmospheric Administration (NOAA). NOAA also reported that precipitation was above average in much of the United States.


Global warming reduced crop yields over past 20 years


(03/16/2007) Global warming has already caused crop losses according to a new study by researchers at the Lawrence Livermore National Laboratory and the Carnegie Institution at Stanford University. The study, published March 16 in the online journal Environmental Research Letters, shows that warming temperatures have reduced the combined production of wheat, corn, and barley by 40 million metric tons per year between 1981-2002. The authors, David Lobell of Lawrence Livermore and Christopher Field of the Carnegie Institution, estimate the annual losses at $5 billion.


Evolution is faster in temperate zones

(03/15/2007) A new study argues that temperate zones are hotbeds of evolution, not tropical areas as conventionally held.


Melting Antarctic glaciers could trigger sea level rise

(03/15/2007) Scientists have identified four melting Antarctic glaciers that could trigger a rapid rise in global sea levels according to a study published in the journal Science.


Earth may be near global warming tipping point

(03/15/2007) Earth could be reaching a tipping point that could trigger rapid climate change according to scientists studying declining sea ice in the Arctic.


Timber industry teams with greens on new anti-illegal logging bill


(03/15/2007) A bipartisan group of U.S. lawmakers introduced a bill to ban the use of illegally-harvested timber and wood products. Led by Congressmen Earl Blumenauer (D-OR), Robert Wexler (D-FL), and Jerry Weller (R-IL) the legislation would make it a crime to import, export, possess, purchase or sell illicit timber.


Asian pollution contributes to California warming

(03/14/2007) Pollution from Asia may cause warmer spring temperatures on the West Coast of the United States according to a new study led by scientists at the Scripps Institution of Oceanography, at the University of California San Diego.


New green biofuels process could meet all U.S. transportation needs

(03/14/2007) Purdue University chemical engineers have proposed a new environmentally friendly process for producing liquid fuels from plant matter - or biomass - potentially available from agricultural and forest waste, providing all of the fuel needed for "the entire U.S. transportation sector."


Pigeon beaks have navigation system

(03/14/2007) Birds may use sensors in their beaks to navigate long distances without getting lost according to a new study published in the scientific journal Naturwissenschaften. German scientists found iron-containing structures in the beaks of homing pigeons that might enable the birds to use the earth's magnetic field for navigation.


Clean coal is a vital energy source for the future says MIT report

(03/14/2007) Coal is a cheap and widely available energy source that will be continue to be used in the future despite its impact on global climate. For this reason, says a new report by MIT, it is essential to develop cleaner technologies for harnessing coal.


Ivory-billed Woodpecker sighting may be a mistake

(03/14/2007) A new study casts doubt on the apparent rediscovery of the Ivory-billed Woodpecker in Arkansas. J. Martin Collinson, a researcher at the University of Aberdeen in Scotland, says that the sighting of the thought-to-be-extinct bird is a case of mistaken identity. Using video analysis, Collinson argues that ornithologists have confused the Ivory-billed Woodpecker (Campephilus principalis) with the similar Pileated Woodpecker (Dryocopus pileatus).


New cat species discovered in Borneo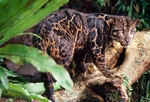 (03/14/2007) Scientists have declared that the clouded leopard found on the islands of Borneo and Sumatra is an entirely new species of cat, genetically distinct from the clouded leopard that lives in mainland southeast Asia. The scientists say that the two species of clouded leopard appear to have diverged about 1.4 million years ago. They also note that the results of the genetic study are supported by separate research on geographical variation in the coat color of the clouded leopard.


Amazon rainforest fires date back thousands of years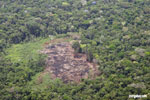 (03/14/2007) Fires are nothing new to the Amazon reports a study published in the journalBiotropica. Analyzing soils in the eastern Amazon, a team of scientists led by David S. Hammond of NWFS Consulting, has found evidence of forest fires dating back thousands of years. While the origin of these fires is unclear, the authors propose intriguing scenarios involving pre-Colombian human populations and ancient el Nino events which could have so dried rainforest areas that they became more prone to forest fires.


Rich countries gain, poor countries lose forest cover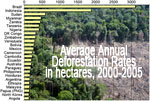 (03/13/2007) Tropical deforestation rates continue to accelerate according to a bi-annual report from the Food and Agriculture Organization of the United Nations (FAO) released Tuesday.


Bush administration cuts funding for geothermal energy

(03/13/2007) The Bush Administration is seeking to eliminate federal funding for geothermal energy research according to a report from Reuters. Oddly, the move comes as the White House has made a push for renewable energy to reduce dependence on foreign oil imports. Apparently the administration appears to be focused on biofuels as liquid fuels and nuclear for electricity generation.


Newly discovered ocean genes could help address world problems

(03/13/2007) An expedition lead by genome pioneer Craig Venter has turned up more than 6 million unknown genes among ocean microbes, some of which could be used to help fight climate change and develop clean sources of energy, according to a study published in PLoS Biology, an open-access journal.


New bamboo species discovered in U.S., first in 200 years

(03/13/2007) Botanists have discovered a previously unknown species of North American bamboo in the hills of Appalachia. It is the third known species of bamboo in the United States, but the first new species in more than 200 years. The species is named Arundinaria appalachiana.


World population to peak at 9.2 billion in 2050



(03/13/2007) World population is expected to reach 9.2 billion by 2050 according to a new study by the United Nations. Virtually all growth will occur in developing countries, with their population growing from 5.4 billion today to 7.9 billion mid-century. The population of developed regions is expected to remain unchanged at 1.2 billion, and would have declined, were it not for the anticipated net migration from developing to developed countries.


UK to cut CO2 emissions by 60%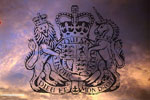 (03/13/2007) Tony Blair pledged Wednesday to cut Britain's carbon dioxide emissions by 60 percent by 2050 in an effort to fight global warming. In announcing the Climate Change Bill, Britain becomes the first country to set legally binding targets.


Caribbean coral reefs result of mass extinction, rise of isthmus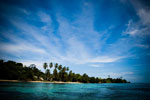 (03/12/2007) Extinctions that resulted from the formation of the Panamanian isthmus were delayed two million years according to a new study by researchers at the Smithsonian Tropical Research Institute, Scripps Institution of Oceanography and London's Natural History Museum. The findings may have implications for global species extinction and evolution.


Ancient humanoids were short and nasty for kung fu fighting, not climbing

(03/12/2007) Ancient ape-like human ancestors called as australopiths were short-legged to help them fight, not to climb trees, argues a new study from a researcher at the University of Utah.


Wind energy speculation jumps in Texas, but Exxon on sidelines



(03/12/2007) While speculative energy ventures are nothing new in Texas, today companies are taking risky gambles in wind power argues an article that appears in today's issue of The Wall Street Journal (WSJ). The WSJ reports that energy firms are investing hundreds of millions of dollars in some of the most remote -- and windy -- parts of Texas, but notes that the investments will only pay off with government subsidies.


Plug-in cars could help fuel Austin power grid

(03/12/2007) The city of Austin, Texas hopes to launch an ambitious plan using plug-in electric cars to reduce pollution and improve power grid management, reports an article in today's Wall Street Journal. Under the initiative put forth by Roger Duncan, deputy manager of Austin Energy, the city-owned electric utility, and backed by mayor Will Wynn, the plug-in electric cars would serve as sort of giant battery from which the city grid could draw power during peak demand.


Can new loan really bring sustainable cattle ranching to the Amazon?


(03/12/2007) Brazil's second largest exporter of beef has won approval of a controversial loan from the International Finance Corporation (IFC), the private equity lender of the World Bank, according to a report from the Associated Press. Environmentalists say the deal will drive further deforestation in the biologically rich Amazon rainforest. Cattle ranching is responsible for more than half of forest loss in the region.


Amazon rainforest does have rainy and dry seasons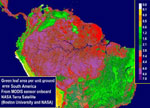 (03/12/2007) A new study using NASA satellite images found evidence of seasonality in the Amazon rainforest. The results, published in the March 20 issue of the Proceedings of the National Academy of Sciences, show that the Amazon had 25 percent more leaf coverage in the dry season and 25 percent less in the rainy season.


Biodiversity extinction crisis looms says renowned biologist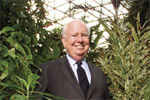 (03/12/2007) While there is considerable debate over the scale at which biodiversity extinction is occurring, there is little doubt we are presently in an age where species loss is well above the established biological norm. Extinction has certainly occurred in the past, and in fact, it is the fate of all species, but today the rate appears to be at least 100 times the background rate of one species per million per year and may be headed towards a magnitude thousands of times greater. Few people know more about extinction than Dr. Peter Raven, director of the Missouri Botanical Garden. He is the author of hundreds of scientific papers and books, and has an encyclopedic list of achievements and accolades from a lifetime of biological research. These make him one of the world's preeminent biodiversity experts. He is also extremely worried about the present biodiversity crisis, one that has been termed the sixth great extinction.


New Snapper Species Discovered in Brazil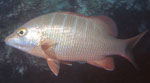 (03/09/2007) A new species of snapper was discovered off the coast of Brazil. The popular game fish had long been mistaken for a more common species, according to scientists with conservation International (CI) and Environmental Defense. The description of the Lutjanus alexandrei snapper is published in the journal Zootaxa.


Birds follow racoon-like coati to find food


(03/08/2007) A number of rainforest bird species are known to follow columns of army ants eating insects and other animals as they try to escape the marauding ants. Now the behvaior has been documented in birds that follow the coatimundi, a racoon-like mammal, as it forages in the rainforest.


Human hunting causes changes in monkey behvaior


(03/08/2007) Human hunting pressure causes significant behvaioral changes in Central Africa monkeys and duiker according to a paper published in the March issue of the journal Biotropica.


Air pollution can reduce rainfall

(03/08/2007) Air pollution can reduce rainfall in mountainous areas according to research published in Friday's issue of the journal Science. 50 years of measurements at Mt. Hua near Xi'an, in central China, show that precipitation levels can be decreased by 30 to 50 percent during hazy conditions. The researchers say this is the result of high concentrations of particulates in the air which cause cloud droplets to be smaller and less likely to become raindrops.


Carbon dioxide levels threaten oceans regardless of global warming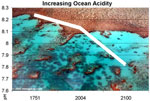 (03/08/2007) Rising levels of carbon dioxide will have wide-ranging impacts on the world's oceans regardless of climate change, reports a study published in the March 9, 2007, issue of the journal Geophysical Research Letters.


Jumbo squid and sperm whales tagged

(03/08/2007) Scientists have simulatenously tagged sperm whales and jumbo squid off Mexico's Pacific coast, allowing them to be tracked by satellite even as they dive to depths exceeding 3000 feet. Details of the effort are published in in the March 12 edition of the journal Marine Ecology Progress Series (MEPS).


Bush administration issues gag order on polar bear discussions



(03/08/2007) The Bush administration has banned discussion of polar bears, sea ice, and global warming among officials traveling overseas according to environmental groups and the director of the U.S. Fish and Wildlife Service.


Government pledges $385M for cellulosic ethanol

(03/08/2007) The U.S. Department of Energy (DOE) announced it will invest up to $385 million over the next four years for six biorefinery projects capable of producing more than 130 million gallons of cellulosic ethanol annually.


Deforestation causes species extinction in Madagascar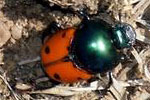 (03/07/2007) Deforestation has already caused the extinction of a large number of endemic insect species on the island of Madagascar, according to new research published in the March edition of the journal Biology Letters. The work suggests that only half the species confined to these forest areas will survive.


Ecuadorian brothers show conservation-based microentrepreneurship possible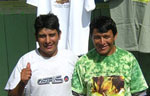 (03/07/2007) Tropical rainforests are declining across most of the world. Since the close of the 1990s deforestation rates have only accelerated as growing levels of consumption and consistent population growth paint an increasingly bleak future for the world's forests and their resident biodiversity. These trends make it easy to lose hope. As such, stories that show local people earning a livelihood from biodiversity conservation are an inspiration.


World's only blue lizard heads toward extinction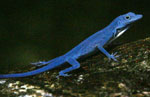 (03/07/2007) High above the forest floor on the remote Colombian island of Gorgona lives a lizard with brilliant blue skin, rivaling the color of the sky. Anolis gorgonae, or the blue anole, is a species so elusive and rare, that scientists have been unable to give even an estimate of its population. Due to the lizard&spod;s isolated habitat and reclusive habits, researchers know little about the blue anole, but are captivated by its stunning coloration.


Panama Canal port projects threaten mangroves


(03/06/2007) Port development and land speculation in Panama is turning some of the Caribbean's most productive mangrove forests into landfill. The landfill would be used for container storage near the city of Colon, at the mouth of the Panama Canal. But local scientists say the transformation could have unintended environmental consequences.


Termites can make ethanol

(03/06/2007) Achim Steiner, Executive Director of the UN Environment Programme (UNEP), says that termites can be used to make eco-friendly ethanol. He cites U.S. government backed research showing that "microbes living in the guts of termites have potent enzymes able to efficiently and cost effectively transform woody wastes into sugars for ethanol production."


Billion Tree Campaign gets pledges totaling 562M trees since January

(03/06/2007) The UN Environment Programme (UNEP) announced that its 'Billion Tree Campaign' has so-far achieved commitments to plant 562,769,095 trees, following a pledge of 250 million trees by the Ministry of Environment and Natural Resources of Mexico.


GM plans electric car for 2010

(03/06/2007) Underperforming U.S. automaker General Motors said it has set a 2010 target for production of an-electric car according to a statement from Vice Chairman Bob Lutz, as reported by Reuters.


Bird species rediscovered after 139 years

(03/06/2007) A wetland bird that has been 'lost' for nearly 140 years was rediscovered at a wastewater treatment plant in Thailand according to bird conservation group BirdLife International.


Pre-Colombian Amazon rainforest not heavily populated


(03/06/2007) Much of the Amazon rainforest was not heavily populated by pre-Colombian indigenous cultures argues a new paper published in the journal Philosophical Transactions of the Royal Society B: Biological Sciences. The work challenges an increasingly accepted theory -- popularized in Charles C. Mann's 1491: 'New Revelations of the Americas Before Columbus' -- the Amazon supported dense, sedentary populations prior to the arrival of Europeans.


Gold mining in Guyana damages environment, threatens Amerindians



(03/06/2007) Informal gold mining is causing environmental harm and human rights abuses in Guyana says a new report from the International Human Rights Clinic (IHRC) of Harvard Law School's Human Rights Program. Wildcat gold mining has been a serious problem in the Guiana shield countries of Brazil, Venezuela, Guyana, Suriname and French Guiana. Rising gold prices in recent years have only worsened the problem, as illegal miners have flooded the region clearing forest, polluting rivers, and making threats against indigenous people.


Two new species of eyeless albino millipede found in Arizona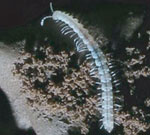 (03/05/2007) A newly discovered genus of millipede may shed light on the poorly understood cave ecosystems of the desert southwest. J. Judson Wynne, with the Department of Biological Sciences at Northern Arizona University (NAU) and cave research scientist with the U.S. Geological Survey's Southwest Biological Center, and Kyle Voyles, Arizona State Cave Coordinator for the Bureau of Land Management (BLM), collected the two previously unknown millipede species in caves on opposite sides of the Grand Canyon.


Asian pollution causes stronger thunderstorms, may worsen global warming

(03/05/2007) Growing levels of pollution in Asia are altering the chemistry of the atmosphere and causing a change in Pacific storm patterns according to researchers writing in the online early edition of PNAS


Birds exhibit thuggish mafia-like behvaior as nest enforcers

(03/05/2007) Parasitic birds engage in mafia-like reprisals to encourage host acceptance of their eggs according to researchers writing in the online early edition of PNAS.



Page 1
|
Page 2
|
Page 3
|
Page 4
|
Page 5
|
Page 6
|
Page 7
|
Page 8
|
Page 9
|
Page 10
|
Page 11
|
Page 12
|
Page 13
|
Page 14
|
Page 15
|
Page 16
|
Page 17
|
Page 18
|
Page 19
|
Page 20
|
Page 21
|
Page 22
|
Page 23
|
Page 24
|
Page 25
|
Page 26
|
Page 27
|
Page 28
|
Page 29
|
Page 30
|
Page 31
|
Page 32
|
Page 33
|
Page 34
|
Page 35
|
Page 36
|
Page 37
|
Page 38
|
Page 39
|
Page 40
|
Page 41
|
Page 42
|
Page 43
|
Page 44
|
Page 45
|
Page 46
|
Page 47
|
Page 48
|
Page 49
|
Page 50
|
Page 51
|
Page 52
|
Page 53
|
Page 54
|
Page 55
|
Page 56
|
Page 57
|
Page 58
|
Page 59
|
Page 60
|
Page 61
|
Page 62
|
Page 63
|
Page 64
|
Page 65
|
Page 66
|
Page 67
|
Page 68
|
Page 69
|
Page 70
|
Page 71
|
Page 72
|
Page 73
|
Page 74
|
Page 75
|
Page 76
|
Page 77
|
Page 78
|
Page 79
|
Page 80
|
Page 81
|
Page 82
|
Page 83
|
Page 84
|
Page 85
|
Page 86
|
Page 87
|
Page 88
|
Page 89
|
Page 90
|
Page 91
|
Page 92
|
Page 93
|
Page 94
|
Page 95
|
Page 96
|
Page 97
|
Page 98
|
Page 99
|
Page 100
|
Page 101
|
Page 102
|
Page 103
|
Page 104
|
Page 105
|
Page 106
|
Page 107
|
Page 108
|
Page 109
|
Page 110
|
Page 111
|
Page 112
|
Page 113
|
Page 114
|
Page 115
|
Page 116
|
Page 117
|
Page 118
|
Page 119
|
Page 120
|
Page 121
|
Page 122
|
Page 123
|
Page 124
|
Page 125
|
Page 126
|
Page 127
|
Page 128
|
Page 129
|
Page 130
|
Page 131
|
Page 132
|
Page 133
|
Page 134
|
Page 135
|
Page 136
|
Page 137
|
Page 138
|
Page 139
|
Page 140
|
Page 141
|
Page 142
|
Page 143
|
Page 144
|
Page 145
|
Page 146
|
Page 147
|
Page 148
|
Page 149
|
Page 150
|
Page 151
|
Page 152
|
Page 153
|
Page 154
|
Page 155
|
Page 156
| Page 157 |
Page 158
|
Page 159
|
Page 160
|
Page 161
|
Page 162
|
Page 163
|
Page 164
|
Page 165
|
Page 166
|
Page 167
|
Page 168
|
Page 169
|
Page 170
|
Page 171
|
Page 172
|
Page 173
|
Page 174
|
Page 175
|
Page 176
|
Page 177
|
Page 178
|
Page 179
|
Page 180
|
Page 181
|
Page 182
|
Page 183
|
Page 184
|
Page 185
|
Page 186
|
Page 187
|
Page 188
|
Page 189