Conservation news
Founded in 1999, Mongabay is a leading provider of environmental science and conservation news.
86% of sea turtle species threatened with extinction

(11/14/2007) Marine turtles have thrived for more than 100 million years. But only the last few hundred years have given the huge, spectacular, prehistoric amphibians serious trouble.


Law enforcement key to saving Borneo's rainforests



(11/13/2007) In an interview with mongabay.com, Dr. Rhett Harrison, a Smithsonian Tropical Research Institute (STRI) associate researcher and Secretary for the Asia-Pacific Chapter of ATBC, says that law enforcement could be the key to safeguarding biodiversity contained in Borneo's lowland parks. Harrison says there may be opportunities for conservationists to work with oil palm to developers to ensure that existing forests are not converted for plantations and that palm oil can be produced in a sustainable manner. He also adds that carbon offsets may eventually offer a means to fund conservation and sustainable development efforts in areas that still have standing forest.


Sun Bears reclassified by IUCN as Vulnerable

(11/13/2007) The world's smallest bear has been recently classified as vulnerable by the IUCN due to habitat loss and poaching. Co-chair of the IUCN Bear Specialist Group, Dave Garshelis, states that "although we do not have any reliable population estimates for the sun bear, or any of the other Asian bears for that matter, we fear that bears in Southeast Asia are declining at a particularly rapid rate due to extensive loss of forest habitat combined with rampant poaching."


conservationist Schaller named to Time's 'Hero of the Planet'

(11/13/2007) Renowned conservationist Dr. George Schaller of the Wildlife conservation Society was recently named by Time Magazine as one of 60 'Heroes of the Planet.' He joins an elite group of environmental champions, including former Vice President Al Gore and former Soviet Union President Mikhail Gorbachev.


Global warming is melting soft corals

(11/13/2007) Soft corals are "simply melting and wasting away" due to global warming-induced environmental stress says Dr. Hudi Benayahu, head of Tel Aviv University's Porter School of Environmental Studies.


NASA: Arctic Ocean circulation reversal not due to global warming

(11/13/2007) A study published in Geophysical Research Letters shows that weakening of the Arctic Oscillation results from a cyclical process rather than climate change. The results suggest not all the large changes seen in Arctic climate in recent years are a result of long-term trends associated with global warming.


Greenwashing the palm oil industry

(11/12/2007) A new report from Greenpeace alleges that members of the Roundtable on Sustainable Palm Oil -- an industry-driven initiative to clean up palm oil production -- are using palm oil derived by clearing endangered rainforests and draining carbon-rich peatlands on the Indonesian island of Sumatra.


Planned logging of Woodlark Island for biofuels opposed by islanders and scientists

(11/12/2007) On Woodlark Island, one-hundred and seventy miles from Papua New Guinea, a struggle is occurring between islanders and biofuel company Vitroplant Ltd. The company is planning to clear much of the island's forest for oil palm plantations to produce biofuels. Vitorplant Ltd.'s contract specifies that they would deforest 60,000 hectares of land for plantations; Woodlark Island is 85,000 hectares in total, meaning over 70% of the island would be converted. Last week, one hundred islanders (out of a total population of 6,000) traveled to the capital of Milne Bay Province, Alotau, to voice their concern over the plans to turn their forested island into plantations.


Missing link between humans and apes possibly discovered

(11/12/2007) A 10 million-year-old jawbone discovered in Kenya may represent a new species very close to the last common ancestor of gorillas, chimpanzees, and humans, report researchers writing in the current issue of the journal Proceedings of the National Academy of Sciences (PNAS).


Chocolate first used more than 3100 years ago

(11/12/2007) Cacao, the source of chocolate, was in use at least at least 3000 years ago according to evidence found by archaeologists working in Honduras. The discovery pushes back the earliest known use of cacao by 500 years.


China begins blocking river for second largest dam

(11/12/2007) China began damming the Jinsha River for its biggest hydroelectric project after the Three Gorges Project, reports Chinese state media.


Sun bear gets 'vulnerable' listing due to deforestation, poaching

(11/12/2007) The sun bear, the world's smallest bear, has been added to the global list of species threatened with extinction, said the World conservation Union (IUCN).


In the Amazon, primary forest biodiversity tops that of secondary forest, plantations

(11/12/2007) Plantations and secondary forests are no match for primary Amazon rainforest in terms of biodiversity, reports the largest ever assessment of the biodiversity conservation value in the tropics.


Oil palm does not store more carbon than forests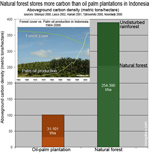 (11/08/2007) Officials from the Indonesian ministry of agriculture and the palm oil industry are distributing materials that misrepresent the carbon balance oil palm plantations, according to accounts from people who have seen presentations by members of the Indonesian Palm Oil Commission. Ministry of agricultural officials are apparently arguing that oil palm plantations store and sequester many times the amount of CO2 as natural forests and therefore converting forests for plantations is the best way to fight climate change. In making such claims, these Indonesian officials are ignoring data that show the opposite, putting the credibility of the oil palm industry at risk, and undermining efforts to slow deforestation and reign in greenhouse gas emissions.


Saving tigers in India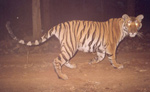 (11/08/2007) Over the past century the number of tigers in India has fallen from about 40,000 to less than 4,000 (and possibly as few as 1,500). Relentless poaching and clearing of habitat for agriculture have been the primary drivers of this decline, though demand for tiger skins and parts for "medicinal" purposes has become an increasingly important threat in recent years.


Weathering technology could mitigate global warming

(11/08/2007) Researchers at Harvard University and Pennsylvania State University have invented a technology, inspired by nature, to reduce the accumulation of atmospheric carbon dioxide (CO2) caused by human emissions.


Governors announce energy efficiency push for computing

(11/07/2007) The National Governors Association (NGA) today announced an innovative clean energy partnership between the NGA Chair's Initiative Securing a Clean Energy Future (SCEF) and the Climate Savers Computing Initiative (CSCI), founded by Google and Intel, to spur deployment of more energy efficient computers and servers in state offices and agencies.


Proposed gold mine proves controversial in French Guiana rainforest

(11/07/2007) Commercial gold mining threatens a key forest reserve and wetland in French Guiana say scientists who warn that exploitation could pollute rivers with toxic compounds, threaten wildlife, and put indigenous populations at risk.


Subtle threats could ruin the Amazon rainforest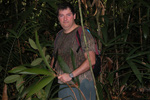 (11/07/2007) While the mention of Amazon destruction usually conjures up images of vast stretches of felled and burned rainforest trees, cattle ranches, and vast soybean farms, some of the biggest threats to the Amazon rainforest are barely perceptible from above. Selective logging -- which opens up the forest canopy and allows winds and sunlight to dry leaf litter on the forest floor -- and 6-inch high "surface" fires are turning parts of the Amazon into a tinderbox, putting the world's largest rainforest at risk of ever-more severe forest fires. At the same time, market-driven hunting is impoverishing some areas of seed dispersers and predators, making it more difficult for forests to recover. Climate change -- an its forecast impacts on the Amazon basin -- further looms large over the horizon.


Carbon-negative bioenergy to cut global warming could drive deforestation

(11/06/2007) A proposed mechanism for generating carbon-negative bioenergy -- an energy source that reduces atmospheric carbon dioxide levels -- could drive large-scale deforestation in the tropics and undermine efforts to conserve forests for carbon offsets says a biofuel expert.


Asia's tigers could get big boost from small conservation efforts

(11/05/2007) Small changes to the management of wildlife reservers in India, Bangladesh, Bhutan, and Nepal could dramatically boost endangered tiger populations, reports a new study published in the journal Biological conservation.


Climbing Africa's second highest mountain

(11/05/2007) Mount Kenya, Africa's second highest mountain, is said to be one of the continent's most beautiful hikes. Located less than three hours' drive from Nairobi, Mount Kenya is accessible and makes for a great add-on for fit travelers looking to do more than the standard safari in Kenya.


China's coal pollutes the U.S.

(11/04/2007) It takes five to 10 days for the pollution from China's coal-fired plants to make its way to the United States, like a slow-moving storm. It shows up as mercury in the bass and trout caught in Oregon's Willamette River. It increases cloud cover and raises ozone levels. And along the way, it contributes to acid rain in Japan and South Korea and health problems everywhere from Taiyuan to the United States. This is the dark side of the world's growing use of coal.


New peccary species discovered by embattled Amazon scientist

(11/04/2007) A new species of peccary has been discovered in the Amazon rainforest by a scientist recently charged with biopiracy by the Brazilian government.


Central Africa's 'Most Beautiful Waterfall' to be destroyed

(11/04/2007) One of Africa's most dramatic waterfalls will be destroyed by a hydroelectric project in Gabon, according to reports from a Gabonese NGO and the Inter Press Service (IPS).


Chupacubra is actually a hairless coyote

(11/02/2007) DNA analysis has identified the creature discovered on a Texas ranch as nothing more than a coyote, according to the Associated Press. The animal may have had mange or another sickness or disorder.


Flying lemurs are primates' closest cousins

(11/01/2007) New molecular and genomic analysis shows that flying lemurs are the closest relatives of primates, according to research published in the journal Science.


New software tracks individual global warming emissions

(11/01/2007) A new Windows software program called TerraCuro enables users to track their energy use and greenhouse gas emissions. TerraCuro's developers believe that "what gets measured gets results" and that the software will help users achieve "verifiably cleaner, lower cost, carbon-neutral living."


California fires release 8M tons of CO2

(11/01/2007) Southern California wildfires released 7.9 million metric tons of carbon dioxide in just the one-week period of October 19-26--the equivalent of about 25 percent of the average monthly emissions from all fossil fuel burning throughout California--according to researchers at the National Center for Atmospheric Research (NCAR) and the University of Colorado at Boulder.


Agriculture is primary driver of mangrove destruction

(10/31/2007) Agricultural expansion -- not shrimp farming -- is driving the rapid destruction of the world's mangrove forests, reports a new study published in the Journal of Biogeography.


Boreal forest fires important source of emissions

(10/31/2007) Forest fires in the boreal forests of Canada are an important source of greenhouse gas emissions reports a new study published in the journal Nature.


Dutch: no subsidies for biofuels-driven rainforest destruction

(10/31/2007) The Dutch government will exclude palm oil from "green energy" subsidies as growing evidence suggests that palm oil is often less sustainable than advertised.


Amphibian extinction may be worse than thought

(10/31/2007) Amphibian extinction rates may be higher than previously thought, according to new DNA analysis that found more than 60 unrecognized species in the Guiana Shield of South America.


Threatened Amur tiger shows signs of recovery

(10/31/2007) In a world where many animals are under siege, the Amur tiger -- popularly known in the West as the Siberian tiger -- offers an encouraging message: the population of the huge cat is showing signs of recovery.


Study reveals that nitrogen fertilizers deplete soil organic carbon

(10/30/2007) The common practice of adding nitrogen fertilizer is believed to benefit the soil by building organic carbon, but four University of Illinois soil scientists dispute this view based on analyses of soil samples from the Morrow Plots that date back to before the current practice began.


IBM finds recycling can cut solar cell manufacturing costs

(10/30/2007) IBM today announced a silicon wafer recycling system that could help ease the refined silicon shortage that has driven up production costs of solar energy panels.


WSJ inquiry pushes FSC to cancel logging certification in endangered forest

(10/30/2007) An inquiry by The Wall Street Journal prompted the Forest Stewardship Council (FSC), an environmental body that runs a widely accepted "green" labeling system for forestry products, to revoke certification for a Singapore-based Asia Pulp & Paper Co. (APP) project on the Indonesian island of Sumatra.


San Francisco hit by 5.6 earthquake

(10/30/2007) The San Francisco Bay Area was struck by a magnitude 5.6 earthquake at 8:04 p.m. local time. The quake was centered at a depth of 5.7 miles about 9 miles from downtown San Jose.


China struggles with urban pollution

(10/29/2007) About 60 percent of Chinese cities still regularly suffer from air pollution and have no centralized sewage treatment facilities, according to a report by China's environment watchdog, the State Environmental Protection Administration (SEPA).


China to spend $14.4 billion clean up polluted lake

(10/29/2007) China will spend $14.4 billion to clean up one of the country's largest and most polluted lakes, according to a report in the International Herald Tribune.


As colorful frog leaps toward extinction, experts look for clues

(10/29/2007) A brightly coloured tropical frog under threat of extinction is the focus of a new research project hoping to better understand how environment and diet influence its development and behaviour.


Despite fire risk, more Americans building near forests

(10/29/2007) While much of the world is seeing an urbanization trend, U.S. housing density around national forests is expected to rise by 2050, reports a study from the U.S. Forest Service. The shift could put more people at risk of devastating forest fires and increase pressure on forests and the services they provide.


Iguanas listen to birds to avoid predators

(10/29/2007) As the world's only sea-feeding lizard, Galapagos Marine Iguanas have long held a unique place in the animal kingdom. While most of their life is spent on land, these lizards forage the seas for their staple food: algae. Now, new research has provided this species with another distinction: although the Galapagos Marine Iguana is mute, it recognizes and utilizes the alarm call of the Galapagos Mockingbird. This is the first instance of a non-vocal species eavesdropping on another species' calls. Both the iguana and mockingbird fall prey to the Galapagos hawk, so by recognizing the mockingbird's warning the iguanas gain important information on avoiding predation.


Scientists find treatment for killer frog disease

(10/29/2007) New Zealand scientists have found a treatment for a disease blamed for the death of millions of amphibians worldwide, according to a report from BBC News. However, at best, the cure would only be applicable to captive populations. The disease is killing many amphibians in apparently pristine habitats.


Bears pressured by development in the Canadian Rockies

(10/29/2007) The southern Canadian Rockies are still home to the most diverse assemblage of carnivores in North America, but a new report released today by the Wildlife conservation Society Canada (WCSC) says booming development there could threaten them without careful planning and the implementation of conservation safeguards.


Avoided deforestation beats timber, palm oil, in tax revenue for Indonesia

(10/29/2007) Indonesia could more than double its tax revenue by protecting forests and selling the resulting carbon emission credits instead of timber and palm oil, a University of Michigan researcher told Bloomberg.


Madagascar fires mapped with Google Earth in real-time

(10/29/2007) Every year as much as one-third of Madagascar, one of the planet's most biodiverse islands, goes up in flames. Now a new tool gives scientists the ability to monitor and track Madagascar's fires in real-time through the Internet.


Parasites a key to the decline of red colobus monkeys in forest fragments

(10/25/2007) Forest fragmentation threatens biodiversity, often causing declines or local extinctions in a majority of species while enhancing the prospects of a few. A new study from the University of Illinois shows that parasites can play a pivotal role in the decline of species in fragmented forests. This is the first study to look at how forest fragmentation increases the burden of infectious parasites on animals already stressed by disturbances to their habitat.


Climate sensitivity to rising CO2 levels still uncertain

(10/25/2007) Climate sensitivity to increasing concentrations of greenhouse gases is still largely uncertain and researchers will likely not be able to further refine their estimates on future climate scenarios, say two University of Washington scientists writing in this week's issue of the journal Science.


Kyoto Protocol is fatally flawed; replacement needed

(10/25/2007) The Kyoto Protocol is fatally flawed and show be replaced by a more effective framework, argue researchers writing in this week's issue of Nature.



Page 1
|
Page 2
|
Page 3
|
Page 4
|
Page 5
|
Page 6
|
Page 7
|
Page 8
|
Page 9
|
Page 10
|
Page 11
|
Page 12
|
Page 13
|
Page 14
|
Page 15
|
Page 16
|
Page 17
|
Page 18
|
Page 19
|
Page 20
|
Page 21
|
Page 22
|
Page 23
|
Page 24
|
Page 25
|
Page 26
|
Page 27
|
Page 28
|
Page 29
|
Page 30
|
Page 31
|
Page 32
|
Page 33
|
Page 34
|
Page 35
|
Page 36
|
Page 37
|
Page 38
|
Page 39
|
Page 40
|
Page 41
|
Page 42
|
Page 43
|
Page 44
|
Page 45
|
Page 46
|
Page 47
|
Page 48
|
Page 49
|
Page 50
|
Page 51
|
Page 52
|
Page 53
|
Page 54
|
Page 55
|
Page 56
|
Page 57
|
Page 58
|
Page 59
|
Page 60
|
Page 61
|
Page 62
|
Page 63
|
Page 64
|
Page 65
|
Page 66
|
Page 67
|
Page 68
|
Page 69
|
Page 70
|
Page 71
|
Page 72
|
Page 73
|
Page 74
|
Page 75
|
Page 76
|
Page 77
|
Page 78
|
Page 79
|
Page 80
|
Page 81
|
Page 82
|
Page 83
|
Page 84
|
Page 85
|
Page 86
|
Page 87
|
Page 88
|
Page 89
|
Page 90
|
Page 91
|
Page 92
|
Page 93
|
Page 94
|
Page 95
|
Page 96
|
Page 97
|
Page 98
|
Page 99
|
Page 100
|
Page 101
|
Page 102
|
Page 103
|
Page 104
|
Page 105
|
Page 106
|
Page 107
|
Page 108
|
Page 109
|
Page 110
|
Page 111
|
Page 112
|
Page 113
|
Page 114
|
Page 115
|
Page 116
|
Page 117
|
Page 118
|
Page 119
|
Page 120
|
Page 121
|
Page 122
|
Page 123
|
Page 124
|
Page 125
|
Page 126
|
Page 127
|
Page 128
|
Page 129
|
Page 130
|
Page 131
|
Page 132
|
Page 133
|
Page 134
|
Page 135
|
Page 136
|
Page 137
|
Page 138
|
Page 139
|
Page 140
|
Page 141
|
Page 142
|
Page 143
|
Page 144
|
Page 145
|
Page 146
|
Page 147
|
Page 148
|
Page 149
|
Page 150
|
Page 151
|
Page 152
|
Page 153
|
Page 154
|
Page 155
| Page 156 |
Page 157
|
Page 158
|
Page 159
|
Page 160
|
Page 161
|
Page 162
|
Page 163
|
Page 164
|
Page 165
|
Page 166
|
Page 167
|
Page 168
|
Page 169
|
Page 170
|
Page 171
|
Page 172
|
Page 173
|
Page 174
|
Page 175
|
Page 176
|
Page 177
|
Page 178
|
Page 179
|
Page 180
|
Page 181
|
Page 182
|
Page 183
|
Page 184
|
Page 185
|
Page 186
|
Page 187
|
Page 188
|
Page 189
|
Page 190
|
Page 191
|
Page 192
|
Page 193
|
Page 194
|
Page 195
|
Page 196
|
Page 197
|
Page 198
|
Page 199
|
Page 200
|
Page 201
|
Page 202
|
Page 203