Conservation news
Founded in 1999, Mongabay is a leading provider of environmental science and conservation news.
UN says palm oil destroys forests, indigenous cultures in Indonesia, Malaysia

(11/26/2007) Europe's demand for supposedly eco-friendly biodiesel is fueling destruction of biodiverse rainforests in southeast Asia, warns a new report from the United Nations Development Programme (UNDP).


Is the oil-palm industry using global warming to mislead the public?

(11/23/2007) Members of the Indonesian Palm Oil Commission are distributing materials that misrepresent the carbon balance of oil-palm plantations, according to accounts from people who have seen presentations by commission members. These officials are apparently arguing that oil-palm plantations store and sequester many times the amount of CO2 as natural forests, and therefore that converting forests for plantations is the best way to fight climate change. In making such claims, these Indonesian representatives evidently are ignoring data that show the opposite, putting the credibility of the oil-palm industry at risk, and undermining efforts to slow deforestation and rein in greenhouse gas emissions.


Termites may produce cleaner biofuels

(11/23/2007) Termites may be the key to greener, more effective biofuels, report scientists writing in the November 22 edition of the journal Nature.


Greenhouse gas levels rise to new record in 2006

(11/23/2007) Atmospheric carbon dioxide levels hit a new record in 2006 according to the World Meteorological Organization (WMO), the U.N. weather agency.


Wind could supply baseline electrical power

(11/22/2007) Wind power, long considered to be as fickle as wind itself, can be groomed to become a steady, dependable source of electricity and delivered at a lower cost than at present, according to scientists at Stanford University.


Amazon rainforest children to get medicinal plant training from shamans

(11/21/2007) The Amazon conservation Team (ACT) -- a group using innovative approaches to preserving culture and improving health among Amazonian rainforest tribes -- has been awarded a $100,000 grant from Nature's Path, an organic cereal manufacturer. The funds will allow ACT to address one of the most pressing social concerns for Amazon forest dwellers by expanding its educational and cultural "Shamans and Apprentice" program for indigenous children in the region.


Past climate change triggered wars, population decline

(11/21/2007) Long-term climate change may lead to wars and population decline according to a study published in the journal Proceedings of the National Academy of Sciences (PNAS). The research looked at the cool period known as the Little Ice Age and found that the number of wars increased, famine occurred and the population declined.


Subway sandwiches launches first fast-food recycling program

(11/21/2007) Sandwich chain Subway is implementing a recycling program, switching from conventional napkins, cutlery and plastic cups, and reducing gasoline use in an effort to minimize its impact on the environment, according to a report published in The Wall Street Journal.


Asian countries sign symbolic global warming pact

(11/21/2007) Leaders of 16 Asian countries have signed a "vague" pact on climate change according to Reuters.


Carbon offset returns beat forest conversion for agriculture in Indonesia

(11/21/2007) Conversion of forests and peatlands for agriculture in Indonesia has generated little economic benefit while releasing substantial amounts of greenhouse gases into the atmosphere, reports a new study from the the World Agroforestry Centre (ICRAF), the Center for International Forestry Research (CIFOR) and their Indonesian partners.


Biodiversity conservation will only work if local people benefit



(11/19/2007) Biodiversity loss is already having an economic impact in Africa according to a 7-year monitoring project underwritten by Europeans and African governments. The project, known as the Biodiversity Monitoring Transect Analysis in Africa (BIOTA), relies on a network of biodiversity observatories equipped with weather stations, sensors and a monitoring program that includes remote sensing, data on soil fertility and agricultural indicators. Dr. Nina Farwig, a scientist at the Johannes Gutenberg-University of Mainz and a participating member of BIOTA-East Africa, says that conservation efforts in the tropics will only be effective if the local people benefit. Her work with BIOTA shows that even in the absence of extensive forest cover, a patchwork of agricultural landscapes can contribute to the biodiversity conservation.


Large-scale agriculture 'compromises' forest's ability to recover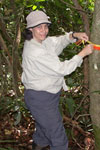 (11/19/2007) As deforestation of tropical forests continues unhindered, one of the future hopes for these damaged ecosystems is regeneration in secondary forests. Some areas that were once slash-and-burned for cattle ranching or subsistence agriculture have been abandoned, allowing scientists to study the possibility of recovery in the rainforest. If anyone has a clear idea of the potential of secondary forests it is Robin L. Chazdon. Dr. Chazdon, a full professor of Ecology and Evolutionary Biology at the University of Connecticut, has been studying the regeneration of secondary forest for over twenty-five years. She has published over 50 papers on tropical ecology, currently she serves as an active member of the Biotropica editorial board and is a member of the Bosques Project, which measures secondary forest recovery in Northern Costa Rica.


Only 150 vaquita remain

(11/19/2007) Only 150 individual vaquita, the world's smallest cetacean, remain, according to a new study published in conservation Biology. The species has been decimated as accidental bycatch in fishing nets in its Gulf of California habitat. Researchers--who say there may be only a two-year window to save the species from extinction--have launched a last-ditch conservation effort.


Rainforest Reserve Established in DR Congo to save bonobo

(11/19/2007) The government of the Democratic Republic of Congo (DRC) has announced the creation of a 11,803-square mile rainforest reserve to protect the habitat of the endangered bonobo, the so-called "peaceful chimp". The reserve is located in the Sankuru region, an area that experienced extensive fighting during the long-running civil war in the Congo.


Ocean CO2 collector could fight global warming and ocean acidification

(11/19/2007) Researchers have proposed a geoengineering solution to global warming that involves building a series of water treatment plants that enhance the ability of the ocean to absorb carbon dioxide from the atmosphere by removing hydrochloric acid from seawater by electrolysis.


Physicists join fight to save amphibians from extinction

(11/19/2007) Physicists have joined the fight to save amphibians from extinction by using Optical Coherence Tomography (OCT) to investigate the properties of frogs skin.


Whale stranded 1,000 miles up the Amazon river

(11/17/2007) An 18-foot minke whale was found beached on a sandbar 1,000 miles up a tributary of the Amazon river, reported Globo television and the Associated Press.


Indonesia will need 7 years to stop illegal logging

(11/16/2007) Indonesia will take seven years to stop illegal logging and deforestation, said the country's minister of forestry.


7-year old nature guide becomes Belize environmental hero as adult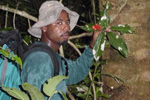 (11/16/2007) Each year hundreds of thousands of nature-oriented tourists visit Belize to see the Central American country's spectacular coral reefs, biodiverse rainforests, and ancient Mayan ruins. However few visitors realize that Belize's natural resources are at risk. Timber and oil extraction, agricultural encroachment, coastal development, pollution and unrestrained tourism are all increasing threats to Belizean ecosystems. Unless something is done to address these concerns, within a generation these pressures could present considerable problems for Belize. Dr. Colin Young, head of the environmental science program at Galen University in Belize, says that while he is greatly concerned about these issues, there is still time to ensure healthy forests and reefs in Belize.


Targeted payments to farmers could protect environment

(11/15/2007) Targeted payments to farmers in developing countries could be an effective approach to protecting the environment and addressing climate change, states a new report from the Food and Agriculture Organization of the United Nations (FAO).


Hurricane Katrina released large amounts of carbon by destroying 320m trees

(11/15/2007) The destruction of 320 million large trees by Hurricane Katrina reduced the capacity of forests in the Southern United States to soak up carbon, reports a new study published in the journal Science. The research shows that hurricanes and other natural disturbances "can affect a landscape's potential as a 'carbon sink' because the dead vegetation then decays, returning carbon to the atmosphere, and because the old vegetation is replaced by smaller, younger plants."


Cow-like dinosaur discovered

(11/15/2007) A dinosaur discovered in the Sahara had a mouth that worked like a vacuum cleaner and operated more like a "Mesozoic cow" than a reptile, report researchers writing in today's issue of the journal PLoS ONE.


Changing carbon cycle may worsen U.S. CO2 emissions

(11/14/2007) The first State of the Carbon Cycle Report for North America, released online this week by the U.S. Climate Change Science Program, finds the continent's carbon budget increasingly overwhelmed by human-caused emissions. North American sources release nearly 2 billion tons of carbon into the atmosphere each year, mostly as carbon dioxide. Carbon sinks such as growing forests may remove up to half this amount, but these current sinks may turn into new sources as climate changes.


New system tracks CO2 emissions of 50,000 power plants worldwide

(11/14/2007) A new online database allows users to track carbon dioxide (CO2) emissions of 50,000 power plants worldwide. The system, called CARMA—Carbon Monitoring for Action, was developed by the Center for Global Development (CGD), an policy and research group.


86% of sea turtle species threatened with extinction

(11/14/2007) Marine turtles have thrived for more than 100 million years. But only the last few hundred years have given the huge, spectacular, prehistoric amphibians serious trouble.


Law enforcement key to saving Borneo's rainforests



(11/13/2007) In an interview with mongabay.com, Dr. Rhett Harrison, a Smithsonian Tropical Research Institute (STRI) associate researcher and Secretary for the Asia-Pacific Chapter of ATBC, says that law enforcement could be the key to safeguarding biodiversity contained in Borneo's lowland parks. Harrison says there may be opportunities for conservationists to work with oil palm to developers to ensure that existing forests are not converted for plantations and that palm oil can be produced in a sustainable manner. He also adds that carbon offsets may eventually offer a means to fund conservation and sustainable development efforts in areas that still have standing forest.


Sun Bears reclassified by IUCN as Vulnerable

(11/13/2007) The world's smallest bear has been recently classified as vulnerable by the IUCN due to habitat loss and poaching. Co-chair of the IUCN Bear Specialist Group, Dave Garshelis, states that "although we do not have any reliable population estimates for the sun bear, or any of the other Asian bears for that matter, we fear that bears in Southeast Asia are declining at a particularly rapid rate due to extensive loss of forest habitat combined with rampant poaching."


conservationist Schaller named to Time's 'Hero of the Planet'

(11/13/2007) Renowned conservationist Dr. George Schaller of the Wildlife conservation Society was recently named by Time Magazine as one of 60 'Heroes of the Planet.' He joins an elite group of environmental champions, including former Vice President Al Gore and former Soviet Union President Mikhail Gorbachev.


Global warming is melting soft corals

(11/13/2007) Soft corals are "simply melting and wasting away" due to global warming-induced environmental stress says Dr. Hudi Benayahu, head of Tel Aviv University's Porter School of Environmental Studies.


NASA: Arctic Ocean circulation reversal not due to global warming

(11/13/2007) A study published in Geophysical Research Letters shows that weakening of the Arctic Oscillation results from a cyclical process rather than climate change. The results suggest not all the large changes seen in Arctic climate in recent years are a result of long-term trends associated with global warming.


Greenwashing the palm oil industry

(11/12/2007) A new report from Greenpeace alleges that members of the Roundtable on Sustainable Palm Oil -- an industry-driven initiative to clean up palm oil production -- are using palm oil derived by clearing endangered rainforests and draining carbon-rich peatlands on the Indonesian island of Sumatra.


Planned logging of Woodlark Island for biofuels opposed by islanders and scientists

(11/12/2007) On Woodlark Island, one-hundred and seventy miles from Papua New Guinea, a struggle is occurring between islanders and biofuel company Vitroplant Ltd. The company is planning to clear much of the island's forest for oil palm plantations to produce biofuels. Vitorplant Ltd.'s contract specifies that they would deforest 60,000 hectares of land for plantations; Woodlark Island is 85,000 hectares in total, meaning over 70% of the island would be converted. Last week, one hundred islanders (out of a total population of 6,000) traveled to the capital of Milne Bay Province, Alotau, to voice their concern over the plans to turn their forested island into plantations.


Missing link between humans and apes possibly discovered

(11/12/2007) A 10 million-year-old jawbone discovered in Kenya may represent a new species very close to the last common ancestor of gorillas, chimpanzees, and humans, report researchers writing in the current issue of the journal Proceedings of the National Academy of Sciences (PNAS).


Chocolate first used more than 3100 years ago

(11/12/2007) Cacao, the source of chocolate, was in use at least at least 3000 years ago according to evidence found by archaeologists working in Honduras. The discovery pushes back the earliest known use of cacao by 500 years.


China begins blocking river for second largest dam

(11/12/2007) China began damming the Jinsha River for its biggest hydroelectric project after the Three Gorges Project, reports Chinese state media.


Sun bear gets 'vulnerable' listing due to deforestation, poaching

(11/12/2007) The sun bear, the world's smallest bear, has been added to the global list of species threatened with extinction, said the World conservation Union (IUCN).


In the Amazon, primary forest biodiversity tops that of secondary forest, plantations

(11/12/2007) Plantations and secondary forests are no match for primary Amazon rainforest in terms of biodiversity, reports the largest ever assessment of the biodiversity conservation value in the tropics.


Oil palm does not store more carbon than forests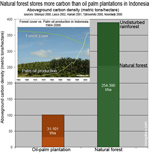 (11/08/2007) Officials from the Indonesian ministry of agriculture and the palm oil industry are distributing materials that misrepresent the carbon balance oil palm plantations, according to accounts from people who have seen presentations by members of the Indonesian Palm Oil Commission. Ministry of agricultural officials are apparently arguing that oil palm plantations store and sequester many times the amount of CO2 as natural forests and therefore converting forests for plantations is the best way to fight climate change. In making such claims, these Indonesian officials are ignoring data that show the opposite, putting the credibility of the oil palm industry at risk, and undermining efforts to slow deforestation and reign in greenhouse gas emissions.


Saving tigers in India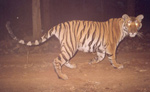 (11/08/2007) Over the past century the number of tigers in India has fallen from about 40,000 to less than 4,000 (and possibly as few as 1,500). Relentless poaching and clearing of habitat for agriculture have been the primary drivers of this decline, though demand for tiger skins and parts for "medicinal" purposes has become an increasingly important threat in recent years.


Weathering technology could mitigate global warming

(11/08/2007) Researchers at Harvard University and Pennsylvania State University have invented a technology, inspired by nature, to reduce the accumulation of atmospheric carbon dioxide (CO2) caused by human emissions.


Governors announce energy efficiency push for computing

(11/07/2007) The National Governors Association (NGA) today announced an innovative clean energy partnership between the NGA Chair's Initiative Securing a Clean Energy Future (SCEF) and the Climate Savers Computing Initiative (CSCI), founded by Google and Intel, to spur deployment of more energy efficient computers and servers in state offices and agencies.


Proposed gold mine proves controversial in French Guiana rainforest

(11/07/2007) Commercial gold mining threatens a key forest reserve and wetland in French Guiana say scientists who warn that exploitation could pollute rivers with toxic compounds, threaten wildlife, and put indigenous populations at risk.


Subtle threats could ruin the Amazon rainforest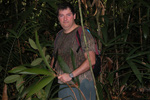 (11/07/2007) While the mention of Amazon destruction usually conjures up images of vast stretches of felled and burned rainforest trees, cattle ranches, and vast soybean farms, some of the biggest threats to the Amazon rainforest are barely perceptible from above. Selective logging -- which opens up the forest canopy and allows winds and sunlight to dry leaf litter on the forest floor -- and 6-inch high "surface" fires are turning parts of the Amazon into a tinderbox, putting the world's largest rainforest at risk of ever-more severe forest fires. At the same time, market-driven hunting is impoverishing some areas of seed dispersers and predators, making it more difficult for forests to recover. Climate change -- an its forecast impacts on the Amazon basin -- further looms large over the horizon.


Carbon-negative bioenergy to cut global warming could drive deforestation

(11/06/2007) A proposed mechanism for generating carbon-negative bioenergy -- an energy source that reduces atmospheric carbon dioxide levels -- could drive large-scale deforestation in the tropics and undermine efforts to conserve forests for carbon offsets says a biofuel expert.


Asia's tigers could get big boost from small conservation efforts

(11/05/2007) Small changes to the management of wildlife reservers in India, Bangladesh, Bhutan, and Nepal could dramatically boost endangered tiger populations, reports a new study published in the journal Biological conservation.


Climbing Africa's second highest mountain

(11/05/2007) Mount Kenya, Africa's second highest mountain, is said to be one of the continent's most beautiful hikes. Located less than three hours' drive from Nairobi, Mount Kenya is accessible and makes for a great add-on for fit travelers looking to do more than the standard safari in Kenya.


China's coal pollutes the U.S.

(11/04/2007) It takes five to 10 days for the pollution from China's coal-fired plants to make its way to the United States, like a slow-moving storm. It shows up as mercury in the bass and trout caught in Oregon's Willamette River. It increases cloud cover and raises ozone levels. And along the way, it contributes to acid rain in Japan and South Korea and health problems everywhere from Taiyuan to the United States. This is the dark side of the world's growing use of coal.


New peccary species discovered by embattled Amazon scientist

(11/04/2007) A new species of peccary has been discovered in the Amazon rainforest by a scientist recently charged with biopiracy by the Brazilian government.


Central Africa's 'Most Beautiful Waterfall' to be destroyed

(11/04/2007) One of Africa's most dramatic waterfalls will be destroyed by a hydroelectric project in Gabon, according to reports from a Gabonese NGO and the Inter Press Service (IPS).


Chupacubra is actually a hairless coyote

(11/02/2007) DNA analysis has identified the creature discovered on a Texas ranch as nothing more than a coyote, according to the Associated Press. The animal may have had mange or another sickness or disorder.



Page 1
|
Page 2
|
Page 3
|
Page 4
|
Page 5
|
Page 6
|
Page 7
|
Page 8
|
Page 9
|
Page 10
|
Page 11
|
Page 12
|
Page 13
|
Page 14
|
Page 15
|
Page 16
|
Page 17
|
Page 18
|
Page 19
|
Page 20
|
Page 21
|
Page 22
|
Page 23
|
Page 24
|
Page 25
|
Page 26
|
Page 27
|
Page 28
|
Page 29
|
Page 30
|
Page 31
|
Page 32
|
Page 33
|
Page 34
|
Page 35
|
Page 36
|
Page 37
|
Page 38
|
Page 39
|
Page 40
|
Page 41
|
Page 42
|
Page 43
|
Page 44
|
Page 45
|
Page 46
|
Page 47
|
Page 48
|
Page 49
|
Page 50
|
Page 51
|
Page 52
|
Page 53
|
Page 54
|
Page 55
|
Page 56
|
Page 57
|
Page 58
|
Page 59
|
Page 60
|
Page 61
|
Page 62
|
Page 63
|
Page 64
|
Page 65
|
Page 66
|
Page 67
|
Page 68
|
Page 69
|
Page 70
|
Page 71
|
Page 72
|
Page 73
|
Page 74
|
Page 75
|
Page 76
|
Page 77
|
Page 78
|
Page 79
|
Page 80
|
Page 81
|
Page 82
|
Page 83
|
Page 84
|
Page 85
|
Page 86
|
Page 87
|
Page 88
|
Page 89
|
Page 90
|
Page 91
|
Page 92
|
Page 93
|
Page 94
|
Page 95
|
Page 96
|
Page 97
|
Page 98
|
Page 99
|
Page 100
|
Page 101
|
Page 102
|
Page 103
|
Page 104
|
Page 105
|
Page 106
|
Page 107
|
Page 108
|
Page 109
|
Page 110
|
Page 111
|
Page 112
|
Page 113
|
Page 114
|
Page 115
|
Page 116
|
Page 117
|
Page 118
|
Page 119
|
Page 120
|
Page 121
|
Page 122
|
Page 123
|
Page 124
|
Page 125
|
Page 126
|
Page 127
|
Page 128
|
Page 129
|
Page 130
|
Page 131
|
Page 132
|
Page 133
|
Page 134
|
Page 135
|
Page 136
|
Page 137
|
Page 138
|
Page 139
|
Page 140
|
Page 141
|
Page 142
|
Page 143
|
Page 144
|
Page 145
|
Page 146
|
Page 147
|
Page 148
|
Page 149
|
Page 150
|
Page 151
|
Page 152
|
Page 153
|
Page 154
| Page 155 |
Page 156
|
Page 157
|
Page 158
|
Page 159
|
Page 160
|
Page 161
|
Page 162
|
Page 163
|
Page 164
|
Page 165
|
Page 166
|
Page 167
|
Page 168
|
Page 169
|
Page 170
|
Page 171
|
Page 172
|
Page 173
|
Page 174
|
Page 175
|
Page 176
|
Page 177
|
Page 178
|
Page 179
|
Page 180
|
Page 181
|
Page 182
|
Page 183
|
Page 184
|
Page 185
|
Page 186
|
Page 187
|
Page 188
|
Page 189
|
Page 190
|
Page 191
|
Page 192
|
Page 193
|
Page 194
|
Page 195
|
Page 196
|
Page 197
|
Page 198
|
Page 199
|
Page 200
|
Page 201
|
Page 202
|
Page 203