Conservation news
Founded in 1999, Mongabay is a leading provider of environmental science and conservation news.
Visiting New Mexico's Crane festival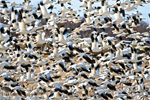 (12/21/2008) It's six in the morning; the Southwest sky is rich in hues of yellow and red, yet despite the warm colors the air is cold and brisk enough that my toes have begun to go numb. We have been waiting nearly a half-hour for the light and warmth of morning to wake-up thousands of cranes and tens of thousands of snow geese. But so far, despite the glimmer growing across the sky, there isn't a bird in sight. Every winter cranes and snow geese migrate from Montana, Idaho, Canada, and Alaska to Bosque del Apache, a National Wildlife Refuge in Central New Mexico. For the past twenty-one years the refuge has celebrated the bird migration with a Festival of the Cranes. People travel from around the state (and country) to see the Southwest skies fill with birds. The festival lasts a week and includes educational stands, social gatherings, tours, hikes, and speakers on natural history and the environment. For this one week the small town of Socorro becomes overrun with birders, scientists, and tourists.


Amazon rainforest damage surges 67% in 2008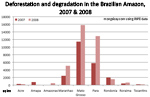 (12/20/2008) The area of rainforest in the process of being deforested — razed but not yet cleared — surged in the Brazilian Amazon during 2008, according to new figures released by Brazil's National Institute for Space Research (INPE). The announcement comes shortly after the Brazilian government reported a 4 percent increase in forest clearing for the year. Using an advanced satellite system that tracks changes in vegetation cover INPE found that 24,932 square kilometers of Amazon forest was damaged between August 2007 and July 2008, an increase of 10,017 square kilometers -- 67 percent -- over the prior year. The figure is in addition to the 11,968 square kilometers of forest that were completely cleared, indicating that at least 36,900 square kilometers of forest were damaged or destroyed during the year. The sum does not include areas that may have been selectively logged for commercial timber.


Will 'peak oil' spur expanded coal use? And what does it mean for climate?

(12/19/2008) The world must phase out emissions from coal by 2030 to avert dangerous climate change, said scientists speaking at the annual meeting of the American Geophysical Union in San Francisco.


Peak coal to follow peak oil?

(12/19/2008) Governments have greatly overestimated global coal reserves according to estimates presented by a geologist at the annual meeting of the American Geophysical Union in San Francisco.


China successfully cut pollution during Olympics finds NASA

(12/18/2008) China's efforts to clean up Beijing's skies during the Olympics seemed to have worked, reports NASA.


Green-blooded, blue-boned frog discovered in Cambodia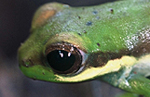 (12/18/2008) Researchers have discovered a previously unknown species of frog in Cambodia. The amphibian is unusual in that is has green blood and turquoise-colored bones, a result of its transparent skin and a pigment that may make the species unpalatable to predators, according to Fauna & Flora International (FFI).


Obama pick supports 'Green Jobs' initiative to rebuild economy

(12/18/2008) President-elect Barack Obama's choice of California congresswoman Hilda Solis to head the Labor Department is a boost to the effort to launch a national "Green Jobs" initiative reports The Wall Street Journal.


European conquest of the Americas may have driven global cooling


(12/18/2008) Recovery of forests following the collapse of human populations in the Americas after the arrival of Europeans may have driven the period of global cooling from 1500-1750 known as the Little Ice Age, report researchers speaking at the annual meeting of the American Geophysical Union in San Francisco. By some estimates, diseases introduced by Europeans may have killed more than 90 percent of population on the New World within a century of first contact. The rapid depopulation led to large-scale abandonment, and subsequent reforestation, of agricultural lands in the Americas. Analyzing charcoal found in soils and lake sediments at sites across the Americas, Richard Nevle and Dennis Bird found evidence to suggest that this forest regeneration sequestered enough carbon to trigger global cooling.


Wood chemistry used to track origin of timber

(12/18/2008) A researcher is using carbon and oxygen isotopes to track the origin of timber as part of a worldwide effort to develop methods to combat illegal logging.


Japanese scientists use goldfish to screen for freshwater pollution

(12/17/2008) Coal miners used canaries to warn them of noxious gases for generations. Today's substitute may be the everyday goldfish: It can act as an aquatic canary to warn scientists when something bad is brewing in the waters, according to new research.


Arctic sea ice fell to the lowest volume on record in 2008

(12/17/2008) Arctic sea ice fell to the lowest volume — and second lowest extent — on record, according to the annual World Meteorological Organization (WMO) Statement on the Status of the Global Climate.


Biochar and its Role in Mitigating Climate Change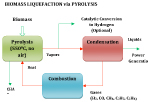 (12/17/2008) The growing concerns about climate change have brought biochar, a charcoal produced from biomass combustion, into limelight. Biochar is a carbon-rich, fine-grained residue which can be produced either by ancient techniques (such as covering burning biomass with soil and allowing it to smolder) or state-of-the-art modern pyrolysis processes. Combustion and decomposition of woody biomass and agricultural residues results in the emission of a large amount of carbon dioxide. Biochar can store this CO2 in the soil leading to reduction in GHGs emission and enhancement of soil fertility. Biochar holds the promise to tackle chronic human development issues like hunger and food insecurity, low agricultural productivity and soil depletion, deforestation and biodiversity loss, energy poverty, air pollution and climate change. Thus, biochar could make a difference in the energy-starved countries of Asia, Africa and Latin America as well as the industrialized world with its vast array of benefits.


Tool helps overcome miles-per-gallon illusion

(12/17/2008) A new tool helps motorists evaluate the fuel efficiency of their vehicle in terms that more accurately reflect the cost of driving than miles-per-gallon (MPG).


Observed sea level rise, ice melt far outpaces projections


(12/17/2008) Sea levels will rise faster than previously estimated due to rapid melting of glaciers and ice sheets, according to a U.S government report released at the annual meeting of the American Geophysical Union in San Francisco. The report, titled Abrupt Climate Change, incorporates research published since last year's Intergovernmental Panel on Climate Change (IPCC) report, which drew largely from studies dating up to 2006. Most significantly, Abrupt Climate Change suggests that IPCC estimates for future sea level rise (18-58 cm) are conservative, noting that recent observations on sea level rise and loss of sea ice are far outpacing previous projections.


Greenland melting much faster than last year

(12/16/2008) Greenland is losing ice three times faster than last year, report researchers presenting at the meeting of the American Geophysical Union in San Francisco.


Africa eyes geothermal power

(12/15/2008) Geothermal — the tapping of steam from hot underground rocks — could provide a source of clean, renewable energy in parts of Africa where electricity is currently limited, according to an assessment by the United Nations Environment Program (UNEP) and the Global Environment Facility (GEF).


Corn expansion is hurting ladybugs

(12/15/2008) Expansion of corn acreage to meet ethanol targets is reducing the ability of beneficial insects to control pests, a loss valued at $58 million in the four states studied (Michigan, Iowa, Minnesota and Wisconsin), report researchers writing in the journal Proceedings of the National Academy of Sciences.


Climate change, ocean acidification may doom jumbo squid

(12/15/2008) Ocean acidification — driven by rising carbon dioxide levels in the atmosphere — may hurt the Humboldt squid, report researchers writing in the journal Proceedings of the National Academy of Sciences.


Photos of new species discovered in the Greater Mekong

(12/15/2008) More than 1,000 previously unknown species have been discovered in the Greater Mekong, a region comprising Cambodia, Laos, Myanmar (Burma), Thailand, Vietnam and the Yunnan Province of China, in the past decade, according to a new report from WWF.


Neither slow nor stupid, manatees are killed by boats because they can't hear them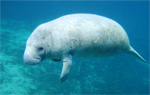 (12/12/2008) Last year 73 manatees were killed by boats in Florida, despite two decades of manatee-related protections. In fact, manatee deaths due to boat collisions have only increased since protections were implanted. A recent study at the Florida Atlantic University has finally revealed why boats are so dangerous to manatees: the manatee cannot run from what it does not hear.


Computer hackers are helping illegal loggers destroy the Amazon rainforest

(12/12/2008) Computer hackers are helping illegal loggers destroy the Amazon rainforest by breaking into the Brazilian government's timber tracking system and altering the records so as to increase logging allocations, reports Greenpeace.


Lula pledges big cuts in Amazon deforestation -- after he leaves office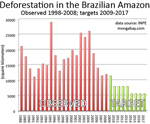 (12/12/2008) Last week Brazil unveiled plans to cut deforestation substantially from a 1996-2005 baseline of 19,533 square kilometers per year. The announcement met a mixed response from conservationists. Some applauded the decision to set hard targets for reducing deforestation, others say the targets were too low and that the country should aim for zero net deforestation by 2015. Nevertheless as more details have emerged, it becomes clear that the onus for reining in deforestation falls on Brazilian President Luiz Inacio Lula da Silva's successor.


Rainforests continue to fall but hope may rest in a market solution

(12/11/2008) Environmentalists attempting to preserve the vanishing Amazon rain forest now confront a stark paradox: Never before have they succeeded in protecting so much of the world's largest tropical forest, yet never before has so much of it simultaneously been destroyed. The key question today is whether new models of conservation — including an increasingly popular, market-based program known as REDD — will be able to reverse the steady loss of tropical forests, not only in the Amazon, but also in Indonesia, Borneo, and Africa's Congo basin, where virgin woodlands continue to be razed at an unprecedented rate.


Climate change will transform the chemical-makeup of the ocean

(12/11/2008) By studying the ocean's past, scientists have discovered that climate change has a much larger affect on ocean chemistry than expected. The study, published in Science, reveals that 13 million years ago climate change significantly altered the chemical composition of the oceans. Such changes in the ocean's chemical makeup today could have a great impact on marine life, already stressed by overfishing and pollution.


Chad's elephant population falls by two-thirds in two years

(12/11/2008) Civil strife of Chad — a consequence of the calamity in Darfur — is taking a toll on the country's elephant population, reports the Wildlife Conservation Society (WCS) which has launched an emergency appeal for funds to support conservation efforts in the country.


Deal on forests falls short

(12/11/2008) A deal reached Wednesday in Poznan to include forests in future climate treaties is a positive step but falls short of the progress needed to get the REDD (reducing emissions from deforestation and degradation) mechanism on track for incorporation into the framework that will succeed the Kyoto Protocol, say environmentalists speaking from the talks.


Elephants die significantly earlier in zoos than in wild

(12/11/2008) A new study from Science provides disturbing evidence that one of the zoos' most popular animals, the elephant, faces a far shorter lifespan in captivity than in the wild. The findings raise new ethical and scientific questions regarding the rightness of keeping elephants in captivity and the causes of their shorter life-spans.


Africa calls for "full-range" of bio-carbon as climate solution

(12/10/2008) A coalition of 26 African countries is calling for the inclusion of carbon credits generated through afforestation, reforestation, agroforestry, reduced soil tillage, and sustainable agricultural practices in future climate agreements.


Why do different species of bird lay different numbers of eggs?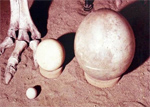 (12/10/2008) Clutch size varies greatly between bird species. Researchers now have a better idea why. Analyzing data on clutch size, biology, and habitat for 5,290 species of birds, a team of biologists — Walter Jetz (UC San Diego), Cagan H. Sekercioglu (Stanford University), and Katrin Böhning-Gaese (Johannes Gutenberg-Universität) — developed a model to predict variations in the number of eggs a species lays. They found clutch sizes are consistently largest in cavity nesters and in species occupying seasonal environments. The findings add depth and complexity to previous research that has shown short-lived species — ones that face high predation or have low survival rates among offspring — tend to lay more eggs than longer-lived species, which invest more resources in raising their offspring.


What allows rainforests to grow so wildly?

(12/10/2008) Molybdenum, a rare trace element, is the secret to rainforests' lush growth, reports research published in the journal Nature Geoscience.


Tropical species face high extinction risk

(12/10/2008) Tropical plant species face an inherently high extinction risk due to small populations and restricted ranges relative to temperate species, reports research published in PLoS ONE. These traits leave them vulnerable to habitat disturbance and climate change.


Fear and conservation

(12/10/2008) How does fear shape the behavior and conservation of deer, moose and antelope, not to mention carnivores such as wolves, bears, and even tigers? What is the natural state of wildlife, and how do animals know or learn which species to ignore or fear? Should we reintroduce predators to former habitats, even though the prey animals may be unprepared for their return?


Indigenous people win voice in climate negotiations

(12/10/2008) Negotiators at U.N. climate conference have struck a deal to give forest-dependent people a voice in determining the role forest conservation will play future agreements to reduce greenhouse gas emissions, reports the Associated Press (AP). The agreement clears a key obstacle that had been blocking progress on reducing emissions from deforestation and degradation (REDD), a mechanism that would compensate tropical countries for protecting their forest cover.


Macedonians plant six million trees—in one day

(12/10/2008) While the world meets in Poznan, Poland to discuss actions related to global warming, the small Republic of Macedonia has already achieved an impressive goal. On November 19th, thousands of Macedonians took part in planting trees in a massive reforestation effort. Altogether they planted six million trees: three trees for every citizen of the country.


Finland, Sweden push for loophole that would drive destruction of peatlands around the world

(12/09/2008) Finland and Sweden are pushing for a loophole in the E.U.'s Renewable Energy Directive that would open up vast tracts of peatlands around the world to development for biofuels production. The move could have drastic consequences for climate and biodiversity, warns Wetlands International, an environmental group.


Wildlife banking gets a marketplace

(12/09/2008) Ecosystem Marketplace, a site that provides information on markets and payment schemes for ecosystem services, has launched what it is calling the "first information clearinghouse" for the species credit trading industry.


How youth in Kenya's largest slum created an organic farm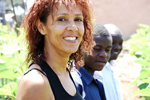 (12/09/2008) Kibera is one of the world's largest slums, containing over a million people and 60 percent of Nairobi's population. With extremely crowded conditions, little sanitation, and an unemployment rate at 50 percent, residents of Kibera face not only abject poverty but also a large number of social ills, including drugs, alcoholism, rape, AIDS, water-borne diseases, and tensions between various Kenyan tribes.


Drought and deforestation in southeast Asia linked to climate change

(12/09/2008) Researchers have linked drought and deforestation in southeast Asia to climate change. Analyzing six years of climate and fire data from satellites, Guido van der Werf and colleagues report that burning of rainforests and peatlands in Indonesia, Malaysia, and Papua New Guinea released an average of 128 million tons of carbon (470 million tons of carbon dioxide - CO2) per year between 2000 and 2006. Fire emissions showed highly variability during the period, but were greatest in dry years, such as those that occur during El Niño events. Borneo was the largest source of fire emissions during the period, averaging 74 million tons per year, followed by Sumatra, which showed a doubling in emissions between 2000 and 2006.


In Poznan, France pushes initiative to save rainforests

(12/08/2008) As talks for incorporating forest conservation into an international climate treaty stall in Poznan, Poland due to technical debates, France has proposed an aggressive effort to address deforestation and forest degradation through the establishment of a Global Forest Carbon Mechanism (GFCM) and potential inclusion of forestry projects in the E.U.'s emissions trading scheme (ETS) beginning in 2013.


Peru seeks $200 million to save its rainforests

(12/08/2008) Peru is seeking $200 million in international contributions over the next ten years to cut deforestation to zero, reports BBC News.


New standards ensure forest carbon projects protect indigenous people, biodiversity

(12/08/2008) The Climate, Community & Biodiversity Alliance (CCBA) has released its second edition of its CCB Standard for certifying land-based carbon offset projects.


Madagascar hit by deadly vanilla-killing fungus

(12/08/2008) Madagascar, the world's largest producer and exporter of vanilla, has been hit by a deadly, incurable fungus that can kill vanilla plants before their pods reach maturity, reports The Associated Press. The development could have dire impacts for the country's vanilla industry which generates hundreds of millions of dollars per year for the impoverished Indian Ocean island nation.


Linking rural health care to forest conservation proving a success in Borneo

(12/08/2008) Health in Harmony was today awarded mongabay.com's annual "Innovation in Conservation" award for its unique approach to conservation which combats illegal logging by providing healthcare and sustainable livelihoods to communities living around Gunung Palung National Park in Kalimantan, on the island of Borneo. The award includes a cash grant and prominent placement on the mongabay.com web site and newsletter for the month of December. Health in Harmony is working to break an impoverishing cycle of illegal logging and deforestation by offering healthcare rewards to encourage the villagers to protect the national park, rather than log it. The effort seems to be paying off: since launching a 'forests-for-healthcare' incentive program in September, 18 of 21 communities have signed a moratorium of understanding agreeing to participate.


Little progress on avoided deforestation at climate meeting in Poland

(12/05/2008) Climate talks in Poland are failing to make progress on a proposed mechanism to reduce greenhouse gas emissions from deforestation, reports a forest policy group from the negotiations.


REDD faces challenges but can succeed, says report

(12/05/2008) The Center for International Forestry Research (CIFOR), a forest policy think tank, today released its assessment on the proposed REDD (reducing emissions from deforestation and degradation) mechanism for slowing climate change.


Salvage logging offers hope for forests, communities devastated by industrial logging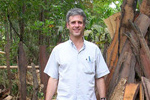 (12/04/2008) As currently practiced, logging is responsible for large-scale destruction of tropical forests. Logging roads cut deep into pristine rainforests, opening up once remote areas to colonization, subsistence and industrial agriculture, wildlife exploitation, and other forms of development. Timber extraction thins the canopy, damages undergrowth, and tears up soils, reducing biodiversity and leaving forests more vulnerable to fire. Even selective logging is damaging. Nevertheless demand for wood products continues to grow. China is expected to import more than 100 million cubic meters of industrial roundwood by 2010, much of which will go into finished products shipped off to Europe and the United States. As much as 60 percent of this is illicitly sourced. Meanwhile in Brazil domestic hunger for timber is fueling widespread illegal logging of the Amazon rainforest. Armed standoffs between environmental police and people employed by unlicensed operators are increasingly common. Tropical Salvage, a Portland, Oregon-based producer of wood products, is avoiding these issues altogether by taking a different approach to meet demand for products made from high-quality tropical hardwoods. The company salvages wood discarded from building sites, unearthed from mudslides and volcanic sites, and dredged from rivers in Indonesia and turns it into premium wood products. In the process, Tropical Salvage is putting formers loggers to work and supporting a conservation, education and reforestation project on Java.


Rainforest canopy-penetrating technology gets boost for forest carbon monitoring

(12/04/2008) A tool for monitoring tropical deforestation has gotten a boost from the one of the world's largest supporters of Amazon conservation. The Gordon and Betty Moore Foundation has awarded the Carnegie Institution's Department of Global Ecology with a $1.6-million grant to expand and improve its tropical forest monitoring tool known as the Carnegie Landsat Analysis System Lite (CLASLite).


TV footage leads to discovery of strange and rare monkey

(12/04/2008) After showing archival TV footage of a critically endangered species of primate to local villagers, conservationists have discovered a previously unknown population of the Tonkin snub-nosed monkey in a remote forested area of northern Vietnam. The find the offers new hope for the species, which is down to 200 individuals in two of Vietnam's northern-most provinces — Tuyen Quang and Ha Giang.


Saline agriculture may be the future of farming

(12/04/2008) Accessible and unpolluted freshwater is a necessity for every nation's stability and well-being. Yet, while the demand for freshwater continues to rise, its sources face increasing threats from salinization, a process whereby the salt content of fresh water rises until the water becomes undrinkable and unusable in agriculture: the more salt in the soil, the lower the crop yield.


Bank of America will no longer finance mountaintop removal coal mining

(12/04/2008) Bank of America will phase out financing for companies that practice mountaintop removal coal mining, a destructive and controversial method of coal extraction, according to a statement from the banking giant. The policy comes the day after the Environmental Protection Agency — at the behest of the Bush administration — approved a rule that will make it easier for coal companies to dump waste from mountaintop removal mining operations into streams and valleys.



Page 1
|
Page 2
|
Page 3
|
Page 4
|
Page 5
|
Page 6
|
Page 7
|
Page 8
|
Page 9
|
Page 10
|
Page 11
|
Page 12
|
Page 13
|
Page 14
|
Page 15
|
Page 16
|
Page 17
|
Page 18
|
Page 19
|
Page 20
|
Page 21
|
Page 22
|
Page 23
|
Page 24
|
Page 25
|
Page 26
|
Page 27
|
Page 28
|
Page 29
|
Page 30
|
Page 31
|
Page 32
|
Page 33
|
Page 34
|
Page 35
|
Page 36
|
Page 37
|
Page 38
|
Page 39
|
Page 40
|
Page 41
|
Page 42
|
Page 43
|
Page 44
|
Page 45
|
Page 46
|
Page 47
|
Page 48
|
Page 49
|
Page 50
|
Page 51
|
Page 52
|
Page 53
|
Page 54
|
Page 55
|
Page 56
|
Page 57
|
Page 58
|
Page 59
|
Page 60
|
Page 61
|
Page 62
|
Page 63
|
Page 64
|
Page 65
|
Page 66
|
Page 67
|
Page 68
|
Page 69
|
Page 70
|
Page 71
|
Page 72
|
Page 73
|
Page 74
|
Page 75
|
Page 76
|
Page 77
|
Page 78
|
Page 79
|
Page 80
|
Page 81
|
Page 82
|
Page 83
|
Page 84
|
Page 85
|
Page 86
|
Page 87
|
Page 88
|
Page 89
|
Page 90
|
Page 91
|
Page 92
|
Page 93
|
Page 94
|
Page 95
|
Page 96
|
Page 97
|
Page 98
|
Page 99
|
Page 100
|
Page 101
|
Page 102
|
Page 103
|
Page 104
|
Page 105
|
Page 106
|
Page 107
|
Page 108
|
Page 109
|
Page 110
|
Page 111
|
Page 112
|
Page 113
|
Page 114
|
Page 115
|
Page 116
|
Page 117
|
Page 118
|
Page 119
|
Page 120
|
Page 121
|
Page 122
|
Page 123
|
Page 124
|
Page 125
|
Page 126
|
Page 127
|
Page 128
|
Page 129
|
Page 130
|
Page 131
|
Page 132
|
Page 133
|
Page 134
|
Page 135
|
Page 136
|
Page 137
|
Page 138
|
Page 139
| Page 140 |
Page 141
|
Page 142
|
Page 143
|
Page 144
|
Page 145
|
Page 146
|
Page 147
|
Page 148
|
Page 149
|
Page 150
|
Page 151
|
Page 152
|
Page 153
|
Page 154
|
Page 155
|
Page 156
|
Page 157
|
Page 158
|
Page 159
|
Page 160
|
Page 161
|
Page 162
|
Page 163
|
Page 164
|
Page 165
|
Page 166
|
Page 167
|
Page 168
|
Page 169
|
Page 170
|
Page 171
|
Page 172
|
Page 173
|
Page 174
|
Page 175
|
Page 176
|
Page 177
|
Page 178
|
Page 179
|
Page 180
|
Page 181
|
Page 182
|
Page 183
|
Page 184
|
Page 185
|
Page 186
|
Page 187
|
Page 188
|
Page 189
|
Page 190
|
Page 191
|
Page 192
|
Page 193
|
Page 194
|
Page 195
|
Page 196
|
Page 197
|
Page 198
|
Page 199
|
Page 200
|
Page 201
|
Page 202
|
Page 203
|
Page 204
|
Page 205
|
Page 206
|
Page 207
|
Page 208
|
Page 209
|
Page 210
|
Page 211