Conservation news
Founded in 1999, Mongabay is a leading provider of environmental science and conservation news.
Amazon deforestation doesn't make communities richer, better educated, or healthier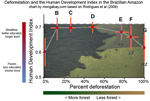 (06/11/2009) Deforestation generates short-term benefits but fails to increase affluence and quality of life in the long-run, reports a new study based an analysis of forest clearing in 286 municipalities across the Brazilian Amazon. The research, published in Friday's issue of the journal Science, casts doubt on the argument that deforestation is a critical step towards development and suggests that mechanisms to compensate communities for keeping forests standing may be a better approach to improving human welfare, while simultaneously sustaining biodiversity and ecosystem services, in rainforest areas.


Range extended for world's most mysterious gorilla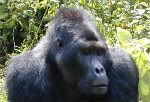 (06/11/2009) The Wildlife Conservation Society (WCS) announced yesterday the discovery of eastern lowland gorilla nests in an unexplored area of the Democratic Republic of Congo (DRC), expanding the range of this little-known subspecies by 30 miles (50 kilometers). The eastern lowland gorilla, also known as Grauer's gorilla, is currently listed as Endangered in the IUCN Red List. Scientists estimate that the gorilla has as few as 8,000 individual left. Although closely related to mountain gorillas, the eastern lowland gorilla is the world's largest living primate, weighing over 500 pounds at maximum, and is endemic to the DRC.


10 years of mongabay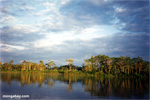 (06/10/2009) Today marks the 10th birthday of mongabay.com. Originally launched as an online version of a manuscript about tropical rainforests (A Place Out of Time), the site has grown over the years to encompass a wide range of topics. The seeds for mongabay were sewn by two places: the Ecuadorean Amazon and Malaysian Borneo. While I was blessed with the good fortune to travel to many places starting from a young age (thanks to a travel agent mother and a father who racked up a lot of airline miles), these two places left a lasting impression, not because of the time I spent in their majestic forests but because the fate that befell them after I departed. In the case of the Ecuadorean Amazon, it was an oil spill; in the case of Sabah (Malaysia), it was logging. Both broke my heart.


Frogs species discovered living in elephant dung


(06/10/2009) Three different species of frogs have been discovered living in the dung of the Asian elephant in southeastern Sri Lanka. The discovery—the first time anyone has recorded frogs living in elephant droppings—has widespread conservation implications both for frogs and Asian elephants, which are in decline. "I found the frogs fortuitously during a field study about seed dispersal by elephants," Ahimsa Campos-Arceiz, a research fellow from the University of Tokyo, told Monagaby.com.


Photo: guano stains helps researchers track penguins by satellite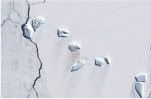 (06/10/2009) Researchers from the British Antarctic Survey (BAS) have uncovered a novel way to locate the world's largest penguin's breeding sites, employing satellite imagery they seek out Emperor penguin guano, droppings which show up starkly on the otherwise unsullied white sea ice of Antarctica. Searching for the penguins themselves had proven too difficult, since the birds' black-and-white coloring allowed them to blend in with the shadows made by the ice. The penguin droppings however are light-brown—a colors that has no other source on sea ice, besides guano.


NASA photos reveal destruction of 99% of rainforest park in Rwanda

(06/09/2009) Satellite images released by NASA show nearly complete destruction of Rwanda's Gishwati Forest between 1986 and 2001. Deforestation of the forest reserve is largely the result of subsistence harvesting and cultivation by refugees in the aftermath of the country's 1994 genocide. Overall only 600 hectares of Gishwati's original 100,000 hectares of forest remain, a loss of 99.4 percent.


Climate pact must halt deforestation and industrial logging of old-growth forests, exclude carbon credits for forest conservation, say activists


(06/09/2009) A global framework on climate change must immediately halt deforestation and industrial logging of the world's old-growth forests, while protecting the rights of forest communities and indigenous groups, said a broad coalition of activist groups in a consensus statement issued today at U.N. climate talks in Bonn Germany. The statement said the successor treaty to the Kyoto Protocol should not include mechanisms that allow industrialized countries to "offset" their emissions by purchasing carbon credits from reducing deforestation in developing countries, a position that puts the coalition at odds with larger environmental groups who say a market-based approach with tradable credits is the only way to generate enough money fund forest protection on a global scale.


Canada expands park: over three times larger than Yellowstone

(06/09/2009) The government of Canada and the Dehcho First Nation announced today the expansion of Nahanni National Park from 1,865 square miles (4,830 square kilometers) to 12,000 square miles (31,080 square kilometers), over six times its original size.


Photos: camera traps capture snow leopards in Afghanistan


(06/09/2009) It has been estimated that Afghanistan only has 100 snow leopards left, however photos from camera traps placed by the Wildlife Conservation Society (WCS) show that there may be hope for snow leopards in the war-torn nation after all. Working in Afghanistan's Wakhan Corridor, WCS set up five camera traps. Four of the five camera traps took photos of snow leopards, including 22 images in total.


UN calls for global ban on plastic bags to save oceans

(06/09/2009) The UN's top environmental official called for a global ban on plastic bags yesterday. "Single use plastic bags which choke marine life, should be banned or phased out rapidly everywhere. There is simply zero justification for manufacturing them anymore, anywhere," said Achim Steiner, executive director of the U.N. Environment Program.


Lear's Macaw: back from the brink


(06/09/2009) The 2009 IUCN Red List for birds broke records by listing more Critically Endangered birds than ever before. Despite this, there were individual species that bucked the global trend: Lear's Macaw Anodorhynchus leari, a bright blue parrot from northeastern Brazil, was one of these. Due to effective conservation measures the parrot's population has reached nearly a thousand birds (up from a low of just a hundred individuals in 1989), and therefore was moved down the list, from Critically Endangered to Endangered.


World's rarest tortoises stolen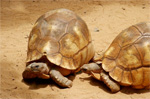 (06/08/2009) Four of the world's rarest tortoises have been stolen from a captive breeding program in Madagascar. The critically endangered animals were part of a group of 44 due for release by the Durrell Wildlife Conservation Trust and were being held in pre-release enclosures at a secret location. The Trust fears the stolen ploughshare tortoises are destined for Europe, USA or Asia where collectors will pay thousands of dollars for individuals due to the rarity of the species. It is estimated that only 500 adults remain in the wild and they are only found in Baly Bay national park, where the tortoises were taken from. After extensive investigations in the area arrests have been made but the tortoises are yet to be recovered.


Kenya moves forward to ban the pesticide Furadan after it is used to kill 76 lions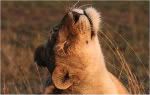 (06/08/2009) After highly-publicized poisonings of lions in Kenya's national parks, the Kenyan Parliament has begun addressing longstanding concerns regarding the pesticide Furadan. Since 1995 Furadan has been used to illegally kill 76 lions, 15 hyenas, 24 hippos, over 250 vultures, and thousands of other birds in Kenya. These numbers are likely low due to under-reporting, according to Kenya-based conservation organization, Wildlife Direct.


Malaysian palm oil firms seek 100,000 ha in the Philippines

(06/08/2009) Malaysian oil palm developers are looking to establish a a 100,000-hectare palm oil plantation and extraction facility on the island of Mindanao in the Philippines, reports Business Mirror, a Philippine business publication.


10 ways you can help protect oceans

(06/08/2009) Monday June 8th, 2009 is World Ocean Day, which the United Nations launched to raise awareness about oceans and coastal ecosystems. Roughly 80 percent of life on Earth depends on oceans and coasts, while more than a third of the humanity lives in coastal areas or on small islands. Oceans provide mankind with more than $21 trillion annually in goods and services, including food, energy, transportation, and recreation. But oceans and coastal ecosystems are increasingly under threat from pollution, unsustainable fishing practices, destruction of habitats, and the effects of increased carbon dioxide emissions (warmer temperatures and ocean acidification). In recognition of the importance of maintaining healthy marine ecosystems, The Nature Conservancy is offering a set of ten tips to help to protect these resources for future generations.


Marine scientist calls for abstaining from seafood to save oceans


(06/08/2009) In April marine scientist Jennifer Jacquet made the case on her blog Guilty Planet that people should abstain from eating seafood to help save life in the ocean. With fish populations collapsing worldwide and scientists sounding warnings that ocean ecosystems—as edible resources—have only decades left, it is perhaps surprising that Jacquet's call to abstain from consuming seafood is a lone voice in the wilderness, but thus far few have called for seafood lovers to abstain.


International community calls for action against gangs' illegal logging in Madagascar

(06/08/2009) Six nations and three conservation organizations have issued a statement calling for action against illegal logging in Madagascar's protected areas.


Brazil to sanction illegal colonization in 230,000 sq mi of Amazon rainforest

(06/08/2009) Brazil moved a step closer to passing a controversial law that would allow landowners who illegally deforested land in the Amazon to get legal title to these holdings. Environmentalists say HB 458 — which now only needs the signature of President Lula, an avid supporter — will legitimize years of illegal colonization and may promote new deforestation.


In the dark, bats identify each other by voice


(06/08/2009) Individual bats have the ability to tell the difference between other bats just by the sound of their voice, according to a study published in PLoS Computational Biology. Researchers from the University of Tuebingen, Germany found that the greater mouse-eared bat could distinguish between their fellows' echolocation calls. A subject bat was tested by having to select between two others depending on their calls. The subject bats chose correctly over 80 percent of the time.


Another milestone in Afghanistan: listing of endangered species



(06/08/2009) Thirty-three species are included in Afghanistan's first-ever listing of protected wildlife. Well-known animals like the snow leopard, wolves, and brown bears received full legal protection from hunting and harvesting alongside lesser-known species like the paghman salamander, goitered gazelle, and Himalayan elm tree. The protected species list consists of twenty mammals, seven birds, four plants, one amphibian, and one insect.


Oil or Death in the Amazon

(06/06/2009) More than 70% of the Peruvian Amazon has been allocated for oil and gas extraction, and the current government of Alan Garcia has been pushing for more. Unfortunately, as usual, these policies are promoted by and only benefit a handful of people, but negatively impact the lives of many. However, Garcia's government did not foresee the potential consequences of their actions.


Peruvian police kill 10 Indians in battle over Amazon oil drilling

(06/06/2009) At least 30 are dead following a clash between police and Indians protesting oil development in Peru's Amazon region.


Forest degradation is huge source of CO2 emissions

(06/05/2009) Selective logging, understory fires, fuelwood harvesting, and other forms of forest degradation are a substantial source of greenhouse has emissions, reports a policy brief issued by The Nature Conservancy (TNC) at U.N. climate talks in Bonn, Germany.


Reed wablers use social learning to defend themselves against cuckoos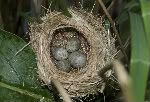 (06/04/2009) The cuckoo bird is famous for its parental strategy: rather than raise its own children it infiltrates the nest of an unsuspecting bird of a different species, replacing that bird's eggs with its own; when the cuckoo babies are born the 'adoptive' parents end up unwittingly rearing young that is not theirs. However, at least one bird species—the reed wabler—has learned to defend itself against such clever incursions.


Burning fossil fuels is disrupting nitrogen cycle

(06/04/2009) The burning of fossil fuels has disrupted the nitrogen cycle by altering that amount of nitrogen in the biosphere, according to scientists from Brown University and the University of Washington. It has long been known that fossil fuel combustion releases nitric oxides into the air—which combine with other elements to form both smog and acid rain—but until now scientists have been unsure as to the extent nitric oxide emissions have affected the natural nitrogen cycle.


REDD can compete financially with palm oil in Indonesia peatlands while protecting endangered species


(06/04/2009) A new paper by Oscar Venter, a PhD student at the University of Queensland, and colleagues finds that forest conservation via REDD — a proposed mechanism for compensating developing countries for Reducing Emissions from Deforestation and Degradation — could be economically competitive with oil palm production, a dominant driver of deforestation in Indonesia. The study, based on overlaying maps of proposed oil palm development with maps showing carbon-density and wildlife distribution in Kalimantan (Indonesian Borneo), estimates that REDD is financially competitive, and potentially able to fund forest conservation, with oil palm at carbon prices of $10-$33 per ton of carbon dioxide equivalent (tCO2e). In areas with low agricultural suitability and high forest carbon, notably peatlands, Venter and colleagues find that a carbon price of $2 per tCO2e would be sufficient to beat out returns from oil palm.


Peatlands conversion for oil palm a 'monumental mistake' for Indonesia's long-term prosperity, sustainability

(06/04/2009) Indonesia's decision earlier this year to allow conversion of up to 2 million hectares of peatlands for oil palm plantations is "a monumental mistake" for the country's long-term economic prosperity and sustainability, argues an editorial published in the June issue of Frontiers in Ecology and the Environment.


Bill Clinton speaks out for rainforests in Brazil

(06/03/2009) Former US president Bill Clinton spoke out against rainforest destruction on Monday in Brazil. Headlining the Ethanol Summit 2009 in Sao Paulo, Clinton spoke of the positive role ethanol could play in lowering carbon emissions, but not when at the expense of rainforest.


Extinction of Christmas Island Pipistrelle bat predicted in less than six months

(06/03/2009) The Australasian Bat Society predicts that the Christmas Island Pipistrelle bat has less than six months left until extinction, unless measures are taken immediately to set-up a captive breeding population.


Tribes in Peru to get $0.68/acre for protecting Amazon forest

(06/03/2009) Indigenous communities in Peru will be paid 5 soles ($1.70) per hectare ($0.68/acre) of preserved forest under a new conservation plan proposed by Peru's Ministry of Environment, reports the International Tropical Timber Organization (ITTO) in its bi-monthly update.


Migrations of large mammals in serious declines, six have vanished entirely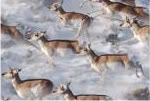 (06/03/2009) Watch any nature documentary and it's sure to include pulse-pounding footage of large herbivores migrating across African plains, Asian steppe, or the Arctic tundra. The images have become iconic: wildebeest forging a crocodile-inhabited river, caribou breaking through snow fields, Saiga running over tall grass. Despite such images of plenty, migrations are declining across the world, and in six cases have disappeared entirely.


Tropical East Asian forests under great threat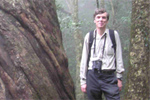 (06/02/2009) Tropical East Asia's rapid population growth and dramatic economic expansion over the past half century have taken a heavy toll on its natural resources. More than two-thirds of the region's original forest cover has been cleared or converted for agriculture and plantations, while its flora and fauna have suffered dearly from a burgeoning trade in wildlife products—several charismatic species have gone extinct as a direct consequence of human exploitation. Nevertheless tropical East Asia remains a top global priority for conservation, supporting up to a quarter of the world's terrestrial species.


Reducing emissions from deforestation in developing countries


(06/02/2009) Global forest covers around 30 per cent of the Earth's land surface (nearly 4 billion hectares). Forests provide valuable ecosystem services and goods, serve as a habitat for a wide range of flora and fauna and hold a significant standing stock of global carbon. The total carbon content of forests has been estimated at 638 Gt for 2005, which is more than the amount of carbon in the entire atmosphere. Deforestation, mainly conversion of forests for agriculture activities, has been estimated at an alarming rate of 13 million hectares per year (in the period 1990-2005).


Brazil's plan to save the Amazon rainforest


(06/02/2009) Accounting for roughly half of tropical deforestation between 2000 and 2005, Brazil is the most important supply-side player when it comes to developing a climate framework that includes reducing emissions from deforestation and forest degradation (REDD). But Brazil's position on REDD contrasts with proposals put forth by other tropical forest countries, including the Coalition for Rainforest Nations, a negotiating block of 15 countries. Instead of advocating a market-based approach to REDD, where credits generated from forest conservation would be traded between countries, Brazil is calling for a giant fund financed with donations from industrialized nations. Contributors would not be eligible for carbon credits that could be used to meet emission reduction obligations under a binding climate treaty.


Network of parks can save Africa's birds in warmer world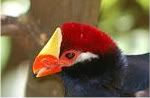 (06/02/2009) As Africa's birds are forced to move habitats due to climate change, a new study finds that the continent's current park system will continue to protect up to 90 percent of bird species. "We looked at bird species across the whole network of protected areas in Africa and the results show that wildlife conservation areas will be essential for the future survival of many species of birds," said Dr. Stephen Willis from Durham University. "Important Bird Areas (IBAs) will provide new habitats for birds that are forced to move as temperatures and rainfall change and food sources become scarce in the areas where they currently occur. Protected areas are a vital conservation tool to help birds adapt to climate change in the 21st century."


Brazil accounts for 74% of global land area protected since 2003

(06/01/2009) Brazil accounts for nearly three-quarters of land protected in conservation areas established since 2003, according to a new study published in the Biological Conservation.


Political infighting in Brazil threatens the Amazon rainforest


(06/01/2009) Brazil's Environment Minister Carlos Minc accused other government agencies of working to undermine environmental laws in favor of Amazon development projects, report Reuters and the Associated Press. His charge comes a year after his predecessor, Senator Marina Silva, resigned due to the same opposition from development interests. Minc has taken an active role in battling Amazon deforestation, reducing credit access to illegal loggers and ranchers, seizing agricultural products and cattle produced on illegally deforested lands, and pushing for new protected areas. His efforts have angered powerful development interests and at times have put his at odds with President Lula, who is promoting new road and hydroelectric projects.


World governments to miss goal protecting 10 percent of every ecoregion by next year


(06/01/2009) It is unlikely that world government will keep their pledge to protect 10 percent of every ecological region by 2010, according to a new study published in Biological Conservation. This goal is just one of many agreed upon by world governments through the Convention on Biological Diversity. With less than a year to the goal's deadline, the study found that half of the world's ecoregions are currently below the 10 percent threshold.


Forest Recovery Programs in Madagascar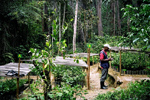 (06/01/2009) Despite being one of the last habitable land masses on earth to be settled by man, Madagascar has lost more of its forests than most countries; less than 10% of its original forest cover now remains, and much of that is degraded. Political turmoil that erupted earlier this year continues to rumble on and the ensuing lawlessness has created the opportunity for illegal logging syndicates to plunder national parks, most notably Marojejy and Masoala, for valuable hardwoods and wildlife.


Orangutan guerrillas fight palm oil in Borneo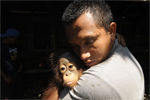 (06/01/2009) Despite worldwide attention and concern, prime orangutan habitat across Sumatra and Borneo continues to be destroyed by loggers and palm oil developers, resulting in the death of up to 3,000 orangutans per year (of a population less than 50,000). Conservation groups like Borneo Orangutan Survival report rescuing record numbers of infant orangutans from oil palm plantations, which are now a far bigger source of orphaned orangutans than the illicit pet trade. The volume of orangutans entering care centers is such that these facilities are running out of room for rescued apes, with translocated individuals sometimes waiting several months until suitable forest is found for reintroduction. Even then they aren't safe; in recent months loggers have started clearing two important reintroduction sites (forests near Bukit Tigapuluh National Park in Sumatra and Mawas in Central Kalimantan). Meanwhile across half a dozen rehabilitation centers in Malaysia and Indonesia, more than 1,000 baby orangutans—their mothers killed by oil palm plantation workers or in the process of forest clearing—are being trained by humans for hopeful reintroduction into the wild, assuming secure habitat can be found. Dismayed by the rising orangutan toll, a grassroots organization in Central Kalimantan is fighting back. Led by Hardi Baktiantoro, the Center for Orangutan Protection (COP) has mounted a guerrilla-style campaign against companies that are destroying orangutan habitat in Kalimantan, the Indonesian part of Borneo.


Nike, Unilever, Burger King, IKEA may unwittingly contribute to Amazon destruction, says Greenpeace


(06/01/2009) Major international companies are unwittingly driving the deforestation of the Amazon rainforest through their purchases of leather, beef and other products supplied from the Brazil cattle industry, alleges a new report from Greenpeace. The report, Slaughtering the Amazon, is based on a three-year undercover investigation of the Brazilian cattle industry, which accounts for 80 percent of Amazon deforestation and roughly 14 percent of the world's annual forest loss. Greenpeace found that Brazilian beef companies are important suppliers of raw materials used by leading global brands, including Adidas/Reebok, Nike, Carrefour, Eurostar, Unilever, Johnson & Johnson, Toyota, Honda, Gucci, Louis Vuitton, Prada, IKEA, Kraft, Tesco and Wal-Mart, among others.


Destruction of Brazil's most imperiled rainforest continues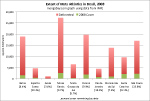 (05/31/2009) More than 100,000 hectares of Brazil's most threatened ecosystem was cleared between 2005 and 2008, reports a study by the Fundação SOS Mata Atlãntica and the National Institute for Space Research (INPE). The "Atlas of Mata Atlântica Remnants", released May 26, assessed the extent of the Mata Atlântica (Atlantic Forest) across 10 of the 17 states where the coastal rainforest occurs. It found that an 102,938 hectares were destroyed during the three year period. The annual loss of 34,121 hectares per year was 2.4 percent lower than the 34,965 ha recorded from the 2000-2005 period.


Polluted, degraded ecosystems can recover in less than a lifetime



(05/31/2009) Restoration efforts can return polluted or degraded landscapes to previous states in less than a lifetime, according to study Yale School of Forestry and Environmental Studies. The study rebuts a common assumption that ecosystem recovery takes centuries, even millennia.


After 400 years, beavers swim again in Scotland


(05/31/2009) The European beaver has been reintroduced into a loch in western Scotland. Eleven individual beavers were released on Friday, May 29th by the Scottish Beaver Trial (SBT), a project run by the Scottish Wildlife Trust, the Royal Zoological Society of Scotland and the Forestry Commission Scotland. The beaver was hunted to extinction throughout Britain during the Middle Ages for its fur. The last record of a beaver in Britain was made in 1526.


US responsible for 29 percent of greenhouse gas emissions over past 150 years

(05/31/2009) In the past 150 years, the United States has emitted more greenhouse gas emissions than any other nation in the world, according to a recent report by Greenpeace. In fact, US emissions account for 29 percent of the world's total since the mid-1800s. The US emitted 328,264 million metric tons of carbon dioxide (MtCO2) in the past 150 years, which is over 3 times the amount emitted by China in the same century-and-a-half.


The unknown role of coextinctions in the current extinction crisis


(05/28/2009) Scientists have long recognized 'coextinctions' as a major concern when it comes to the current mass extinction crisis. Despite such recognition, however, the role of coextinctions remains largely mysterious and little-studied. A new paper attempts to address this by settling what is known (and unknown) about the phenomenon of coextinctions and where research needs to go next.


Excluding forest carbon from climate policy will spur massive deforestation


(05/28/2009) Failure to develop policies that account for emissions from land use change will lead to widespread deforestation and higher costs for addressing climate change, warn researchers writing in the journal Science. Using a computer model that incorporates economics, energy, agriculture, land-use changes, emissions and concentrations of greenhouse gases, a team of researchers from the Department of Energy's Pacific Northwest National Laboratory (PNNL) and the University of Maryland found that efforts to limit atmospheric carbon dioxide levels while ignoring emissions from terrestrial sources would lead to nearly a complete loss of unmanaged forests by 2100, resulting largely from increased expansion of bioenergy crops. Meanwhile placing a value ("tax") on terrestrial carbon emissions equivalent to that on industrial and fossil fuel emissions would lead to an increase in forest cover.


Oil and gas bonanza discovered in the Arctic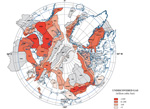 (05/28/2009) 30 percent of the world's undiscovered gas and 13 percent of its undiscovered oil is located north of the Arctic Circle, offering a potential bonanza for Russia, report researchers writing in the journal Science. Assessing natural resources around the North Pole, researchers from the United States Geological Survey (USGS) say the majority of undiscovered oil and gas will be found underwater on continental shelves, providing economic opportunities for countries with Arctic claims, including the U.S., Canada, Denmark/Greenland, Norway and Russia. The largest deposits of natural gas are expected in areas claimed by both Russia and Norway, whereas the most likely place for oil in the Arctic is in the Chukchi Sea, off northern Alaska.


Permian mass extinction caused by giant volcanic eruption

(05/28/2009) Two hundred and sixty million years ago the Earth experienced its worst mass extinction: 95 percent of marine life and 70 percent of terrestrial life vanished. Long a subject of dispute, researchers from the University of Leeds believe they have confirmed the reason behind the so-called Permian extinction.


Indigenous people, forest communities in Africa control less than 2% of forest land

(05/28/2009) Less than 2 percent of Africa's tropical forests are under community control, hindering efforts to slow deforestation and alleviate rural poverty, reports a new assessment from the International Tropical Timber Organization (ITTO) and the Rights and Resources Initiative (RRI), a global coalition of non-governmental and community organizations.



Page 1
|
Page 2
|
Page 3
|
Page 4
|
Page 5
|
Page 6
|
Page 7
|
Page 8
|
Page 9
|
Page 10
|
Page 11
|
Page 12
|
Page 13
|
Page 14
|
Page 15
|
Page 16
|
Page 17
|
Page 18
|
Page 19
|
Page 20
|
Page 21
|
Page 22
|
Page 23
|
Page 24
|
Page 25
|
Page 26
|
Page 27
|
Page 28
|
Page 29
|
Page 30
|
Page 31
|
Page 32
|
Page 33
|
Page 34
|
Page 35
|
Page 36
|
Page 37
|
Page 38
|
Page 39
|
Page 40
|
Page 41
|
Page 42
|
Page 43
|
Page 44
|
Page 45
|
Page 46
|
Page 47
|
Page 48
|
Page 49
|
Page 50
|
Page 51
|
Page 52
|
Page 53
|
Page 54
|
Page 55
|
Page 56
|
Page 57
|
Page 58
|
Page 59
|
Page 60
|
Page 61
|
Page 62
|
Page 63
|
Page 64
|
Page 65
|
Page 66
|
Page 67
|
Page 68
|
Page 69
|
Page 70
|
Page 71
|
Page 72
|
Page 73
|
Page 74
|
Page 75
|
Page 76
|
Page 77
|
Page 78
|
Page 79
|
Page 80
|
Page 81
|
Page 82
|
Page 83
|
Page 84
|
Page 85
|
Page 86
|
Page 87
|
Page 88
|
Page 89
|
Page 90
|
Page 91
|
Page 92
|
Page 93
|
Page 94
|
Page 95
|
Page 96
|
Page 97
|
Page 98
|
Page 99
|
Page 100
|
Page 101
|
Page 102
|
Page 103
|
Page 104
|
Page 105
|
Page 106
|
Page 107
|
Page 108
|
Page 109
|
Page 110
|
Page 111
|
Page 112
|
Page 113
|
Page 114
|
Page 115
|
Page 116
|
Page 117
|
Page 118
|
Page 119
|
Page 120
|
Page 121
|
Page 122
|
Page 123
|
Page 124
|
Page 125
|
Page 126
|
Page 127
|
Page 128
|
Page 129
|
Page 130
|
Page 131
|
Page 132
|
Page 133
|
Page 134
|
Page 135
|
Page 136
|
Page 137
|
Page 138
|
Page 139
| Page 140 |
Page 141
|
Page 142
|
Page 143
|
Page 144
|
Page 145
|
Page 146
|
Page 147
|
Page 148
|
Page 149
|
Page 150
|
Page 151
|
Page 152
|
Page 153
|
Page 154
|
Page 155
|
Page 156
|
Page 157
|
Page 158
|
Page 159
|
Page 160
|
Page 161
|
Page 162
|
Page 163
|
Page 164
|
Page 165
|
Page 166
|
Page 167
|
Page 168
|
Page 169
|
Page 170
|
Page 171
|
Page 172
|
Page 173
|
Page 174
|
Page 175
|
Page 176
|
Page 177
|
Page 178
|
Page 179
|
Page 180
|
Page 181
|
Page 182
|
Page 183
|
Page 184
|
Page 185
|
Page 186
|
Page 187
|
Page 188
|
Page 189
|
Page 190
|
Page 191
|
Page 192
|
Page 193
|
Page 194
|
Page 195
|
Page 196
|
Page 197
|
Page 198
|
Page 199
|
Page 200
|
Page 201
|
Page 202
|
Page 203
|
Page 204
|
Page 205
|
Page 206
|
Page 207
|
Page 208
|
Page 209
|
Page 210
|
Page 211
|
Page 212
|
Page 213
|
Page 214
|
Page 215
|
Page 216
|
Page 217
|
Page 218
|
Page 219