Conservation news
Founded in 1999, Mongabay is a leading provider of environmental science and conservation news.
Failure to support greener palm oil may lead industry to abandon environmental measures

(07/08/2009) Consumer apathy towards eco-certified palm oil have undermined efforts to improve the environmental performance of the industry, a top industry official told Reuters.


Age of the Amazon River estimated at 11 million years

(07/08/2009) A new study, published in the journal Geology, estimates the age of the Amazon river at 11 million years.


NASA reveals dramatic thinning of Arctic sea ice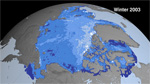 (07/07/2009) Arctic sea ice thinned dramatically between the winters of 2004 and 2008, with thin seasonal ice replacing thick older ice as the dominant type of sea ice for the first time on record, report NASA researchers. Scientists from NASA and the University of Washington used observations from NASA's Ice, Cloud and land Elevation Satellite (ICESat) to make the first Arctic Ocean basin-wide estimate of the thickness and volume of sea ice cover. The researchers found that overall Arctic sea ice thinned about 17.8 centimeters (7 inches) a year, for a total of 67 cm (2.2 feet) over the four winters from 2004 to 2008. The total area covered by thick older ice that survives one or more summers ("multi-year ice") shrank 42 percent or 1.54 million square kilometers (595,000 square miles), leaving thinner first-year ice ("seasonal ice") as the dominant type of ice in the region.


Did fish poisoning drive Polynesian colonization of the Pacific?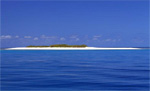 (07/07/2009) The reasons behind the colonization of the Pacific islands have long been sources of controversy and fascination. Now a new study looks into toxic fish poisoning as a possible migration catalyst. Between AD 1000 and 1450, Polynesian colonization of the South Pacific flourished. The voyages that were undertaken in the discovery of these new lands were very dangerous and the people who conducted them undoubtedly had good reasons to do so. Researchers from the Florida Institute of Technology have performed research which shows that toxic ciguatera fish poisoning would provide sufficient impetus for such risky voyages.


Tiny monkey species discovered in the Amazon rainforest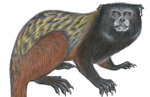 (07/07/2009) A new species of monkey has been discovered in the Brazilian Amazon, reports the Wildlife Conservation Society. The monkey, a type of saddleback tamarin, has been named Mura's saddleback tamarin (Saguinus fuscicollis mura) after the Mura Indians, the Amerindian ethnic group that lives in the Purus and Madeira river basins where the monkey occurs.


Extinction risk for Amazonian plants may be lower than previously estimated

(07/06/2009) Five to nine percent of the Amazon's 40,000 known species of plants will be at risk of extinction by 2050 should current deforestation trends continue, report researchers writing in the Proceedings of the National Academy of Sciences. The estimates are sharply lower than the 20 to 33 percent predicted in other studies.


Parks in Sumatra may reduce deforestation in adjacent unprotected areas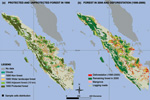 (07/06/2009) The establishment of protected areas on the Indonesian island of Sumatra may have helped reduce deforestation in adjacent unprotected areas, reports new research published in Journal of Biogeography. The results run counter to recent studies elsewhere that suggest the establishment of nature reserves attracts development projects and migrants to surrounding areas, undermining overall conservation efforts.


Best Buy to sell electric bicycles

(07/06/2009) Best Buy will soon start selling "green" vehicles, reporting the Wall Street Journal.


Global warming causes sheep to shrink

(07/02/2009) Climate change is shrinking Scotland's wild Soay sheep despite the evolutionary advantages of having a large body, report researchers writing in the journal Science. The results suggest that the decrease is primarily an ecological response to environmental variation over the last 25 years, rather than evolutionary change.


Birds found to be key protectors of forest in Tanzania

(07/02/2009) Seed-eating birds play a critical role in maintaining forests in the Serengeti by keeping seed-killing beetles in check, report researchers writing in the journal Science. The finding is another example of ecological interdependency between species.


869 species extinct, 17,000 threatened with extinction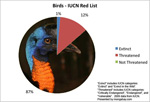 (07/02/2009) Nearly 17,000 plant and animal species are known to be threatened with extinction, while more than 800 have disappeared over the past 500 years, reports the International Union for Conservation of Nature (IUCN). While these numbers are substantial, they are likely "gross" underestimates since only 2.7 percent of 1.8 million described species have been assessed. The IUCN report warns that governments will miss their 2010 target for reducing biodiversity loss.


A Tasmanian tragedy? : How the forestry industry has torn an island apart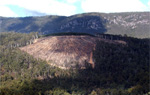 (07/02/2009) This is by no means a new battle: in fact, Tasmanian industrial foresters and environmentalists have been fighting over the issue of clearcutting the island's forests for decades. The battle—some would probably prefer 'war'—is over nothing less than the future of Tasmania. Some Tasmanians see the rich forests that surround them in terms of income, dollars and cents; they see money literally growing on trees, or more appropriately growing on monoculture plantations and government owned native forests. They see the wilderness of Tasmania as an exploitative resource.


REDD readiness plans for Panama, Guyana approved but rejected for Indonesia

(07/02/2009) The World Bank's Forest Carbon Partnership Facility (FCPF) has approved REDD readiness plans (R-Plans) for Panama and Guyana, and rejected a plan for Indonesia, reports the U.N. and the Bank Information Center, an advocacy group.


Brazil's development bank to require beef-tracking system to avoid illegal Amazon deforestation

(07/01/2009) Responding to allegations that major Brazilian cattle producers are responsible for illegal forest clearing in the Amazon, Brazil's development bank BNDES will soon require processors to trace the origin of beef back to the ranch where it was produced in order to qualify for loans, reports Brazil's Agencia Estado. The traceability program aims to ensure that cattle products do not come from illegally deforested land.


NASA satellite photos reveal Yellowstone's recovery from fires

(06/30/2009) Satellite images released by NASA show a gradual recovery of forests affected by massive fires during the summer of 1988 in Yellowstone National Park. Fires during that hot and dry summer burned nearly 36 percent of the park — some 793,000 of the park's 2,221,800 acres.


NASA images show huge drop in Amazon fires in 2008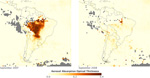 (06/30/2009) New NASA research shows a sharp decline in the amount of smoke over the Amazon during the 2008 burning season, coinciding with a drop in deforestation reported last week by Carlos Minc, Brazil's Environment Minister. Analyzing the aerosol concentrations over the Amazon each September from the past four burning seasons using the Ozone Monitoring Instrument on NASA's Aura satellite, atmospheric scientist Omar Torres of Hampton University and several colleagues found a dramatic decline in airborne particular matter in 2008, indicating reduced incidence of fire in the region. Fire in the Amazon is primarily used by humans for land-clearing to establish cattle pasture, which now accounts for the vast majority of land-use change in the world's largest rainforest.


Coastal seagrass disappearing as quickly as coral reefs and rainforests

(06/30/2009) Findings from the first comprehensive global survey of coastal seagrass ecosystems are nothing to cheer about. Fifty-eight percent of seagrass meadows are declining, according to an international team of scientists who compiled data from 215 studies and 1,800 observations of seagrass habitat beginning in 1879. Since that year, 29 percent of seagrass ecosystems have vanished entirely.


U.S. forgives $30M in debt to protect rainforests in Sumatra, Indonesia


(06/30/2009) The United States will forgive nearly $30 million in debt owed by Indonesia in exchange for increased protection of endangered rainforests on the island of Sumatra, reports the Wall Street Journal. The deal is the largest debt-for-nature swap under the U.S. Tropical Forest Conservation Act — unanimously reauthorized this May by the Senate Foreign Relations Committee last week — and its first such agreement with Indonesia, which has the second highest annual loss of forest cover after Brazil. Under the terms of the pact the government of Indonesia will put $30 million into a trust over the next eight years. The trust will issue annual grants for forest conservation and restoration work in Sumatra, an island that lost nearly half of its forest cover between 1985 and 2007 as a result of logging, conversion for plantations, and forest fires.


Brazil's minister of ideas, nemesis of former environmental minister, resigns

(06/29/2009) Brazil's minister of strategic affairs, Roberto Mangabeira Unger, will resign his post in the next few days and resume his teaching career at Harvard, Brazilian President Luiz Inacio Lula da Silva announced Monday.


A New Idea to Save Tropical Forests Takes Flight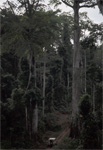 (06/29/2009) Every year, tens of millions of acres of tropical forests are destroyed. This is the most destabilizing human land-use phenomenon on Earth. Tropical forests store more aboveground carbon than any other biome. They harbor more species than all other ecosystems combined. Tropical forests modulate global water, air, and nutrient cycles. They influence planetary energy flows and global weather patterns. Tropical forests provide livelihoods for many of the world's poorest and marginalized people. Drugs for cancer, malaria, glaucoma, and leukemia are derived from rainforest compounds. Despite all these immense values, tropical forests are vanishing faster than any other natural system. No other threat to human welfare has been so clearly documented and simultaneously left unchecked. Since the 1992 Rio Earth Summit (when more than 100 heads of State gathered to pledge a green future) 500 million acres of tropical forests have been cut or burned. For decades, tropical deforestation has been the No. 1 cause of species extinctions and the No. 2 cause of human greenhouse gas emissions, after the burning of fossil fuels. For decades, a few conservation heroes tried their best to plug holes in the dikes, but by and large the most diverse forests on Earth were in serious decline.


Making Trees Work for Us in the U.S.: Let's Make Money While Saving Trees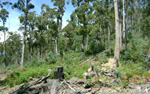 (06/29/2009) A lot has been said about how to develop a successful forestry carbon project. Today, I am addressing how both for-profit and not-for-profit businesses can develop successful carbon forestry projects while commenting on some of these opportunities. I will also discuss forestry carbon as an alternative asset class for institutions and individuals. I have been working in this sector since 2006 and so let me share some thoughts and observations from the field.


Tesco responds to allegations of causing Amazon deforestation

(06/29/2009) Tesco, one of Europe's largest retailers, has sent a response to the British newspaper The Guardian in light of the paper's coverage of recent allegations that the chain store sells beef and leather products that caused deforestation of the Amazon.


Saving one of the last tropical dry forests, an interview with Edwina von Gal


(06/29/2009) Often we hear about endangered species—animals or plants on the edge of extinction—however we rarely hear about endangered environments—entire ecosystems that may disappear from Earth due to humankind's growing footprint. Tropical dry forests are just such an ecosystem: with only 2 percent of the world's tropical dry forest remaining it is one of the world's most endangered ecosystems. A newly established organization, the Azuero Earth Project, is working not only to preserve some of the world's last tropical dry forest on the Azuero peninsula in Panama, but also to begin restoration projects hoping to aid both the forest's viability and the local people. Edwina von Gal, a landscape designer, is one of the founders of the Azuero Earth Project, as well as president of the organization.


Brazil approves land tenure law that grants 260,000 sq mi of rainforest to settlers, speculators

(06/29/2009) Brazilian President Luiz Inacio Lula da Silva last week signed a controversial law granting 67.4 million hectares (166 million acres) of Amazon rainforest land to more than 1 million illegal settlers, reports Reuters.


Anti-HIV and anti-cancer drugs derived from Borneo rainforest progressing to final development stages

(06/29/2009) Two drugs derived from rainforest plants in Sarawk (Malaysian Borneo) are now in their final stages of development, reports Bernama.


Rainforest discovered via Google Earth to be protected

(06/29/2009) Mozambique has agreed to protect a tract of highland forest discovered by scientists using Google Earth, reports The Guardian.


Implications of the American Clean Energy and Security Act for conservation

(06/26/2009) Following today's passage of the American Clean Energy and Security Act (ACES) by the House of Representatives, The Natury Conservancy released a set of questions and answers with Mark Tercek, its chairman and CEO.


Global warming bill passes the House

(06/26/2009) The U.S. House of Representatives passed the country's first climate change legislation 219-212 on Friday. The vote was highly partisan with Democrats generally supporting the American Clean Energy and Security Act, and Republicans mostly opposing it.


More US students tackling science and engineering

(06/25/2009) In 2007 the number of US students enrolling in graduate programs in either science or engineering rose by 3.3 percent, nearly double the increase from the previous year, according to new data collected by The National Science Foundations Division of Science Resources Statistics (SRS). Science programs, excluding engineering, saw a rise of 2.4 percent and added the most students in absolute numbers.


Tiny bat discovered on islands off Africa

(06/25/2009) The Natural History Museum in Geneva, Switzerland has announced the discovery of a bat species new to science on the Comoros Island arichpelago off the south-east coast of Africa. The bat weighs only 5 grams (0.17 ounces).


Russia pledges to raise carbon emissions to combat global warming

(06/25/2009) In a bizarre announcement that threatens to further weaken the international community's ability to come together on climate change, Russia has said it will reduce its emissions 10-15 percent from 1990 levels by 2020. The problem is that in 1990 Russia's carbon emissions were much higher than they are today, so this 'lowering' of carbon emissions actually means that Russia will raise its emissions by 2 to 2.5 percent annually until 2020.


Over 30 percent of open ocean sharks and rays face extinction


(06/25/2009) The first global study of open ocean (pelagic) sharks and rays found that 32 percent of the species are threatened with extinction largely due to overfishing and bycatch, making pelagic sharks and rays more threatened than birds (12 percent), mammals (20 percent), and even amphibians (31 percent), which are considered to be undergoing an extinction crisis. The situation worsens when only sharks taken in high-seas fisheries are considered: 52 percent of these species are threatened.


Meeting food and energy demands by mid-century will be a challenge, says report

(06/25/2009) Meeting food and energy demands in a world where human population is expected to reach 9 billion by mid-century will require a range of approaches that increase the sustainability of agricultural production, reports a new assessment from Deutsche Bank's Climate Change Advisors (DBCCA).


Brazilian cattle giant declares moratorium on Amazon deforestation


(06/25/2009) Marfrig, the world's fourth largest beef trader, will no longer buy cattle raised in newly deforested areas within the Brazilian Amazon, reports Greenpeace. The announcement is a direct response to Greenpeace's Slaughtering the Amazon report, which linked illegal Amazon forest clearing to the cattle producers that supply raw materials to some of the world's most prominent consumer products companies. Marfrig was one several cattle firms named in the investigative report.


Brazilian miner Vale signs $500M palm oil deal in the Amazon


(06/25/2009) Vale, the world's largest miner of iron ore, has signed a $500 million joint venture with Biopalma da Amazonia to produce 160,000 metric tons of palm oil-based biodiesel per year, reports Reuters. Vale says the deal will save $150 million in fuel costs starting in 2014, with palm oil biodiesel replacing up to 20 percent of diesel consumption in the company's northern operations. The biodiesel will be produced from oil palm plantations in the Amazon state of Pará. The move is likely to stir up criticism from environmentalists that fear palm oil production could soon become a major driver of deforestation in the region.


Massive deforestation in the past decreased rainfall in Asia


(06/25/2009) Between 1700 and 1850 forest cover in India and China plummeted, falling from 40-50 percent of land area to 5-10 percent. Forests were cut for agricultural use across Southeast Asia to feed a growing population, but the changes from forests to crops had unforeseen consequences. A new study published in the Proceedings of the National Academy of Sciences links this deforestation across Southeast Asia with changes in the Asian Monsoon, including significantly decreased rainfall.


Cambodia signs REDD agreement

(06/24/2009) Terra Global Capital, a San Francisco-based firm seeking to capitalize on emerging markets for ecosystem services, has signed an avoided deforestation deal with the government of Cambodia.


Saving tigers by counting feces


(06/24/2009) Scientists have been counting tiger populations for decades, using a variety of methods including camera traps and DNA collected from tissue or blood after darting and sedating the world's largest cat. However, a new method of surveying tiger populations could change scientists' ability to non-invasively obtain accurate numbers for tiger populations around the world, according to a study in Biological Conservation.


The living dead - Australia's disappearing landscape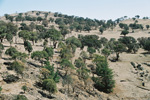 (06/24/2009) Gum trees dot the hills and valleys of south-eastern Australia, a vivid fixture of the rolling landscape. But despite the seeming health of these iconic trees, they have earned the morbid nickname "the living dead" among ecologists, who say natural changes and human actions are threatening the next generation of gum trees. The gum trees that are scattered through the landscape are naturally dying off at a rate of one to two percent each year. With no replacement, researchers fear more than 100,000 square kilometers of land could be virtually treeless within the next 100 years.


Proving the 'shifting baselines' theory: how humans consistently misperceive nature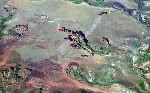 (06/24/2009) The theory of shifting baselines was first elucidated by scientists exploring urban children's perception of nature in 1995. In the same year, marine biologist Daniel Pauly coined the term 'shifting baselines'. Since then the idea of humans perceiving nature inaccurately, through 'shifting baselines', has taken the conservation world by storm: the theory appeared to describe a commonly noticed problem regarding people's view of the natural world around them. However, the theory had yet to be tested in a scientific manner: were people actually undergoing shifting baselines or was something else going on? For the first time a new paper in Conservation Letters empirically tests the shifting baselines theory.


UK firm plans to log habitat of critically endangered orangutan for palm oil production

(06/23/2009) A Scottish firm has been implicated in funding a plan that would destroy the rainforest habitat of critically endangered orangutans in Sumatra.


First comprehensive study of insect endangerment: ten percent of dragonflies threatened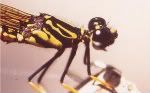 (06/23/2009) A lot of time, effort, and funds have been spent on programs evaluating the threat of extinction to species around the world. Yet insects have not benefited from these programs, which have largely focused on more 'charismatic' species such as mammals, birds, amphibians, and reptiles. This gap is clearly shown by the fact that 42 percent of vertebrates have been assessed by the International Union for the Conservation of Nature (IUCN), and only 0.3 percent of invertebrates.


Wind could power the entire world

(06/22/2009) Wind power may be the key to a clean energy revolution: a new study in the Proceedings of the National Academy of Science finds that wind power could provide for the entire world's current and future energy needs.


Scientists call on Obama for 'maximum personal leadership' to combat global warming

(06/22/2009) Twenty leading scientists have called on President Obama "to exercise maximum personal leadership" in tackling the threat posed by climate change.


New Yangtze River dam could doom more endangered species

(06/22/2009) Eight Chinese environmentalists and scientists have composed a letter warning that a new dam under consideration for the Yangtze River could lead to the extinction of several endangered species. The letter contends that Xiaonanhia Dam, which would be 30 kilometers upstream from the city of Chongqing, will negatively impact the river's only fish reserve. Spanning 400 kilometers in the upper Yangtze, the reserve is home to 180 fish species, including the Endangered Chinese sturgeon, and the Critically Endangered Chinese paddlefish, as well as the finless porpoise.


Mixed signals from the crown? Queen knights logging tycoon while Prince fights deforestation


(06/22/2009) Tiong Hiew King, founder and chairman of the Rimbunan Hijau Group, a Malaysian logging firm notorious for large-scale destruction of rainforests, has been knighted by Queen Elizabeth, a move which environmentalists say directly conflicts with her son's campaign — the Prince's Rainforests Project — to save global rainforests. Prince Charles established the project in 2007 and has become increasingly vocal in his calls to conserve forests.


Amazon deforestation in 2009 declines to lowest on record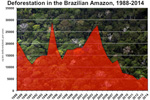 (06/22/2009) Annual deforestation in the Brazilian Amazon fell below 10,000 square kilometers for the first time since record-keeping began, reported Brazil's Environment Minister Carlos Minc. Yesterday Minc said preliminary data from the country's satellite-based deforestation detection system (DETER) showed that Amazon forest loss between August 2008 and July 2009 would be below 10,000 square kilometers, the lowest level in more than 20 years. Falling commodity prices and government action to crack down on illegal clearing are credited for the decline in deforestation rates.


Brazil to pay farmers $50/month to plant trees in the Amazon

(06/22/2009) Brazil will pay small farmers to plant trees in deforested parts of the Amazon under a plan unveiled Friday by President Luiz Inacio Lula da Silva.


Fish take less than a decade to evolve


(06/22/2009) Evolution is often thought of being a slow-process, taking thousands, if not millions, of years. However a new study in The American Naturalist found that Trinidadian guppies underwent evolution in just eight years, or thirty generations. Less than a decade ago Swanne Gordon, a graduate student at UC Riverside, and her team introduced Trinidadian guppies into the Damier River in the Caribbean island of Trinidad. They placed the guppies above a waterfall to allow them to flourish in a largely predator-free environment.


Record hunger: one billion people are going hungry worldwide

(06/22/2009) A new estimate by the UN FAO estimates that one billion people are currently going hungry: the highest number in history. Largely exacerbated by the global economic crisis, the number of the world's hungry has risen by 100 million people.



Page 1
|
Page 2
|
Page 3
|
Page 4
|
Page 5
|
Page 6
|
Page 7
|
Page 8
|
Page 9
|
Page 10
|
Page 11
|
Page 12
|
Page 13
|
Page 14
|
Page 15
|
Page 16
|
Page 17
|
Page 18
|
Page 19
|
Page 20
|
Page 21
|
Page 22
|
Page 23
|
Page 24
|
Page 25
|
Page 26
|
Page 27
|
Page 28
|
Page 29
|
Page 30
|
Page 31
|
Page 32
|
Page 33
|
Page 34
|
Page 35
|
Page 36
|
Page 37
|
Page 38
|
Page 39
|
Page 40
|
Page 41
|
Page 42
|
Page 43
|
Page 44
|
Page 45
|
Page 46
|
Page 47
|
Page 48
|
Page 49
|
Page 50
|
Page 51
|
Page 52
|
Page 53
|
Page 54
|
Page 55
|
Page 56
|
Page 57
|
Page 58
|
Page 59
|
Page 60
|
Page 61
|
Page 62
|
Page 63
|
Page 64
|
Page 65
|
Page 66
|
Page 67
|
Page 68
|
Page 69
|
Page 70
|
Page 71
|
Page 72
|
Page 73
|
Page 74
|
Page 75
|
Page 76
|
Page 77
|
Page 78
|
Page 79
|
Page 80
|
Page 81
|
Page 82
|
Page 83
|
Page 84
|
Page 85
|
Page 86
|
Page 87
|
Page 88
|
Page 89
|
Page 90
|
Page 91
|
Page 92
|
Page 93
|
Page 94
|
Page 95
|
Page 96
|
Page 97
|
Page 98
|
Page 99
|
Page 100
|
Page 101
|
Page 102
|
Page 103
|
Page 104
|
Page 105
|
Page 106
|
Page 107
|
Page 108
|
Page 109
|
Page 110
|
Page 111
|
Page 112
|
Page 113
|
Page 114
|
Page 115
|
Page 116
|
Page 117
|
Page 118
|
Page 119
|
Page 120
|
Page 121
|
Page 122
|
Page 123
|
Page 124
|
Page 125
|
Page 126
|
Page 127
|
Page 128
|
Page 129
| Page 130 |
Page 131
|
Page 132
|
Page 133
|
Page 134
|
Page 135
|
Page 136
|
Page 137
|
Page 138
|
Page 139
|
Page 140
|
Page 141
|
Page 142
|
Page 143
|
Page 144
|
Page 145
|
Page 146
|
Page 147
|
Page 148
|
Page 149
|
Page 150
|
Page 151
|
Page 152
|
Page 153
|
Page 154
|
Page 155
|
Page 156
|
Page 157
|
Page 158
|
Page 159
|
Page 160
|
Page 161
|
Page 162
|
Page 163
|
Page 164
|
Page 165
|
Page 166
|
Page 167
|
Page 168
|
Page 169
|
Page 170
|
Page 171
|
Page 172
|
Page 173
|
Page 174
|
Page 175
|
Page 176
|
Page 177
|
Page 178
|
Page 179
|
Page 180
|
Page 181
|
Page 182
|
Page 183
|
Page 184
|
Page 185
|
Page 186
|
Page 187
|
Page 188
|
Page 189
|
Page 190
|
Page 191
|
Page 192
|
Page 193
|
Page 194
|
Page 195
|
Page 196
|
Page 197
|
Page 198
|
Page 199
|
Page 200
|
Page 201
|
Page 202
|
Page 203
|
Page 204
|
Page 205
|
Page 206
|
Page 207
|
Page 208
|
Page 209
|
Page 210
|
Page 211