Conservation news
Founded in 1999, Mongabay is a leading provider of environmental science and conservation news.
Top 10 camera trap photos of animals
(12/30/2014) Camera traps are revolutionizing the world of conservation, helping researchers document elusive wildlife, record rarely-observed animal behavior, catch poachers, and identify high conservation value areas. The non-invasive tool also offers incredible marketing value, showcasing the sometimes little-seen targets of conservation efforts.


2014: the year in rainforests


(12/30/2014) 2014 could be classified as 'The Year of the Zero Deforestation Commitment'. During 2014, nearly two dozen major companies, ranging from palm oil producers to fast food chains to toothpaste makers, established policies to exclude palm oil sourced at the expense of rainforests and peatlands.


Rat eradication needed to save seabird colony


(12/30/2014) Although only a nuisance in your home, on an isolated island chain (archipelago) off the northeastern coast of Brazil, rats pose a threat to the red-billed tropicbird (Phaethon aethereus). The seabird nests in the remote Abrolhos National Park, but two species of invasive rats prey on its eggs and young: the house rat (Rattus rattus) and the brown rat (Rattus norvegicus).


Meet Biofaces: the Facebook for wildlife enthusiasts


(12/30/2014) Love wildlife? Wish you had a place online to share your photos, videos, and stories with other wild enthusiasts—kind of like a Facebook for wildlife lovers? Well, look no further than Biofaces, a new website meant to "make wildlife loving people happy," according to its creator, Leonardo Avelino Duarte.


Young journalists win prizes for environmental reporting


(12/30/2014) This year, Mongabay published over 165 articles written by journalists participating in its internship program. To highlight some of the excellent work, Mongabay held a competition for intern contributions to the site, asking individuals to submit their most compelling pieces. A staff selection panel reviewed the selections and chose the winners.


Endangered mussel still harvested for food in Laos


(12/29/2014) Only one freshwater pearl mussel species is known to inhabit tropical water systems. However, despite being listed as Endangered by the IUCN, it is also still a part of the diet of villagers in Northern Laos. A study published recently found that the dwindling populations of the bivalve would benefit from a ban on their capture.


Camera traps capture rare footage of wild bonobos (video)


(12/29/2014) Bonobos, our ape cousins, love peace. Unlike chimpanzees, also our close relatives, bonobos are known to resolve conflict through sex instead of aggression. They kiss, they caress, and females display genito-genital rubbing (also called G-G rubbing) to communicate, bond, and reconcile.


Top 10 HAPPY environmental stories of 2014


(12/29/2014) In what was widely seen as a possible breakthrough in the battle to coordinate some kind of response to global warming, China and the U.S. announced joint actions this year. On November 12th, the world's two most powerful countries surprised pretty much everyone by announcing that they would work together to tackle the crisis.


Indonesia's silent wildlife killer: hunting


(12/26/2014) By and large, Indonesia is a peaceful country. In fact, on the United Nations Office of Drugs and Crime's list of homicide rates, Indonesia ranks number 10, making Indonesians one of the least murderous people on Earth. A ban on gun ownership probably helps, although obviously there are many other ways to snuff out another person. Maybe Indonesia's general tendency to avoid conflict helps, too. Whatever the reason why Indonesians are relatively unlikely to kill each other, such favors are not extended to Indonesia's non-human wildlife. The relative safety of Indonesia's people does not guarantee similar security for its animals.


Connecting the Dots: from Christmas Cookies to Climate Change


(12/26/2014) Harrison Ford checking out everyday products to see which ones contain palm oil. Not exactly the high-octane activity we associate with an adventurer like Ford…so what gives? Ford cares about the ingredients used to make these products because our high demand for these everyday consumer goods is directly tied to high rates of deforestation and climate change. He was in the frozen food aisle to find out just how prevalent palm oil is in our food supply.


Scientists rediscover Critically Endangered streamside frog in Costa Rica


(12/26/2014) In the past 20 years, amphibian species around the world have experienced rapid decline due to climate change, disease, invasive species, habitat loss and degradation. Populations have decreased by approximately 40 percent with nearly 200 species thought to have gone extinct since 1980. However, despite these discouraging statistics, new research efforts are turning up lost populations of some vanished frogs.


Favorite nature and wildlife photos from 2014


(12/24/2014) During the course of my reporting in 2014, I had the opportunity to travel to several countries and take some pictures in the field. Below are some of my favorite images from the year. Most of these photos are from Sumatra (Indonesia), Sabah (Malaysia), and Queensland (Australia), although there are a few from the United States.


Ecuador sends aid money back to Germany over planned rainforest visit

(12/23/2014) A visit to a rainforest slated for oil drilling has blown up into a diplomatic row between Ecuador and Germany. Ecuador has said it will no longer partner with Germany on environmental issues and will return aid money, after the South American government discovered that German legislators were attempting to visit the much-embattled Yasuni National Park.


Palawan palm oil presence likely to grow, industry rep denies harmful impact


(12/23/2014) Plans to convert eight million hectares of land for palm oil production on Palawan island in the Philippines have been met with opposition from environmental and social advocacy groups, with a petition to cease development sent to the United Nations Commission on Human Rights by an anti-palm oil expansion group. But an industry representative denies claims that all eight million hectares will be cultivated to the detriment of wildlife and human communities, maintaining palm oil expansion will be beneficial to the people of Palawan.


Advocacy group lashes out against palm oil expansion on Philippine island


(12/23/2014) In the first week of November, an anti-oil palm expansion group sent a copy of their petition to the Special Rapporteur on the Rights of the Indigenous People for the United Nations Commission on Human Rights hoping to elevate their concerns over land-grabbing issues faced by tribes in Palawan, Philippines, due to planned palm oil expansion in the province.


How a frog with a strange name is helping improve conservation in Brazil


(12/23/2014) Protecting the biodiversity of the Amazon basin is an immense undertaking, and to its credit the Brazilian government has a set procedure for doing so. However, there are gaps in the process that may prevent the authorities from fully protecting the species that call this place home. To investigate this, a recent study uses as an example the brilliant-thighed frog, a species that is found across the Amazon Basin—including the area surrounding the soon-to-be dammed Xingu River.


Conservation conflicting with local ways of life in Mexican reserve


(12/23/2014) Although conservation has good intentions, it can give rise to conflicts when the interests of conservationists put local peoples' livelihoods at stake. A recent study has uncovered an unhappy symbiosis between Mayan subsistence hunters and authorities in Yucatán, Mexico. A lack of understanding and communication about hunting regulations are forcing Mayan hunter societies to alter their traditional ways of living.


Top 10 Environmental Stories of 2014


(12/23/2014) In 2014, the unimaginable happened: companies representing the majority of palm oil production and trade agreed to stop cutting down rainforests and draining peatlands for new oil palm plantations. After years of intense campaigning by environmentalists and dire warnings from scientists, nearly two dozen major producers, traders, and buyers established zero deforestation policies.


Child labor and palm oil in Indonesia


(12/23/2014) Meet Bimo Kencana Arief. At 13 years old, this Indonesian middle school student is not spending his afternoons doing homework, helping around the house, or getting into trouble with the neighborhood children. Instead, Bimo is working up a sweat, hauling heavy oil palm fruits from the trees to a waiting truck. If he moves quickly, he can help his father earn up to $2 between 3:00 pm and dark.


Greenpeace: zero deforestation pioneer makes progress, but still has work to do


(12/22/2014) Half a decade ago, Golden-Agri Resources (GAR) was losing customers right and left in the midst of a Greenpeace campaign that blamed the Singapore-based palm oil giant for destroying forests in Indonesia. Then in February 2011, GAR surprised the world when it announced it would no longer clear rainforests or peatlands for new plantations. The company also committed to resolving social conflicts and respecting the right of local communities to reject plantation development on their traditional lands. Observers thought it could be mark the beginning a transformation in how palm oil was produced.


Shifting attitudes may help endangered wild dogs in Thailand


(12/22/2014) Once found throughout much of Asia, the dhole—a wild dog species that looks something like a jackal—has been displaced by humans from much of its range. But a new study published in mongabay.org's open-access journal Tropical Conservation Science, offers hope that the two species may be able to coexist, with people living next to protected forest areas in southeastern Thailand showing a favorable attitude towards increasing awareness and conservation efforts for the endangered canids.


The biggest new species discoveries in 2014 (photos)


(12/22/2014) Biologists describe upwards of 15,000 previously undocumented species every year. Some of these species are complete surprises, sometimes representing new genera. Others may be identified after genetic analysis distinguishes them from closely-related species. Some — especially conspicuous birds and mammals — are already known to local populations, but hadn't been formally described by scientists.


Genetics study sheds light on Chile's most endangered bird


(12/22/2014) A member of the Furnariidae family, the small brown and beige bird possesses rusty "spine-like" tail feathers and inhabits densely vegetated areas. Scientists estimate the total population to range from 140 to 500 individuals. In 2012 the IUCN declared the Masafuera Rayadito to be a Critically Endangered species.


Edited Reality: What I Learned from Filming Eaten Alive


(12/22/2014) On November 3, 2014, I woke up to check my flight status from Bangalore to New York. What I found when I opened my laptop was a mindboggling amount of emails, hate mail, death threats, and interview requests. The numbers were staggering. The night before, the Discovery Channel had aired the first trailers for the show they decided to call Eaten Alive.


Pictures: the top new animal discoveries of 2014


(12/20/2014) Seemingly every year scientists set a new record with the number of species they describe. 2014 will be no exception. Below are some of the 'new species' highlights from the past year. The list includes species whose descriptions were first published in 2014. Some of the 'discoveries' occurred in years prior.


125M ha of degraded lands identified for forest-friendly agricultural expansion


(12/19/2014) A team of researchers has identified 125 million hectares (309 million acres) of land suitable for agricultural expansion that won't come at the expense of tropical forests. The study argues that shifting agricultural expansion away from forests to these 'degraded lands' would avoid 13 billion tons of carbon dioxide emissions that would be released were they converted for plantations, pasture, and croplands.


Puerto Rico's only native toad bounces back from edge of extinction


(12/19/2014) Once common on the islands of Puerto Rico and Virgin Gorda, the Puerto Rican crested toad declined by more than 80 percent over the past decade, leaving behind just some 200 individuals in the wild. But researchers have turned their fate around. Since 1992, they have successfully bred in captivity and re-introduced to the wild more than 300,000 of these threatened toads.


Impacts of deforestation on Amazonian river ecosystems could be far-reaching


(12/18/2014) A study by researchers in Brazil published this week has found that deforestation in the Southern Amazon may impair significantly the structure and function of rivers, and make them less able to support life.


Plant wars: some tree species compete better against grasses for reforestation


(12/18/2014) What happens to degraded pastureland once the cows are kicked out? After years of letting the area rest, does it eventually become what it once was? Not likely. When disruptions such as invasive species and human interference are introduced to an area, ecological succession doesn't occur the way it should naturally.


Tropical deforestation could disrupt rainfall globally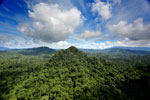 (12/18/2014) Large-scale deforestation in the tropics could drive significant and widespread shifts in rainfall distribution and temperatures, potentially affecting agriculture both locally and far from where forest loss is occurring, concludes a study published today in Nature Climate Change.


Enough for an elephant: why are Cameroon's elephants raiding fields?


(12/18/2014) Waza National Park in West Africa is a refuge to many endangered and vulnerable species. Walk through the grounds and you may see red-fronted gazelles grazing or giraffes sauntering between trees in search of foliage. Head to the park's perimeter, though, and you may see a less serene scene: elephants raiding local farmers' crops.


Ocelots live in super densities on Barro Colorado Island

(12/18/2014) By comparing camera trapping findings with genetic samples taken from feces, biologists have determined that the density of ocelots on Barro Colorado Island in Panama is the highest yet recorded. There are over three ocelots per every two square kilometers (0.77 square miles) on the island.


Amazonian peatlands store mega carbon

(12/17/2014) Peatlands in the Peruvian Amazon store ten times the amount of carbon as undisturbed rainforest in adjacent areas, making them critical in the battle to fight climate change, finds a new study published in Environmental Research Letters.


Saving the world's rarest primate: can it be done?


(12/17/2014) Endemic to China's southernmost province of Hainan, only around 30 Hainan gibbons survive today. Rapid island-wide deforestation and consequential loss of habitat, uncontrolled hunting, and failed captive breeding attempts have pushed this ape towards the precipice of becoming the first primate species to go extinct in the modern world. Will a multi-stakeholder conservation strategy be able to save it?


When predators attack, plants grow fewer thorns


(12/17/2014) Crisp lines of light begin to play out across the landscape. As the morning light grows, blades of grass take shape and, amongst rocky outcrops, green acacia breaks the yellow and gold of the savannah. Stirring in this early morning atmosphere is the African impala, an ungulate that typically grazes at dusk and dawn.


Deforestation taking toll on nesting birds in Cameroon


(12/17/2014) The tropical montane forests of the Cameroon mountain ranges boast fertile volcanic soils, high biodiversity of grasses and non-woody plants, as well as many endemic bird species that can be found only in this high-altitude region. Yet, many of these endemic bird species may be at risk due to increased nest predation linked with human-induced forest degradation, according to a new study.


Google Earth used to identify environmentally important termite mounds

(12/17/2014) In woodland and savannah areas, certain termite species play a critical environmental role due to the mounds they build. These mounds can be used as fertilizer to induce new ecosystems, and the termites themselves can be studied as biological indicators of human-caused degradation. Detecting the amount and distribution of these mounds throughout an area can provide importance insight on the overall health of an environment. However, detecting the mounds on the ground can be a costly and time-consuming activity.


Scientists reintroduce agoutis in rainforest in city of 12 million


(12/17/2014) When one thinks of Rio de Janeiro, one usually doesn't think: rainforest. However, in the heart of the city sits a massive rainforest sprung over long-gone sugar and coffee plantations. The forest—protected today as the Tijuca National Park—is home to hundreds of threatened species, but no agoutis, a common ground mammal in Latin America.


Success of 'land sparing' will depend on global economics, regulations


(12/16/2014) Agriculture is the primary driver of tropical deforestation. Indeed, most global food production occurs in the tropics, including important commodity crops such as sugarcane, soybeans, palm oil, and beef. Recent estimates indicate that forest clearing for agriculture contributes significantly to greenhouse gas emissions. This fuels concern over how to balance food production for a growing population with climate change mitigation through conserving tropical forests.


Forests could be a thrifty way to fight ozone pollution


(12/16/2014) Planting trees may be a cost-effective way to reduce ground-level ozone, a toxic component of smog that contributes to the deaths of about 152,000 people annually worldwide, according to new research. The study is the first to lay out a practical plan and examine the economic impacts of lowering ozone levels with trees.


New mapping technique sheds light on dry forests


(12/16/2014) The extreme habitat heterogeneity of Southeast Asian forests makes it difficult to map their different compositions, resulting in a lack of study of many forest types and their underrepresentation in protected area networks. To address this issue, researchers came up with a remote sensing-based method to accurately delineate forest types, which they demonstrate in a study released this week by focusing on one particular forest type: Dry Deciduous Dipterocarp forests.


Hunting is a greater threat than logging for most wildlife in Borneo


(12/16/2014) Persistence is the key factor in the two most common human stressors on tropical wildlife. In Malaysian Borneo, hunting continually diminishes wildlife populations, whereas the negative impacts from selective logging are more transient, according to a recent study in Conservation Biology.


Palm oil facilitates large-scale illegal logging in Indonesia


(12/16/2014) Development of oil palm plantations is providing cover for large-scale illegal logging in Indonesian Borneo, driving destruction of some of the island's most biodiverse forests and undermining efforts to reform the country's forestry sector, alleges a new report published by the Environmental Investigation Agency (EIA).


Growth of forests may not be keeping pace with rising CO2 levels


(12/15/2014) Plants rely on three critical elements for growth: carbon dioxide, water, and sunlight. Rising atmospheric carbon dioxide concentrations are therefore expected to increase rates of forest growth, in turn helping counter some of humanity's influence on global climate. But a new study provides evidence that challenges that assumption.


Then there were five: rhino death moves species closer to extinction

(12/15/2014) As if news for rhinos couldn't get any worse: this weekend, Angalifu, died a the San Diego Zoo. Forty four-year-old Angalifu was a male northern white rhino and his death means only five of this subspecies remains on the planet. Angalifu's death, which keepers suspect was simply from old age, follows soon after the death of another northern white rhino, Suni, in October.


Gibbon species pushed towards extinction as island loses its trees


(12/15/2014) Only about 30 Hainan gibbons currently inhabit our world and all of them are confined to the 2,100-hectare Bawangling National Nature Reserve on the western part of Hainan Island. Endemic to this island, these gibbons primarily inhabited the lowland broadleaf and semi-deciduous monsoon forests that today are almost entirely deforested.


Children 'clean' oil spill with kitchen utensils in the Sundarbans


(12/15/2014) On December 9th, a tanker slammed into another vessel along the Shela River in the world's largest mangrove forest: the Sundarbans in Bangladesh. The tanker sank, spilling an estimated 75,000 gallons (350,000 liters) of fuel oil into waterways that are a part of a reserve for threatened Ganges river dolphins and Irrawaddy dolphins.


New poison dart frog needs immediate conservation plan


(12/15/2014) It was a surprising discovery in an unlikely location. In a leaf litter nearly four inches deep under a dense canopy of rainforest trees, researchers Marcos Ponce and Abel Batista with the Universidad Autónoma de Chiriquí worked to complete an inventory of endangered species in Panama's Isthmian-Atlantic moist forest. But they were both completely unsuspecting of what they were about to find: a new poison dart frog.


Reefs reduce 97 percent of wave energy, could be better than artificial barriers


(12/15/2014) We have a lot of stake in the coast. Coastal waters are where we host fisheries, build homes and turn to for tourism and recreation. So how should coastal communities, which comprise nearly 40 percent of the world's population, safeguard against flooding, erosion and violent weather? Marine scientist Michael Beck suggests the solution is growing right beneath some waves and, in many cases, it has been waiting there for thousands of years.


Conservation and the rights of indigenous communities

(12/12/2014) Many conservationists have long supported local communities and indigenous peoples seeking recognition of their rights to land and natural resources. In addition to being the right thing to do, supporting these local initiatives in land and seascapes across the globe helps strengthen the constituency for conserving healthy wildlife populations, habitats, and natural ecosystems.



Page 1
|
Page 2
|
Page 3
|
Page 4
|
Page 5
|
Page 6
|
Page 7
|
Page 8
|
Page 9
|
Page 10
|
Page 11
|
Page 12
| Page 13 |
Page 14
|
Page 15
|
Page 16
|
Page 17
|
Page 18
|
Page 19
|
Page 20
|
Page 21
|
Page 22
|
Page 23
|
Page 24
|
Page 25
|
Page 26
|
Page 27
|
Page 28
|
Page 29
|
Page 30
|
Page 31
|
Page 32
|
Page 33
|
Page 34
|
Page 35
|
Page 36
|
Page 37
|
Page 38
|
Page 39
|
Page 40
|
Page 41
|
Page 42
|
Page 43
|
Page 44
|
Page 45
|
Page 46
|
Page 47
|
Page 48
|
Page 49
|
Page 50
|
Page 51
|
Page 52
|
Page 53
|
Page 54
|
Page 55
|
Page 56
|
Page 57
|
Page 58
|
Page 59
|
Page 60
|
Page 61
|
Page 62
|
Page 63
|
Page 64
|
Page 65
|
Page 66
|
Page 67
|
Page 68
|
Page 69
|
Page 70
|
Page 71
|
Page 72
|
Page 73
|
Page 74
|
Page 75
|
Page 76
|
Page 77
|
Page 78
|
Page 79
|
Page 80
|
Page 81
|
Page 82
|
Page 83
|
Page 84
|
Page 85
|
Page 86
|
Page 87
|
Page 88
|
Page 89
|
Page 90
|
Page 91
|
Page 92
|
Page 93
|
Page 94
|
Page 95
|
Page 96
|
Page 97
|
Page 98
|
Page 99
|
Page 100
|
Page 101
|
Page 102
|
Page 103
|
Page 104
|
Page 105
|
Page 106
|
Page 107
|
Page 108
|
Page 109
|
Page 110
|
Page 111
|
Page 112
|
Page 113
|
Page 114
|
Page 115
|
Page 116
|
Page 117
|
Page 118
|
Page 119
|
Page 120
|
Page 121
|
Page 122
|
Page 123
|
Page 124
|
Page 125
|
Page 126
|
Page 127
|
Page 128
|
Page 129
|
Page 130
|
Page 131
|
Page 132
|
Page 133
|
Page 134
|
Page 135
|
Page 136
|
Page 137
|
Page 138
|
Page 139
|
Page 140
|
Page 141
|
Page 142
|
Page 143
|
Page 144
|
Page 145
|
Page 146
|
Page 147
|
Page 148
|
Page 149
|
Page 150
|
Page 151
|
Page 152
|
Page 153
|
Page 154
|
Page 155
|
Page 156
|
Page 157
|
Page 158
|
Page 159
|
Page 160
|
Page 161
|
Page 162
|
Page 163
|
Page 164
|
Page 165
|
Page 166
|
Page 167
|
Page 168
|
Page 169
|
Page 170
|
Page 171
|
Page 172
|
Page 173
|
Page 174
|
Page 175
|
Page 176
|
Page 177
|
Page 178
|
Page 179
|
Page 180
|
Page 181
|
Page 182
|
Page 183
|
Page 184
|
Page 185
|
Page 186
|
Page 187
|
Page 188
|
Page 189
|
Page 190
|
Page 191
|
Page 192
|
Page 193
|
Page 194
|
Page 195
|
Page 196
|
Page 197
|
Page 198
|
Page 199
|
Page 200
|
Page 201
|
Page 202
|
Page 203
|
Page 204
|
Page 205
|
Page 206
|
Page 207
|
Page 208
|
Page 209
|
Page 210
|
Page 211
|
Page 212
|
Page 213
|
Page 214
|
Page 215
|
Page 216
|
Page 217
|
Page 218
|
Page 219