Jeremy Hance
mongabay.com
December 10, 2012

Rainforest beetle in Malaysian Borneo. Photo by: Rhett A. Butler.



Reducing Emissions from Deforestation and Degradation (REDD+), the UN program to conserve tropical forests by paying developing nations to keep them standing, should go hand-in-hand with increased genetic studies of imperiled tropical biodiversity, according to a new opinion article in mongabay.com's open access journal Tropical Conversation Science. Most importantly, REDD+ could benefit from the study of phylogeography, a new field that looks at a species' genetic variations across a region, argues the study's author Peggy MacQueen with the University of Adelaide.

"REDD+ may offer one of the most well supported international frameworks to date for reducing forest habitat loss and protecting tropical diversity," MacQueen writes, noting that the program, if successful, "offers a relatively 'holistic' approach to reducing forest degradation through the recognition that forest conservation for carbon stocks should be integrated with initiatives for the conservation of biodiversity."

MacQueen says that REDD+ should take into view increased research in phylogeographics, which examines, among other things, how historical processes impact species populations at the genetic level. For example, many species have been split into genetically distinct populations by past climate change or the rise geographic barriers, like rivers. In terms of biodiversity conservation, REDD+ should consider such distinct genetic populations as important as unique species.

According to MacQueen, phylogeographic research can inform REDD+ in three important ways: by identifying distinct populations and cryptic specie s(i.e. species that look the same as other species, but with genetic information prove to be distinct); prioritizing populations and places that are important for conservation, especially as climate change forces large-scale species migrations; and finding out how climate change caused species to move in the past by looking at their genetics. But phylogeographics is a young discipline and not widely known outside of academia.

"The consideration of phylogeographic patterns in practical conservation programs is still limited, even in developed countries," MacQueen notes. "Under large-scale initiatives such as REDD+, there is now potential for increased consideration of ecological and land-use data. These data could be integrated with regional spatial genetic data generated through a phylogeographic approach for management and planning purposes."

She recommends that phylogeographics be used in mapping areas, including determining bioregions and even in planning new or expanding existing protected areas.

"The consequences of widespread population extinction for global ecosystem stability should be considered as serious as the consequences associated with species extinction," MacQueen writes.



CITATIONS: Macqueen, P. 2012. Last Chance To See: the role of phylogeography in the preservation of tropical biodiversity. Tropical Conservation Science Vol. 5(4):417-425 .

















Related articles

5 years in, debates over REDD+ continue


(11/28/2012) An initiative that aims to slow global warming by paying developing countries to protect and better manage their forests is expected to be an important storyline during climate talks in Doha this week and next. REDD+ (Reducing Emissions from Deforestation and Degradation), as the mechanism is known, has grown in complexity since it gained momentum during the 2005 climate talks in Montreal, but is arguably moving forward faster than other areas of climate negotiations. Still, many elements of REDD+ continue to be as hotly debated today as they were five years ago when it got the conceptual OK from the U.N. These include the process for establishing baselines to measure reductions in emissions, safeguards to protect against adverse outcomes for biodiversity and forest-dependent communities, and financing and markets.


REDD+ must consider biodiversity, forest livelihoods to have any chance of success

(11/16/2012) Safeguarding biodiversity is a critical component in any plan to mitigate climate change through forest protection, argues a comprehensive new assessment published by the International Union of Forest Research Organizations (IUFRO), the world's largest network of forest scientists.


Experts: sustainable logging in rainforests impossible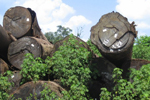 (07/19/2012) Industrial logging in primary tropical forests that is both sustainable and profitable is impossible, argues a new study in Bioscience, which finds that the ecology of tropical hardwoods makes logging with truly sustainable practices not only impractical, but completely unprofitable. Given this, the researchers recommend industrial logging subsidies be dropped from the UN's Reducing Emissions from Deforestation and Forest Degradation (REDD+) program. The study, which adds to the growing debate about the role of logging in tropical forests, counters recent research making the case that well-managed logging in old-growth rainforests could provide a "middle way" between conservation and outright conversion of forests to monocultures or pasture.


Can loggers be conservationists?


(05/10/2012) Last year researchers took the first ever publicly-released video of an African golden cat (Profelis aurata) in a Gabon rainforest. This beautiful, but elusive, feline was filmed sitting docilely for the camera and chasing a bat. The least-known of Africa's wild cat species, the African golden cat has been difficult to study because it makes its home deep in the Congo rainforest. However, researchers didn't capture the cat on video in an untrammeled, pristine forest, but in a well-managed logging concession by Precious Woods Inc., where scientist's cameras also photographed gorillas, elephants, leopards, and duikers.