Jeremy Hance
mongabay.com
May 31, 2012

Children in Dani village in West Papua, Indonesia. The Indonesian constitution gives the government ownership over all land and natural resources. Photo by: Rhett A. Butler.



In the last twenty years, rights for indigenous forest dwellers have expanded significantly, according to a new report by the Rights and Resources Initiative (RRI). Covering nearly thirty tropical forest countries, the report finds that indigenous people now hold rights to 31 percent of the forest land in these countries, rising from 21 percent in 1992. However, landmark land rights for indigenous people remain imperiled by lack of enforcement, land-grabbing, government ambivalence, and industrial development. The report comes less than a month before the Rio+20 Summit on Sustainable Development, a meeting of global leaders that marks two decades since the Rio Earth Summit.

"All 27 of the countries we analyzed have one or more laws recognizing legal rights of communities, either nationally or regionally," said Fernanda Almeida, lead author of the report, in a press release. "But the laws themselves are not enough. They must be 'good laws', and they have to be implemented."

The issue goes beyond even human and indigenous rights. Experts and scientists have long argued that one of the best ways to keep rainforests standing is to grant land rights to those who have depended, and safeguarded, the forest for centuries: indigenous people and local communities. Tropical forests provide innumerable ecosystem services to the world: biodiversity conservation, freshwater protection, carbon sequestration, rainfall production, medicinal discoveries, among others. However, tropical forests and the people who depend on them remain threatened by agricultural development, mining, fossil fuel production, industrial logging, and other impacts.

"Forest peoples are caught between the forces of a drive for environmental sustainability and the intense pressure of economic development", explains Jeffrey Hatcher, Director of Global Programs for RRI. "Despite tremendous progress in establishing legal tenure regimes, a lack of political will and bureaucratic obstacles make it a struggle to implement any real action in most forest-rich developing nations."

The tension between industrial development and indigenous rights is apparent in many of the laws enacted by tropical forest nations. Implementation is lacking in many cases and laws are often circumvented, overridden, or simply ignored, in order to allow corporations and governments to exploit the land.

"Although indigenous peoples and other forest communities' rights are now more recognized than ever before, the study finds that the vast majority of the identified tenure regimes restrict community rights by not recognizing one or more of the rights within the extended bundle of rights," reads the report.

For example, over a third of the various legal regimes set up by forest nations for indigenous people still allow outsiders to exploit the forest with impunity, negating one of the principle rights inherent in land ownership.

Still indigenous land rights are on the march. Twenty years ago, ten percent of the world's tropical forests were owned by their indigenous inhabitants, today that percentage has risen to 15. While there has been definite progress over the past twenty years, the report finds that much still needs to be done.

"The majority of the world's forests remain claimed by governments with almost no recognition of the legal rights of the millions of people who have inhabited and managed the forests for generations. This disconnect is becoming more apparent and more urgent to rectify—especially as forest lands are increasingly targeted for investment."

Africa is lagging behind all other continent in recognizing indigenous rights, according to the report. Ninety-seven percent of the forests on the continent are owned by the state. While Indonesia formally recognizes local community's rights to traditional land, the state owns all of the land and natural resources, essentially trumping indigenous and local rights. On the other side, Latin America has led the way in establishing comprehensive indigenous rights.

"If these laws ever make it off the books, billions of hectares and millions of people will have access to one of the most effective tools available for eradicating poverty and conserving limited resources," explains Andy White, coordinator of RRI. "If negotiators [at Rio+20] are serious about reducing poverty and conserving forests, they will call on forest nations to strengthen community land rights in their forests. Only when such rights are a reality on paper and in practice, will communities be able to do what they do better than anyone else—manage the forests and curb the unsustainable practices now threatening tropical forest nations worldwide."

















Related articles

Indigenous group paid $0.65/ha for forest worth $5,000/ha in Indonesia


(05/23/2012) A palm oil company has paid indigenous Moi landowners in Indonesian Papua a paltry $0.65 per hectare for land that will be worth $5,000 a hectare once cultivated, according to a new report by the Environmental Investigation Agency (EIA) and Indonesian NGO, Telepak. The report outlines similar disadvantageous deals in timber with the same companies breaking their promises of bringing education and infrastructure.


Tribe partners to protect Argentina's most endangered forest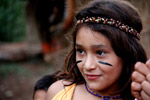 (05/17/2012) Last month, three Guarani communities, the local Argentine government of Misiones, and the UK-based NGO World Land Trust forged an agreement to create a nature reserve connecting three protected areas in the fractured, and almost extinct, Atlantic Forest. Dubbed the Emerald Green Corridor, the reserve protects 3,764 hectares (9,301 acres) in Argentina; although relatively small, the land connects three protected other protected areas creating a combined conservation area (41,000 hectares) around the size of Barbados in the greater Yaboti Biosphere Reserve. In Argentina only 1 percent of the historical Atlantic Forest survives.


b>Oil company Perenco endangering 'uncontacted' indigenous people, says Peru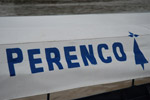 (04/25/2012) The company hoping to exploit the oil deposits slated to transform Peru's economy has been declared to be endangering the lives of indigenous people living in "voluntary isolation" by the country's indigenous affairs department (INDEPA). Perenco, an Anglo-French company with headquarters in London and Paris, is currently seeking approval from Peru's Energy Ministry (MEM) to develop its operations in the Loreto region in the north of the country.


Photos: Uncontacted Amazon tribes documented for first time in Colombia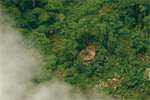 (04/19/2012) Aerial surveys of a remote area of rainforest along the Colombia-Brazil border have produced the first photographic evidence of uncontacted tribes, according to a conservation group that works to safeguard indigenous territories and culture. The photos, released by the Amazon Conservation Team (ACT), show five long houses or malokas thought to belong to two indigenous groups, the Yuri or Carabayo and Passé, some of the last isolated tribes in the Colombian Amazon. The images provide confirmation that uncontacted communities still exist within the Rio Puré National Park, which protects a million hectares (2.47 million acres) of mostly pristine rainforest between the Caquetá and Putumayo River basins along the Brazilian border.


Indigenous groups oppose priest pushing for road through uncontacted tribes' land

(04/19/2012) A grassroots indigenous organization in Peru is calling for the removal of an Italian Catholic priest from the remote Amazon in response to his lobbying to build a highway through the country's biggest national park.


Police hired by loggers in Papua New Guinea lock locals in shipping containers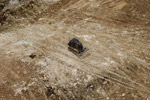 (04/16/2012) Locals protesting the destruction of their forest in Papua New Guinea for two palm oil plantations say police have been sent in for a second time to crack-down on their activities, even as a Commission of Inquiry (COI) investigates the legality of the concession. Traditional landowners in Pomio District on the island East New Britain say police bankrolled by Malaysian logging giant Rimbunan Hijau (RH) have terrorized the population, including locking people in shipping containers for three consecutive nights. The palm oil concessions belongs to a company known as Gilford Limited, which locals say is a front group for RH.


Amazon tribe becomes first to get OK to sell REDD credits for rainforest conservation

(04/12/2012) An Amazon tribe has become the first indigenous group in the world's largest rainforest to win certification of a forest carbon conservation project, potentially setting a precedent for other forest-dependent groups to seek compensation for safeguarding their native forests.