Jeremy Hance
mongabay.com
April 16, 2012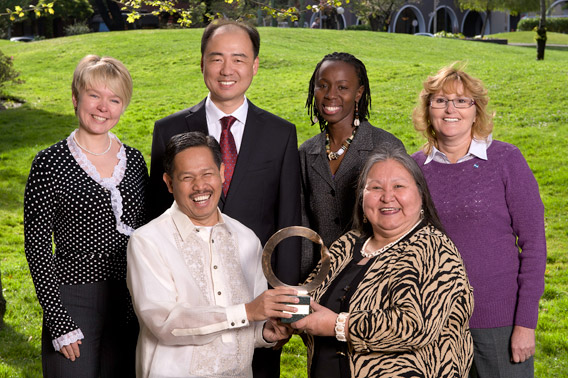 Right of left: Evgenia Chirikova, Edwin Gariguez, Ma Jun, Ikal Angelei, Caroline Cannon, and Sofia Gatica. Photo courtesy of Goldman Environmental Prize.



A controversial dam, a massive mine, poisonous pesticides, a devastating road, and criminal polluters: many of this year's Goldman Environmental Prize winners point to the dangers of poorly-planned, and ultimately destructive, development initiatives. The annual prize, which has been dubbed the Green Nobel Prize is awarded to six grassroots environmental heroes from around the world and includes a financial award of $150,000 for each winner.

Water Warrior

In northern Kenya, Ikal Angelei has been fighting the massive Ethiopian dam, Gibe III, that would plunder Lake Turkana of its water.

"The dam is expected to cause the lake's water level to drop by as much as 23 to 33 feet within the first five years, depleting fish stocks and depriving communities of a critical source of potable water in this desert environment. Poverty and resource conflicts between communities are likely to increase as a result," according to a statement on the Goldman Environmental Prize website.

If built the dam would be the largest in Africa and the fourth largest in the world, but Angelei has worked hard to stop it by bringing together the often factious local tribes living around Lake Turkana to put pressure on the Kenyan government as well as the banks financing the project. Today the fate of the dam remains undecided, but even this is largely due to Angelei's efforts in making the communities' voices heard.

"The Gibe 3, like many destructive dams, is going to wipe out a way of life of a people, a people whose concerns transcend country and cultural boundaries," Angelei said in an interview with Goldman Environmental Prize. "When I started reading about the extent of damage and the number of people who would be affected I started to think, does development really have to have this impact on people?"

People or profits?

On the Philippine island of Mindoro, Catholic priest Edwin Gariguez is leading a modern crusade against a proposed nickel mine that could harm the forest's unique biodiversity, contaminate the island's rivers, and has already sullied indigenous peoples' sacred ancestral ground.

Owned by Norwegian company Intex, the $2.4 billion mine was pushed through the Philippine government despite large-scale local opposition.

In response Gariguez, known as 'Father Edu', created a powerful coalition against the mine, led protests in the face of violence, lost a colleague who was murdered for their activism, and spent 11 days on a hunger strike until the government of the Philippines revoked the mining permit.

"For the indigenous Mangyan people living on Mindoro Island, the struggle to protect our threatened ecology is a matter of survival," Father Edu said in a press release. "We should not sacrifice people and the environment for the sake of short term profits by a few."

Pesticide tragedy

After losing her daughter three days after birth to inexplicable kidney failure, Sofia Gatica organized local mothers to investigate door-to-door the impact of pesticides on her Argentinean community.

"Residents reported cancer rates that were 41 times the national average (doctors suspect that many other cases go unreported), as well as high rates of neurological and respiratory diseases, birth defects, and infant mortality," notes the Goldman Environmental Prize website. Future scientific research confirmed these findings and linked them to the use of pesticides on nearby soy fields.

Gatica and her organization, Stop Spraying, have succeeded in new regulations on pesticide use and a national ban on a particularly potent agricultural, endosulfan. They are now pushing for a national ban on glyphosate, the main ingredient in Monsanto's Roundup.

"Ultimately, we want to hold the government and the responsible companies accountable for the harm they are doing," Gatica told the Goldman Environmental Prize in an interview. "These companies have been poisoning us and are leaving sick communities in their wake. If we cannot get them to stop there is nowhere for us to turn. This is a national health crisis and we want it to be treated as such."

Transparency in China

China's economic explosion has come with some dire consequences: toxic air and water issues. But one man has used the Internet to make China's pollution problems come to life.

Ma Jun's organization, the Institute of Public and Environmental Affairs (IPE), has uncovered and publicly published over 90,000 pollution violations by local and multinational corporations working in China via online maps.

Jun then harnessed public frustration to push many companies to make clean-up their act. Most recently he has won a protracted battle with Apple for the company to take a long and hard look at its supply chain in China.

"Chinese citizens, for the first time in history, have at their fingertips information that reveals which companies are violating environmental regulations across China's 31 provinces—and with it, the power to demand justice," notes the Goldman Environmental Prize website.

Jun says that development and environmental stewardship can go together.

"I hope people in China will understand that we are doing this work to help China's development, not impede it. It is about working together with stakeholders to improve China's environmental protection. We fully trust that the pollution problem cannot be addressed without extensive public participation."

Arctic greed

While the U.S. government and oil companies push relentlessly to drill offshore in the extreme conditions of the Arctic, they still face the indomitable Caroline Cannon. A leader of the Inupiat people at Point Hope, Cannon has proven a force to be reckoned with when it comes to preserving her community's way of life, which depends on the Arctic sea.

In 2009, Point Hope, Cannon's community of 700, and several green groups won a landmark lawsuit against Shell Oil, which planned to drill in Chukchi Sea. But despite this victory, the war is far from over: the Obama Administration is near making a final decision for Shell to begin drilling in the Chukchi Sea as early as this summer.

Critics and experts warn that an oil spill in the Arctic may prove near-impossible to mitigate, since the region is buffeted by extreme weather, seasonal ice, and an almost total lack of infrastructure.

"The Arctic is like any national park; once a mistake is made it's nearly impossible to salvage the wildlife and everything around it. Yet, the government does not recognize our land in the same way as a national park," Cannon said in an interview with the Goldman Environmental Prize, noting that, "As a tribe we do not have the funding and resources that the big corporations do to influence politicians."

For Cannon, who vows to keep fighting, one oil spill could mean an irrevocable loss of her community's livelihoods and traditions.

Pave over paradise?

Khimki Forest has become a symbol of political frustration in Russia. Just north of Moscow, the 2,500 acre old-growth forest is a beloved natural respite from the city complete with Russian wildlife . But when mother-of-two Evgenia Chirikova discovered that the Russian government planned to build a road directly through the protected area, she took political action in a country known for crackdowns.

Chirikova began a campaign to save Khimki including a rally of 5,000 and 50,000 signatures, but she faced entrenched corruption and resistance in what was a pet project for many upper officials.

The middle class mother has been arrested several times and officials have threatened to take her children from her. A journalist covering the issue suffered brain damage and lost a leg in a murder attempt. Other journalists have been beaten.

"At first I wanted only to protect the forest, but then I realized that we cannot do this if people in Russia aren't able to stand up for their beliefs," Chirikova says in an interview with the Goldman Environmental Prize.

The fight to save the forest, which has not yet been won as trees continue to be felled, has become a rallying point for many who want to see change in Russia.

















Related articles

"Don't be so silly" about climate change: Mohamed Nasheed on The Daily Show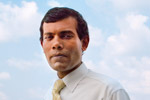 (04/04/2012) Mohamed Nasheed, former president of the Maldives, told the world on The Daily Show Monday night: "Just don't be so silly" about climate change. Nasheed, who in February was forced to resign his presidency, is visiting the U.S. to meet with government officials as well as to push for climate action during the release of a new documentary film about his presidency, entitled The Island President.


Girl Scouts activists win forest heroes award for challenging organization on sustainability

(02/10/2012) The United Nations on Thursday honored five 'Forest Heroes' for their contributions toward protecting forests.


Unsung heroes: the life of a wildlife ranger in the Congo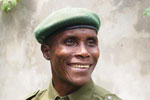 (11/01/2011) The effort to save wildlife from destruction worldwide has many heroes. Some receive accolades for their work, but others live in obscurity, doing good—sometimes even dangerous—work everyday with little recognition. These are not scientists or big-name conservationists, but wildlife rangers, NGO staff members, and low level officials. One of these conservation heroes is Bunda Bokitsi, chief guard of the Etate Patrol Post for Salonga National Park in the Democratic Republic of the Congo. In a nation known for a prolonged civil war, desperate poverty, and corruption—as well as an astounding natural heritage—Bunda Bokitsi works everyday to secure Salonga National Park from poachers, bushmeat hunters, and trappers.


Nobel laureate and Green Belt Movement founder Wangari Maathai dead at 71

(09/26/2011) Kenyan environmentalist and Nobel laureate Wangari Maathai died Sunday after a battle with ovarian cancer. She was 71.


Climate activist sentenced to 2 years in jail for civil disobedience

(07/27/2011) Yesterday a federal court in Salt Lake City, Utah convicted climate activist Tim DeChristopher of defrauding the US government, sentencing him to two years in jail and a fine of $10,000, reports the Associated Press. In December 2008, Tim DeChristopher, won the mineral rights for 22,500 acres of US Interior Department land at a Bureau of Land Management auction with a $1.8 million bid. The only problem was: DeChristopher did not have the money to pay for his bid nor did he ever intend to pay for his drilling rights. Instead, he was committing civil disobedience in order to draw attention to the oil industry and government's complacence on global climate change; in his words, DeChristopher meant to 'expose, embarrass, and hold accountable the oil industry to the point that it cut into their $100 billion profits'. However, his actions have now landed him in jail.


Killing in the name of deforestation: Amazon activist and wife assassinated

(05/24/2011) José Cláudio Ribeiro da Silva and his wife, Maria do Espírito Santo da Silva, were gunned down last night in an ambush near their home in the Brazilian state of Pará. Da Silva was known as a community leader and an outspoken critic of deforestation in the region. Police believe the da Silvas were killed by hired assassins because both victims had an ear cut off, which is a common token for hired gunmen to prove their victims had been slain, according to local police investigator, Marcos Augusto Cruz, who spoke to Al Jazeera. Suspicion immediately fell on illegal loggers linked to the charcoal trade that supplies pig iron smelters in the region.


Archbishop Desmond Tutu: 'quest for profit subverts our present and our future'

(05/01/2011) As the honorary speaker at an event celebrating fifty years of the conservation organization World Wide Fund for Nature (WWF), Archbishop Desmond Tutu stated that overconsumption and obsession with economic growth were imperiling the global environment and leaving the poor behind.


Mexican environmental activist shot dead

(04/25/2011) Javier Torres Cruz, 30, who fought illegal deforestation by drug traffickers in the Mexican state of Guerroro, was murdered a week ago. A member of the local NGO, Environmental Organization of the Coyuca and Petatlán Mountains, Torres Cruz was known as an outspoken activist against illegal logging in the mountainous dry forest region. Logging in the region is primarily linked to fields of poppies for the illegal drug trade.