Jeremy Hance
mongabay.com
April 16, 2012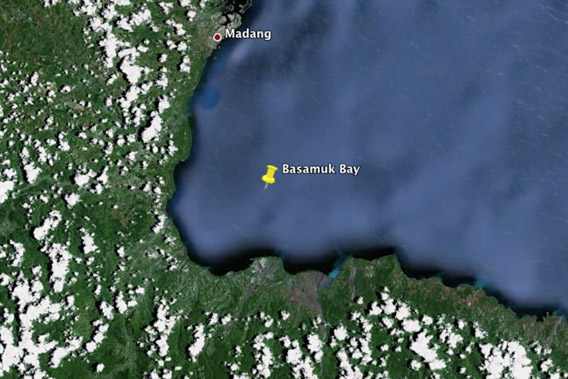 Basamuk Bay in Madang, Papua New Guinea. Photo produced using Google Earth.
A massive, controversial nickel mine has been shut down in Papua New Guinea due to the environmental concerns of its slurry pipeline, reports Cultural Survival. Inspections of the 83 mile (134 kilometer) slurry pipeline found that it had been built too close to a major highway with spills already impacting traffic. Built by the Chinese state company Metallurgical Construction Corporation (MCC), the Ramu Nickel Mine has been plagued by land issues, labor disputes, and environmental concerns.
The Minister of Environment and Conservation, Thompson Harokaqueh, ordered the slurry pipeline shut-down, effectively shuttering the mine, while the government takes another look at the project. According to the company's agreement, the slurry pipeline was to be built at least 25 meters from the road and raised on steel supports, however on the ground inspection revealed that MCC upheld neither of these legal requirements.
The mine has been hugely controversial from the beginning in Papua New Guinea. One of the largest issues has been the plan to dump the mine's waste into Basamuk Bay (also known as Astrolabe Bay), which many locals depend on for fishing. An estimated 100 million tons of toxic mine tailings will be dumped into the bay over the next two decades.
Related articles