Jeremy Hance
mongabay.com
February 22, 2012
It's not the prehistoric monsters from the Jules Verne's
Journey to the Center of the Earth
or the human-bat hybrids of
The Decsent
, but it's an astonishing discovery nonetheless: intrepid scientists have discovered the world's deepest surviving terrestrial animal to date, a small wingless insect known as a springtail. Explorers discovered the new species,
Plutomurus ortobalaganensis
at a shocking 1.23 miles (1.98 kilometers) below the surface. The species was discovered by the Ibero-Russian CaveX Team Expedition in Krubera-Voronja Cave, the world's only known cave to go deeper than 2 kilometers.
Eyeless, primitive, and surviving off fungi,
Plutomurus ortobalaganensis
lives an extreme existence in temperatures at the edge of freezing: from 32.9 to 41 degrees Fahrenheit (0.5 to 5 degrees Celsius). Three other new springtail species were discovered on the expedition, though
Plutomurus ortobalaganensis
dwelled the deepest, according to a paper published in
Terrestrial Arthropod Reviews
.
One of its discoverers, biologist Sofia Reboleira with the University of Aveiro in Portugal, told LiveScience that the expedition survived off snow at base camp and risked hypothermia while spending hours searching for life in the cave.
Notably,
Plutomurus ortobalaganensis
retains pigments meaning it could be a recent colonizer to these depths.
Krubera-Voronja Cave is located in the remote southwestern Caucasus in the disputed region of Abkhazia.
CITATION: Jordana, R. et al. Reviews of the genera Schaefferia Absolon, 1900, Deuteraphorura Absolon, 1901, Plutomurus Yosii, 1956 and the Anurida Laboulbène, 1865 species group without eyes, with the description of four new species of cave springtails (Collembola) from Krubera-Voronya cave, Arabika Massif, Abkhazi. Terrestrial Arthropod Reviews volume 5, pp. 35-85. 2012.
Related articles

New species is eel-equivalent of the coelacanth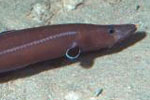 (08/18/2011) The ocean holds endless surprises still. In an underwater cave off the Pacific island nation of Palau, reachers have made an astounding discovery: an eel species unknown to science that harkens back 200 million years. The species, described in the Proceedings of the Royal Society B as an 'enigmatic, small eel-like fish', sports anatomical features that differentiate it from the over 800 known species of eel surviving today.



Photos: scientists find new species at world's deepest undersea vent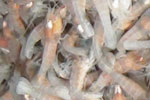 (01/10/2012) It sounds like a medieval vision of hell: in pitch darkness, amid blazing heat, rise spewing volcanic vents. But there are no demons and devils down here, instead the deep sea vent, located in the very non-hellish Caribbean sea, is home to a new species of pale shrimp. At 3.1 miles below (5 kilometers) the sea's surface, the Beebe Vent Field south of the Cayman islands, is the deepest yet discovered.

'Lost world' dominated by Yeti crabs discovered in the Antarctic deep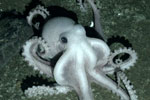 (01/03/2012) Scientists have discovered a deep sea ecosystem dominated by hairy pale crabs off of Antarctica. The new species of "Yeti crabs" survive alongside many other likely new species, including a seven-armed meat-eating starfish, off of hydrothermal vents, which spew heat and chemicals into the lightless, frigid waters. According to the paper published in PLoS ONE, this is the first discovery of a hydrothermal vent ecosystem in the Southern Ocean though many others have been recorded in warmer waters worldwide.