Jeremy Hance
mongabay.com
February 22, 2012

Orphaned Bornean orangutan in the Indonesian state of Kalimantan on the island of Borneo. Photo by: Rhett A. Butler.



Born to be Wild 3D, an IMAX documentary in part about the plight of orphaned and injured Bornean orangutans (Pongo pygmaeus), will soon be aired in the rainforest that inspired it. Producer Drew Fellman is setting up a screen in the rainforest to screen the film for orphaned orangutans.

"They came to be like members of the crew," Fellman told the Associated Press.

The film follows the work of primatologist Birute Mary Galdikas to rehabilitate orangutans who have been the victims of deforestation and human-wildlife conflict. Orangutans are sometimes killed as pests in agricultural areas, such as palm oil plantations, leaving a glut of orphaned apes on the island of Borneo. Galdikas' center houses around 300 orangutans.

"It helps raise awareness," Galdikas, founder of Orangutan Foundation International (OFI), told the Associated Press. "The average person in Indonesia still doesn't yet understand the orangutan is a close relative and that they are a protected species and on the verge of extinction."

The film also follows the work of Daphne Sheldrick rehabilitating African bush elephant (Loxodonta africana) orphans in Kenya, who have lost their parents to poaching for ivory.

Listed as Endangered by the IUCN Red List, Bornean orangutans are most threatened by habitat loss to palm oil, intense logging, and fires. Killing as pests and hunting for meat also poses significant challenges. Between 2000 and 2003 researchers estimated a total number of 45,000 to 69,000 Bornean orangutans left in the wild, however that number has almost certainly declined since then.























Related articles

Palm oil, pulp companies commit to zero-tolerance policy for orangutan killing


(12/06/2011) Two Indonesian plantation companies have signed an agreement to train workers not to kill or injure orangutans and other protected species. The agreement was brokered by the Indonesian government between Orangutan Foundation International (OFI), a non-profit with operations in Central Kalimantan, Indonesian Borneo, and two major plantation firms: PT Smart, one of Indonesia's largest palm oil producers, and PT Lontar Papyrus, which supplies wood-pulp to Asia Pulp & Paper (APP). Both companies are holdings of the Sinar Mas Group. Under the terms of the deal, OFI will assist the companies 'in delivering a best management practices training program on orangutans and endangered species for its employees, affiliates and pulpwood suppliers.'


Eat like an orangutan to save rainforests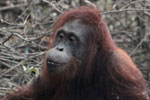 (11/30/2011) One doesn't have to be a scientist or a government official to help save the world's vanishing rainforests, one can also be a chef. World-renowned chef Andre Chiang has added a new item to his menu called Orangutan Salad, reports the Wall Street Journal, which he hopes will raise awareness for the endangered apes at his Singapore eatery, Restaurant Andre. The new salad gives restaurant-goers the chance to enjoy all the subtle, earthy tastes of a typical orangutan meal, including ferns, tree fungi, figs, berries, orchid leaves, and durian flowers.


Orangutans in Indonesian Borneo doomed to extinction?


(11/14/2011) A new study finds orangutans in Indonesian Borneo in unprotected areas are being killed at a rate faster than what population viability analysis considers sustainable. Conflict between orangutans and humans is worst in areas that have been fragmented and converted for timber, wood-pulp, and palm oil production, but hunting is occurring in relatively intact forest zones away from industrial development.