mongabay.com
November 07, 2011
Here mongabay.com provides a quick review of forest-related news for October 2011.

Drivers of deforestation

The U.N. welcomed the world's seven billionth person, while warning that increasing population and consumption is taking a substantial toll on natural resources.

It was a rough month for Brazil's controversial Belo Monte dam. A federal judge ruled Belo Monte's environmental license "illegal" for violating the constitutional rights of indigenous communities, while the Brazilian government was ridiculed for failing to sent representatives to a hearing convened by the Inter-American Commission on Human Rights (IACHR) of the Organization of American States (OAS) over the project. Meanwhile hundreds of protesters — including fishermen and Amerindians who will be affected by the project — blocked a road to the dam site.

Girl Scouts USA has announced that it will reduce the amount of palm oil in cookies sold by its members. The organization also said it would purchase GreenPalm certificates for all of its palm oil in order to financially support "greener" palm oil. The move came in response to a campaign launched by two Girl Scouts concerned about the impact of palm oil on orangutans and rainforests.

Satellite imagery released by environmental groups confirmed that Dole is planting bananas on national park land in Sir Lanka. Dole has denied the charge.

Representatives Jim Cooper, Marsha Blackburn, and Mary Bono Mack introduced a bill that would gut the Lacey Act, according to environmental groups. The bill would grant amnesty for illegally sourced pulp and paper, while reducing fines for importuning illegally logged wood products to $250 no matter the size of the infraction.

Saving forests


| | |
| --- | --- |
| | Greenpeace's stunt at Mattel's headquarters on June 8 |
Citing concerns over deforestation and its image, toy giant Mattel said it would no longer buy packaging fiber from Asia Pulp & Paper, which is accused by Greenpeace of clearing forests for wood-pulp plantations in Sumatra. Greenpeace's campaign included high-profile stunts using Mattel's iconic Barbie.

In move that shocked analysts, Myanmar announced it would suspend a giant Chinese dam under construction at the confluence of the Mayhka amd Malihka rivers at the head of Irrawaddy River. Leaders cited public opposition to the project for their decision, but China reacted angrily to the news.

The U.S. government announced a debt-for-nature swap with Indonesia that will help protect forest in Kalimantan on the island of Borneo.

Brazil revised its estimates for deforestation from August 2009 through July 2010 upwards by 8.5 percent. Deforestation for the year was still the lowest since annual record-keeping began in the late 1980s.

Climate change

Presidential hopeful Mitt Romney changed his mind on whether climate change is a product of human activities, stating during a rally, "We don't know what's causing climate change." Until then, Romney had supported the view — shared by most climate scientists — that greenhouse gas emissions from fossil fuel use and deforestation are contributing to global warming.

Following the findings of an extensive review of temperature records, one of the world's most prominent climate skeptics, Richard Muller, reversed course and concluded climate change is indeed real and of serious concern to humanity.

A paper in PNAS asserted that last year's Russian heatwave, which triggered fires and crop failures, was a product of climate change.

Two papers in Nature warned the world is running out of time to limit climate change to "safe" levels.

California became the first U.S. state to approve a cap-and-trade program to limit greenhouse gas emissions. Meanwhile, China indicated it was moving closer to a market-based carbon cap, a scheme that could limit local pollution and help make its companies more competitive in international markets.

Rights and conflict

Forestry interests in Indonesia turned up the heat on Greenpeace, which is in the midst of a anti-deforestation campaign against Asia Pulp & Paper. On the same day that a U.S.-based lobby group that advocates for Indonesia's pulp and paper industry launched an anti-Greenpeace web site, immigration officials in Jakarta refused entry to John Sauven, the director of Greenpeace. Sauven had a valid visa to enter the country. Shortly thereafter, another Greenpeace campaigner, Andy Tait, was asked to leave Indonesia within seven days as he departed the country to return home. Both actions were attributed by high-placed officials in the Indonesian government to meddling by the private sector. Following Tait's "deportation", an Indonesian lawmaker inaccurately claimed that Greenpeace lacked an official permit to operate in the country.

Video released by the Peruvian government revealed a potentially disastrous encounter between tourists and indigenous people long isolated from the outside world. The tourists were following a group of Mashco-Piro people walking along the shores of the Manu River in Manu National Park.

Following a violent crackdown that bitterly divided his constituency, Bolivian President Evo Morales canceled plans to build a road across the Amazon rainforest. Indigenous communities strongly opposed the scheme, fearing it would grant access to illegal settlers, spurring colonization and deforestation of their traditional lands.

Feeding the planet

A prominent editorial in Nature laid out a five-point plan for feeding the world's population. Controversially for some, the plan prescribes increased use of genetically-modified crops.

Disasters

A grounded container ship in New Zealand's Bay of Plenty spilled hundreds of tons of oil on popular beaches, killing hundreds of birds.

A research paper published in the journal Environmental Research Letters revealed that the 2010 drought in the Amazon triggered the release of nearly 500 million tons of carbon (1.8 billion tons of carbon dioxide) into the atmosphere, or more than India's annual emissions. The study counted only emissions from vegetation die-off and decomposition of leaf litter — it excluded emissions from extensive fires exacerbated by the drought.

The last goodbye

The International Rhino Foundation (IRF) and the World Wide Fund for Nature (WWF) confirmed the extinction of the Vietnamese rhinoceros (Rhinoceros sondaicus annamiticus), a subspecies of the Javan rhino. The Vietnamese rhino was the last rhino species that survived on the mainland of southeast Asia. The last individual was killed for its horn.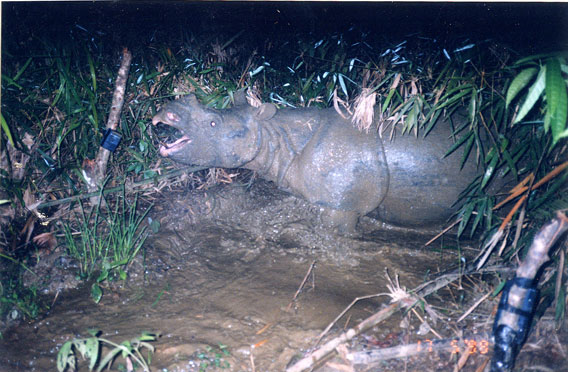 Camera trap catches one of the world's last Vietnamese rhinos before its extinction. Photo courtesy of WWF.

And a welcome hello

Chinese state media reported the first Amur leopard sighting in China in 62 years. The cat was photographed twice by a camera trap in Wangqing County.


Most popular mongabay.com news articles - October 2011
Italicized titles represent news articles posted during the month