Photos: 600 new species discovered in Madagascar since 1999
Rhett Butler, mongabay.com
June 06, 2011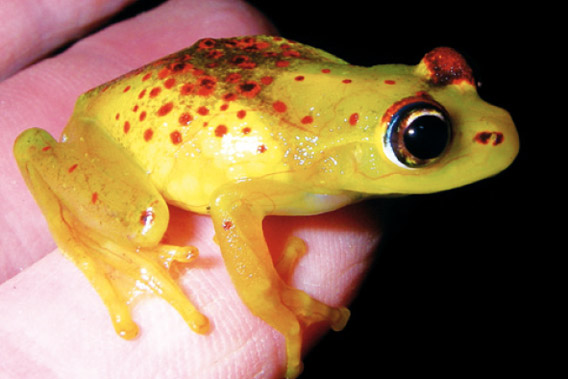 Boophis bottae. The new frog species, Boophis bottae, occurs in the eastern rainforest belt of Madagascar from Andasibe south to Ranomafana, at 800-1,000m above sea level. This endemic species is already threatened by habitat loss and is declining due to destruction of its forest habitat due to subsistence agriculture, timber extraction, charcoal manufacture, invasive spread of eucalyptus, livestock grazing, and expanding human settlements. The species is one of 69 amphibians discovered over the last 11 years. Photo © Axel Strauß, caption courtesy of WWF.



More than 600 species of plants and animals have been described in Madagascar over the past decade, reiterating the position of Indian Ocean island as one of the world's top biodiversity hotspots, says a new report issued today by WWF.

Compiling data from scientific papers published between 1999 and 2010, WWF's Treasure Island [PDF] says Madagascar's bounty of previously undescribed species amounts to 385 plants, 42 invertebrates, 17 fish, 69 amphibians, 61 reptiles and 41 mammals. The discoveries occurred across Madagascar's varied ecosystems, including its rainforests, coral reefs, deciduous forests, montane forest, and unique spiny desert.



New frog species from Madagascar, Boophis aff elenae. © Miguel Vences


New gecko species from Madagascar, Uroplatus pietschmanni. © Ben Smith


Antafia sportive lemur (Lepilemur aeeclis). © Urs Thalmann


New chameleon species from Madagascar, Calumma tarzan. © Mark Creeten


Liophidium pattoniwas discovered in 2010 within Makira National Park. Despite being found in a protected area, the area of rainforest the species was found in had been recently fragmented due to human activities. © David R. Vieites
"This report shows once again how unique and irreplaceable the different ecosystems in Madagascar hosting all these different species are," said Nanie Ratsifandrihamanana, WWF Madagascar's Conservation Director, in a statement.

Over the past decade Madagascar made great strides protecting its ecosystems, but progress has reserved in recent years, especially since a 2009 military coup, which led to a collapse in governance and institutions that work to protect the island's ecosystems. In the ensuring chaos, Madagascar's rainforest parks — especially in the northeastern parts of the island — were pillaged for precious hardwoods. Logging was accompanied by a rise in a commercial bushmeat trade.

The turmoil took a heavy toll. Madagascar's booming ecotourism market stalled and the country's rate of primary forest loss surged by more than a third. Funding disappeared for conservation groups working in the country.

Over the past year the situation has started to improve in Madagascar. While NGOs in Madagascar are still struggling to secure funds since most governments do not recognize the authority that seized power during the coup, the Ministry of Environment has led a series of raids against illegal timber traders and is pushing to prosecute traffickers. Meanwhile 27 conservation groups in Madagascar have formed an alliance to pressure the acting government on environmental issues. There are signs that illegal logging in protected areas has slowed since last year.

The new report comes under WWF's appeal to raise money for its conservation programs in Madagascar.

"These spectacular new species show what's at stake in Madagascar and what can be lost if we don't save it," said Ratsifandrihamanana.


CITATION: Treasure Island: New biodiversity on Madagascar (1999 - 2010). WWF Madagascar & West Indian Ocean Program Office: 2011.

















Related articles

Image: new bird discovered in Madagascar

(02/24/2011) The rich and unique biodiversity of Madagascar has a new member: a forest dwelling bird in the rail family, dubbed Mentocrex beankaensis. In 2009 US and Malaygasy scientists conducted a survey in Madagascar's dry Beanka Forest. They discovered several new species, of which the new rail is the first to be described.


Picture: New lemur in Madagascar

(12/15/2010) Researchers have discovered a new species of lemur in Madagascar.


Picture: unknown carnivore discovered in Madagascar lake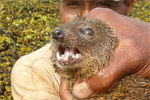 (10/10/2010) Researchers have identified a previously unknown species of carnivore lurking in one of the world's most endangered lakes. Durrell's vontsira (Salanoia durrelli), named in honor of the late conservationist and writer Gerald Durrell, was first photographed swimming in Madagascar's Lake Alaotra in 2004. Subsequent surveys by scientists at the the Durrell Wildlife Conservation Trust, the Natural History Museum, London, Nature Heritage, Jersey, and Conservation International confirmed the mongoose-like creature was indeed a new species.


Photos: New species spins the world's strongest and largest spider web

(09/20/2010) A newly discovered species of spider in Madagascar spins the world's longest web, report scientists writing in the Journal of Arachnology and PLoS ONE.


Photos: 'Tarzan' chameleon discovered in Madagascar

(08/31/2010) Scientists have discovered a new species of chameleon in a small block of rainforest in Madagascar.


'No hope now remains' for the Alaotra grebe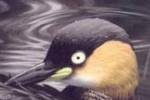 (05/31/2010) World governments have missed their goal of stemming biodiversity loss by this year, instead biodiversity loss has worsened according to scientists and policy-makers, and a little rusty-colored bird, the Alaotra grebe (Tachybaptus rufolavatus) is perhaps a victim of this failure to prioritize biodiversity conservation. Native to a small region in Madagascar, the grebe has been declared extinct by BirdLife International and the IUCN Red List due to several factors including the introduction of invasive carnivorous fish and the use of nylon gill-nets by local fishermen, which now cover much of the bird's habitat, and are thought to have drowned diving grebes. The bird was also poached for food.


Photo: Lemur species rediscovered after 100 years

(04/09/2010) A species of lemur has been rediscovered more than a century after it was last spotted, report researchers from McGill University, the German Primate Centre in Göttingen Germany, the University of Antananarivo in Madagascar, and the University of Massachusetts.


New blind snake discovery



(04/06/2010) Call them survivors: blindsnakes have been identified as one of the few groups of organisms that inhabited Madagascar when it broke from the Indian subcontinent around 100 million years ago. According to a new study in Biology Letters, blindsnakes not only survived the split of Madagascar and India, but likely traveled from Asia to Australia and Africa to South America on floating vegetation, the latter a journey that may have taken six months of drifting on ocean currents. "Blindsnakes are not very pretty, are rarely noticed, and are often mistaken for earthworms," says Blair Hedges of her subjects. "Nonetheless, they tell a very interesting evolutionary story."


Photos: Madagascar's wonderful and wild frogs, an interview with Sahonagasy



(03/03/2010) To save Madagascar's embattled and beautiful amphibians, scientists are turning to the web. A new site built by herpetologists, Sahonagasy, is dedicated to gathering and providing information about Madagascar's unique amphibians in a bid to save them from the growing threat of extinction. "The past 20 years have seen resources wasted because of a poor coordination of efforts," explains Miguel Vences, herpetologist and professor at the Technical University of Braunschweig. "Many surveys and reports have been produced that were never published, many tourists found and photographed amphibians but these photos were not made available to mapping projects, many studies carried out by Malagasy students did not make use of literature because it was not available."


How to end Madagascar's logging crisis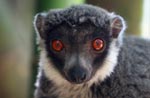 (02/10/2010) In the aftermath of a military coup last March, Madagascar's rainforests have been pillaged for precious hardwoods, including rosewood and ebonies. Tens of thousands of hectares have been affected, including some of the island's most biologically-diverse national parks: Marojejy, Masoala, and Makira. Illegal logging has also spurred the rise of a commercial bushmeat trade. Hunters are now slaughtering rare and gentle lemurs for restaurants.


Satellites being used to track illegal logging, rosewood trafficking in Madagascar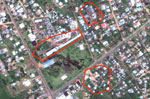 (01/28/2010) Analysts in Europe and the United States are using high resolution satellite imagery to identify and track shipments of timber illegally logged from rainforest parks in Madagascar. The images could be used to help prosecute traders involved in trafficking and put pressure on companies using rosewood from Madagascar.


Coup leaders sell out Madagascar's forests, people


(01/27/2010) Madagascar is renowned for its biological richness. Located off the eastern coast of southern Africa and slightly larger than California, the island has an eclectic collection of plants and animals, more than 80 percent of which are found nowhere else in the world. But Madagascar's biological bounty has been under siege for nearly a year in the aftermath of a political crisis which saw its president chased into exile at gunpoint; a collapse in its civil service, including its park management system; and evaporation of donor funds which provide half the government's annual budget. In the absence of governance, organized gangs ransacked the island's biological treasures, including precious hardwoods and endangered lemurs from protected rainforests, and frightened away tourists, who provide a critical economic incentive for conservation. Now, as the coup leaders take an increasingly active role in the plunder as a means to finance an upcoming election they hope will legitimize their power grab, the question becomes whether Madagascar's once highly regarded conservation system can be restored and maintained.


Forgotten species: Madagascar's water-loving mammal, the aquatic tenrec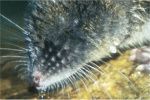 (11/12/2009) There are many adjectives one could attach to the aquatic tenrec: rare, mysterious, elusive, one-of-a-kind, even adorable, though one tries to stray from such value-laden titles since it excludes so many other non-adorable inhabitants of the animal kingdom. This small and, yes, cute insectivore, also known as the web-footed tenrec, lives in Eastern Madagascar where at night it spends the majority of its time swimming and diving in fast-moving streams for insects and tadpoles. It sleeps during the day in small streamside burrows. To date that is about the extent of our knowledge of this species.


World's rarest duck flies closer to extinction's edge

(08/27/2009) The Madagascar pochard, the world's rarest duck, was already thought to be extinct once. After a last sighting in 1991 the species was thought to have vanished until nine adults and four hatchlings were discovered in 2006. However, conservationists have begun to fear that the species will never recover after a survey this year found only six females.


Approximately 200 new frogs discovered in Madagascar threatened by political instability


(05/11/2009) Amid the amphibian extinction crisis—where amphibians worldwide are disappearing due to habitat loss, pollution, and a devastating fungal epidemic—the Spanish Scientific Research Council (CSIC) has announced some good news. In a survey of the island-nation of Madagascar they have identified between 129 and 221 new species of frogs. The discovery of so many new species nearly doubles the island's total number of frogs.


Tiny lemur species discovered in Madagascar

(07/14/2008) Researchers have discovered a previously unknown species of mouse lemur on the island of Madagascar. The find brings the global number of mouse lemurs to 16.












CITATION:
Rhett Butler, mongabay.com (June 06, 2011). Photos: 600 new species discovered in Madagascar since 1999. http://news.mongabay.com/2011/0606-wwf_new_species_madagascar.html




News index | RSS | News Feed | Twitter | Home


---
Advertisements:



WILDMADAGASCAR.ORG
WildMadagascar.org aims to raise interest and awareness in Madagascar >>
T-SHIRTS