Jeremy Hance
mongabay.com
March 28, 2011
According to the Indian government tigers have gone up by 225 individuals in the past four years, from 1,411 big cats to 1,636 today, a 16% increase. The new census, however, also counts 70 tigers in the Sundarbans, which were not included in the past census, making the new grand total 1,706 Bengal tigers (Panthera tigris tigris). But don't raise champagne glasses just yet, renowned conservationist with Wildlife Conservation Society (WCS) and tiger expert, Dr. Ullas Karanth, sees serious issues with the new tally, including a methodology that "has not been made public in a scientifically acceptable manner" and depends on a big count every few years instead of comprehensive and reliable year-by-year tracking methods. Despite such doubts, the news has generally been greeted with accolades.

"As seen from the results, recovery requires strong protection of core tiger areas and areas that link them, as well as effective management in the surrounding areas," Mike Baltzer, Head of WWF's Tigers Alive Initiative, said in a press release. "With these two vital conservation ingredients, we can not only halt their decline, but ensure tigers make a strong and lasting comeback."

Yet Karanth says that "since various threats faced by tigers do not appear to have diminished in last four years, it is difficult to explain the claimed reversal of the decline of tigers," adding that, "to me the most serious flaw in the present government effort is the basic futility of trying to generate all-India level tiger counts once in 4 years, even while ignoring critical task of intensively monitoring key source populations year after year."

Karanth argues that India must go beyond its occasional census if it is to truly make tiger conservation a priority. He says India should use camera traps and DNA year round "so that we can track the fate of individual tigers, and estimate survival and recruitment rates to gauge how each of these populations is faring."

Even if tigers are rising in India, they are still likely declining worldwide. Habitat loss, deforestation, poaching, and a decline in prey species are threatening tigers from the Sundarbans to Sumatra to Siberia. Rough estimates puts the global population at somewhere between 3,000-5,000 individuals.

Karanth says that continuous monitoring in India "would not cost more" but would require the Indian government to give up its "monopoly" over tiger monitoring including bringing in "outside expertise and resources in order to ensure greater reliability, transparency and credibility in monitoring the fate of our national animal. "

In the past 100 years tiger populations have plunged around 95%, and three subspecies—the Bali, the Javan, and the Caspian—have gone extinct.

















Related articles

New road project to run through Laos' last tiger habitat

(03/15/2011) A new road project in Laos will run through the nation's only protected area inhabited by breeding tigers, Nam Et Phou Louey National Park, reports the Vientiane Times. With only about two dozen tigers (Panthera tigris) left in the nation, conservationists fear that the road will harm the fragile population, which is known to be breeding. However, local officials say the road is necessary to improve access to remote villages and alleviate poverty in the region, which is among the worst in the province.


Fearful Symmetry—Man Made, an interview with John Vaillant, author of The Tiger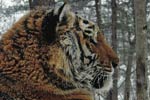 (03/14/2011) In The Tiger, John Vailliant weaves a haunting and compelling true narrative of men who live—or die—with tigers. No doubt the story itself is on-the-edge of your seat reading. As well, the book provides factual information on the 400 or so Amur Tigers remaining, and the raw milieu that is Primorye, Far East Russia—a wilderness and people unto their own. What is special, transcendent even in this story, however, murmurs uncomfortably in the background. Questions emerge from deep taiga snow, not unlike the unseen Panchelaza Tiger. What exactly is our relationship with apex predators? How do people live with them? How would you live with them in your backyard? What if your pet dog disappeared? As we ourselves are apex predators, are we wise enough, tolerant enough, compassionate enough to share this planet with them? Evidence today points to the contrary, but this can change.


India pledges to protect cat-crazy rainforest

(02/14/2011) The Jeypore-Dehing lowland rainforest in Assam, India is home to a record seven wild cat species, more than any other ecosystem on Earth. While it took wildlife biologist Kashmira Kakati two years of camera-trapping to document the seven felines, the announcement put this forest on the map—and may very well save it. A year after the record was announced, officials are promising to pursue permanent preservation status for the forest, which is threatened by logging, poaching, oil and coal industries, and big hydroelectric projects.