Jeremy Hance
mongabay.com
October 14, 2010
Communal photo sharing site, Flickr, has allowed researchers to discover the longest migration by a whale yet recorded. Ten years ago a female humpback whale swam from Brazil to Madagascar, covering around 6,090 miles (9,800 kilometers). The migration tops the previous record by 2,485 miles (4,000 kilometers). Not only is this a record for a whale, it's a record for non-human mammals.

The story of the discovery is epic in itself: a Norwegian tourist recently posted a photo of the whale on Flickr that was taken in 2001 off the coast of Madagascar. Scientists identified the same whale from scientific photos taken in Brazil in 1999. Researchers are able to identify individual whales by unique markings on their tail, called a fluke.

Making the discovery even more surprising is the fact that the behavior of switching from one breeding ground (Brazil) to another (Madagascar) is virtually unheard of. Leaving researchers to wonder what propelled this particular whale to travel half-way across the world: one possibility is that she simply got lost.









Related articles

Whaling talks break down: ban stays in place, yet whaling will continue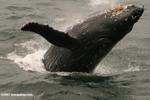 (06/23/2010) The International Whaling Commission (IWC), which was supposed to decide a way forward for whales over the next decade has ended without an agreement. Talks broke down, according to participants, because countries opposed to whaling and those that continue hunting and killing whales despite a ban on commercial whaling—i.e. Japan, Norway, and Iceland—have been unable to find enough common ground to pound out an agreement.


Marine Protected Areas too small for whales and dolphins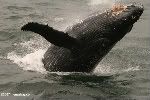 (04/07/2009) Current Marine Protected Areas (MPAs) are too small to adequately serve whales and dolphins according to the Whale and Dolphin Conservation Society (WDCS). The international organization is calling for a global network of MPAs to save the ocean's most beloved inhabitants. "A worldwide effort must be made urgently to identify and define whale and dolphin critical habitats and hot spots," said WDCS Research Fellow, Erich Hoyt.


Infant blue whale filmed underwater

(03/06/2009) Off the waters of Costa Rica in January 2008 scientists and photographers with National Geographic filmed an infant blue whale swimming near its mother. They believe this is the first time a baby blue whale has been filmed underwater.